By: Dan Hueber –
It is the beginning of a new week, a new month, a new quarter.  We have the March reports now in the rear-view mirror and prices across the grain and soy complexes are higher, so to coin a popular phrase that I have seen emblazoned on hats and t-shirts, "Life is Good", Right?  Well maybe not good with a capital "g" but at least it is starting out better.  I will not go in the details of the reports issued last Friday but suffice it to say that corn acreage was a little below average estimates, beans above and grains/soy stocks higher than estimates and technically it now all becomes yesterday's news.  Not that these figures are not now being used in calculations for what the lays ahead in the future but it is time to once again face the stark reality that must be confronted every year; weather uncertainty.
While planting is underway in the south, it is probably a bit pre-mature to say we are into a weather market per se, rather the psychology of the market should be shifting into a weather phase and at least, we have a technical picture over the short-term that appears to be calling for additional rebound strength.  Note that on the May corn chart, we came into the end of last month very oversold and after the releases on Friday went on to post an outside higher reversal session and in the process turned the daily indicators higher once again.  Keep in mind that these are short-term indicators and patterns, which would suggest the swings would be short-term in nature as well but it would appear that if May futures can begin to close above the 3.70 level, a return to the February/March highs in the 3.80/3.85 zone would be within reason.  In the larger picture, this action would appear to reinforce the believe that we are at a point of value in this market as well as the commodity sector as a whole and the broad base that we have been developing for the past year will eventually be the support from which we push higher. Generally speaking, in commodity markets the longer the sideways pattern, the greater potential there is once you rally away from it.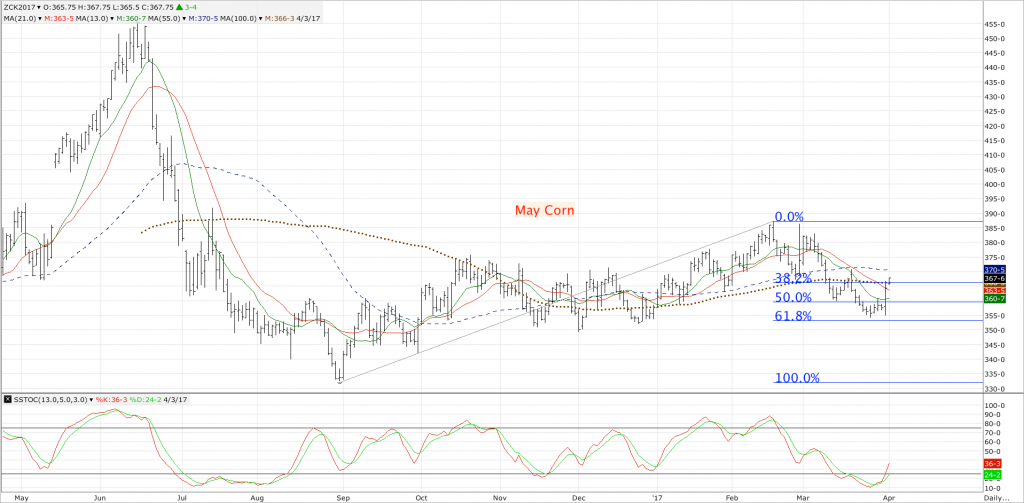 Technical                                                                                                 
Wheat – July wheat did not officially post an outside higher reversal on Friday but it was nevertheless an impressive reversal and prices have extended higher now this morning.  This should have confirmed that we have a E-wave complete should have the door open for a run back to at least the 50% retracement at 4.59.  Cycle counts ahead on the 10th and the 14th.