By: Dan Hueber –
Finally, sunshine has returned to Northern Illinois and the weekend forecast is predicting temperatures that will undoubtedly stir the already anxious souls of many a farmer. Still, after the rains we have witnessed over the past week or better I doubt we will see much dust flying in the fields.  Farmers in Argentina are also growing more and more restless but for them the issue is stemming from weather forecasts that cannot seem to move beyond rains.  Additional heavy downfalls in key growing areas are called for over the weekend hampering an already delayed harvest.  The Rosario Board of Trade estimates that in the key growing areas harvest has fallen as much as 20% behind normal.  Of course, this situation does not appear to have helped our prices much, or at least if it has it was by slowing the decline. As it stands right now, nearby beans are down right at a nickel for the week or about .5% and are resting around the lows posted last fall.  In case you were curious, the spot prices in Argentina are up around 3% for the week.  I would like to believe we have beaten the price of beans low enough now but until we can at least see signs of stabilization, it is difficult to state that with a huge level of confidence.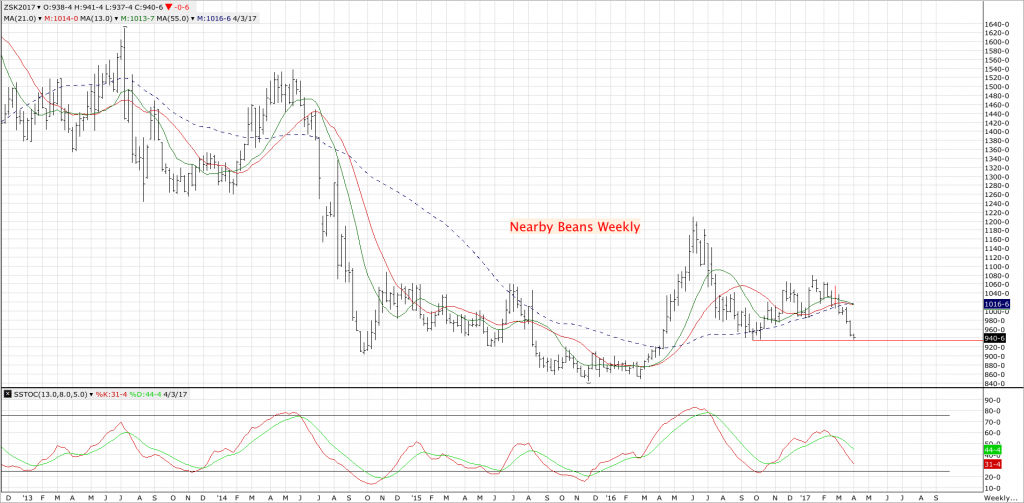 While it seems that we have only just moved beyond government reports, there are more instore for next week in the form of monthly supply/demand estimates.  These should reflect adjustments from the grain stock estimate as well as updates on world and specifically South American crops.  Survey estimates released by Reuters overnight are as follows; Domestic corn ending stocks 2.352 billion, beans at 447 million and wheat at 1.147 billion.  This compares with the March figures of 2.320 billion, 435 million and 1.129 billion respectively for the three crops.  Looking at the estimate for South America, they trade is expecting to see the Brazilian bean crop pushed up to 109.86 MMT, versus 108 last month and corn to come in around 92.43 MMT compared with 91.50 previously.  For Argentina, bean production is expected to fall in at 37.79 compared with the March number of 37.50 and corn at 55.89 versus 55.50.  Last but not least, global ending stocks for corn are expected to grow 1.13 MMT to 221.81, beans to increase 1.09 to 83.91 MMT and wheat +.3 MMT to 250.24.
Overall, this first week of April has not been a kind one to prices for the ag sector.  If we were to close right now, spot corn would be down 5-cents, spot beans down 5-cents, spot wheat losing 4-cents and nearby cotton the biggest loser of the bunch down over 3-cents.  Nothing more encouraging to report in the livestock sector either as we have nearby hogs down $2.25 cwt and live cattle right at $1 cwt.  Ideally, we will have something a bit more uplifting to report a week from now.