By: Dan Hueber –
Which created the biggest reaction for the respective markets yesterday? A) The April USDA supply/demand report or B) the videos of a man being forcefully removed from a plane in Chicago because United Airlines had overbooked the flight and needed the seat for employees.  If you answered B, you would be correct as the series of missteps by that company at one point in the day had erased over $1 billion in its overall valuation.  I believe by the close it had still lost around $800 million.  As it turned out, the grain and soy markets were generally unscathed by the report numbers.   Just for a quick recap, corn ending stocks were left unchanged at 2.32 billion while the trade was expecting a 25-million-bushel increase, soybean ending stocks were pushed up 10 million to 445 million versus an expected 12 million increase and wheat ending stocks increased 30 million compared with and expected 23 million bump.  Leaning a bit more to the negative side, world ending stocks for corn were up 2.3 MMT coming in at 223 MMT versus the expected 222.1, beans were pegged at 84.2 MMT, up 4.6 million compared with a estimate of 84.2 and wheat was increased 2.4 MMT to 252.3 while the trade was expecting a bump of 700,000.  As you might have already surmised, this means that the South American crops were increased more than anticipated, particularly for Brazil as the estimated corn crop for that country was pushed higher by 2 MMT to 93.5 MMT and beans were increased 3 MMT to a whopping 111 MMT.
While nothing in these numbers would appear to be as damaging as the United Airlines news, although the bean numbers could be close, one might have expected a fairly negative reaction for markets but as it turned out, that was not to be the case, at least by the close.  May corn finished just a fraction lower for the day, May beans down 2 ½ cents and July wheat actually closed 5 ¾ cents higher and at the best level in three weeks. For those of us who adhere to the philosophy that the market reaction to a report is the ultimate litmus test, it would seem that the market is telling us that we have absorbed all this bearish supply news and is ready to begin focusing on the inherent risk of producing a crop in the United States moving forward.  This is not to say that we have to rally significantly from this point forward, but I suspect that until we have a better handle on our production any inkling of a weather issue and the bear will be scampering for the sidelines quite quickly.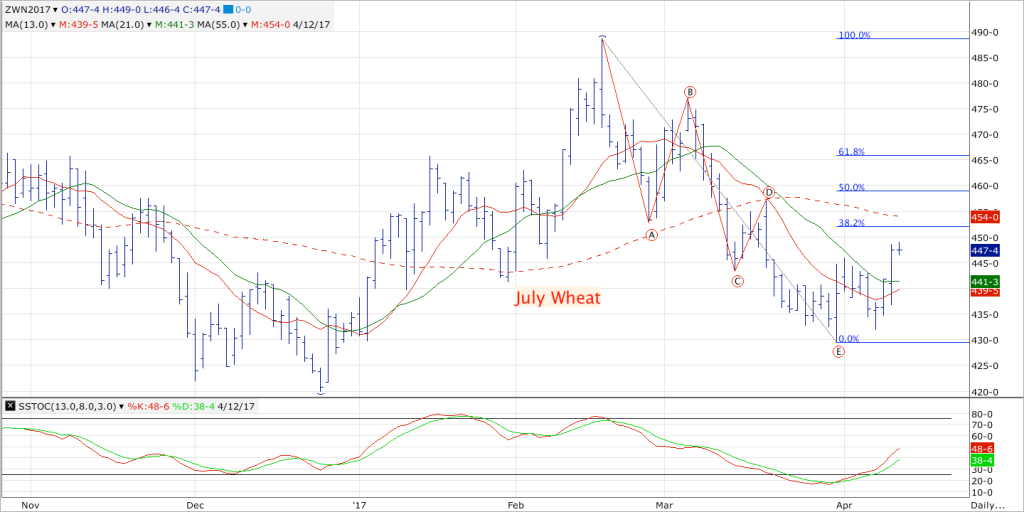 While they have been somewhat detached as of late, I have to suspect that renewed positive action in the energy sector may have been helped in shoring up the grain and soy markets.  Crude oil has moved higher now for the third week in a row and it back to within striking distance of the highs posted in the first quarter of this year.  News that OPEC has actually trimmed production by more than they have pledged and that it would appear that non-OPEC producers have also remained committed to agreements seems to be providing the positive boost.
Staying with energy for a bit more today, there was an interesting disclosure reported in the news overnight.  It seems that the infamous investor and enemy of ethanol, Carl Icahn, made some interesting moves just before becoming an unpaid special advisor to President Trump.  Icahn is the majority owner in the refiner CVR Energy and the firm would normally be a purchaser of biofuel credits to meet the renewable fuel standards for blending but in November of last year, according to SEC filings, the company elected to go short instead.  Shortly after, he accepted the role as special advisor (12/21/16) the RIN market began to tumble and accelerated even lower after Mr. Icahn suggested making changes in the rule that would push the obligation to use credits away from refiners.  The market moved from just above $.90 at the time to below $.50 by early March. Now, far be it from me to suggest that Mr. Icahn was using his position as advisor to profit from the selfless advice he is providing to the White House or that any kind of conflict of interest exists here.   Of course, if it walks like a duck and quacks like a duck…