By: Dan Hueber –
During the past several months we have grown accustomed to headlines referencing the latest comments made by President Trump, often via the overnight tweets that he is fond of sending. Over the last 24 hours though, the attention has been directed towards an interview that he recently held with writers from the Wall Street Journal, which has surprised a few due to its tenor and put a number of markets on guard.  Undoubtedly, in the market sphere at least, the line that has created the largest stir was "I think our dollar is too strong…Look, there's some very good things about a strong dollar, but usually speaking the best thing about it is that it sounds good."  What is unusual about this is that Presidents rarely make statements about the country's currency but needless to say, he does not fit into the mold of a "usual" President so realistically, no one should be all that shocked.  The President does fully understand that this strong dollar is creating a drag on our export business and further creating imbalances in trade and his comments appeared to unleash a pretty solid selloff during much of the day. Prices had recuperated by the close but it would appear that this market is teetering on the edge of another breakdown.  I have maintained the for some time, the dollar as well as equity markets have been overinflated for little more than psychological reasons as well being the only game in town for investments.  While I am not sure if the President's remarks will have been the "final straw to break the camel's back" they could very well temper would-be dollar buyers.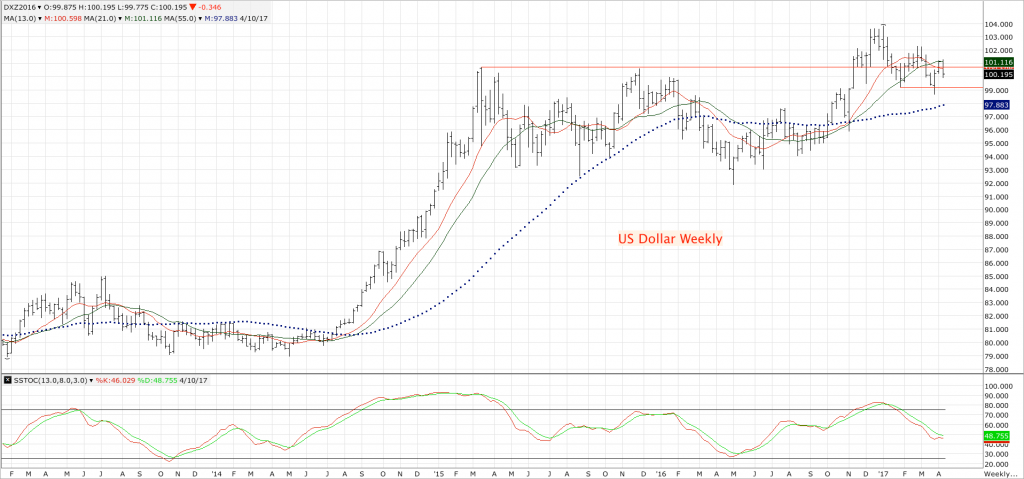 The second comments from the interview that garnered quite a bit of attention referenced China as he stated "They're not currency manipulators." This is of course a major departure from "campaign" Donald Trump and is also a welcome sign for potential trade.  One has to suspect the recent meeting with Chinese President Xi Jinping helped shape this statement.  Most accounts from the gathering suggest the two got along quite well and are committed to improving relations and trade, at least partially evidenced by China agreeing to open the doors for US beef trade once again, which is of course music to the ag sectors ears.  Needless to say, the fact that both nations are wary of the infantile despot that remains in control of North Korea provided a common ground for discussion as well.  In summary of the meeting, the President stated "We have a very good relationship. We have great chemistry together. We like each other. I like him a lot."
Last but not necessarily least, President Trump offered up favorable comments about the current Fed Chairperson, Janet Yellen.  If you recall back on the campaign trail he said he planned to replace her if elected but in the interview stated that "I like her, I respect her" and "I do like a low-interest rate policy."  Granted, this by no means would assure anyone that he will not look for a replacement when her term expires nor would Ms. Yellen necessarily be interested in continuing in that position but it would at least seem to suggest level of tension between the White House and the Federal Reserve will be far less than some feared.  Along this same line, the President has also made favorable comments concerning the Export-Import bank, which at one time he stated had to go.
While the currency markets did witness reactions to the various comments this past week, equity markets remain in a state of limbo but appear to be teetering on the edge of the a very tall cliff. By no means is there anything in the price action this week that would suggest this market is ready to leap off the edge but we have reached solid upside targets and have seen technical indicators turning back south.  It almost feels like we have a buy the rumor/sell the fact type scenario.  From November forward, this market, as well as the dollar accelerated higher on the belief that the Trump Presidency would provide a boost for the economy and now that we are beginning to witness a few concrete steps being taken, as well as the reality that many are not all that dramatic, it is as if the markets appears just a bit lost and uncertain.  Uncertainty will often breed caution and caution can turn into a risk-off psychology.  Would that materialize into anything more than a possible corrective pullback?  I certainly cannot provide a definitive answer to that but after seven years, nearly to the day (3/6/09 to 3/3/17) of generally rising prices this bull has grown rather long in the tooth and probably a bit overweight so may need to be retire to the pasture for a while.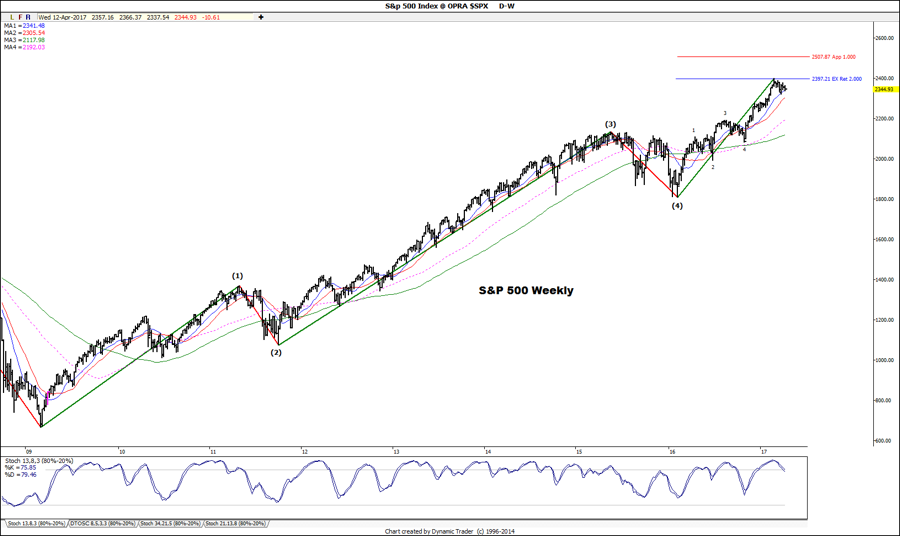 This is the final day of trading this week due to Easter but it is Thursday which means which means weekly export figures have been released and we did see the major three commodities slow up a bit.  For the week ending April 6th, we sold 738,000 MT or 29.1 million bushels of corn.  This figure was 35% below the previous week and 33% under the 4-week average.  Top sales were made to Japan at 230.9k MT, followed by Mexico with 160.6k and then Colombia purchasing 85.6k.  Year to date we have now sold 1.940 billion bushels which is 87% of the USDA target with another 21 weeks remaining in the crop year.  Soybeans sales were 4% below last week and 26% below the 4-week average but we still sold another 402,300 MT or 14.8 million bushels.  As you may have suspected, China was on the top of the list purchasing 222.3k MT followed by Pakistan with 128.5k and then Egypt for 92k.  Year to date sales now stand at nearly 2.039 billion bushels, which us 14 million above the USDA target.  Granted, everyone recognizes that at some point we will be confront with negative weekly sales figure but one must believe the current estimate will be pushed higher.  Net sales for wheat came through at 421,600 MT or 15.5 million bushels.  This was down 26% versus last week but only 2% below the 4-week average.  The top sales were made to China with 112.9k MT, followed by Nigeria taking 99k and Japan rounding out the top three with purchases of 63.9k.  This bring us to 98% of the USDA projection for the marketing year and with 8 weeks remaining, this means we need only average 3 million bushels per week.
With that, we wish you all a very Blessed Easter.