By: Dan Hueber –
Grain and soy markets continue to struggle just a bit this morning even though much of the latest news is mildly positive.  Soybean export inspection for last week were half of the previous week but we still run 14% ahead of last year and the corn figure was strong once again at 52.3 million.  For the marketing year to date corn inspections are running a whopping 64% ahead of last year and even wheat is running 4% above the prior year's pace.  The NOPA soybean crush number for March was a bit disappointing, coming in at 153.06 million bushels, which was just over 3 million less than a year ago but this was still more than 10 million higher than the previous month and marketing year to date stands at 18.7 million bushels greater.  It was also noted yesterday that China will be planting the smallest acreage of corn in the past six years, down 4.1% and the second year in a row of declines and finally, the planting pace here in the Unites States came in under expectations.  Nationwide, we have just 6% of the intended corn acreage, which is half of where we stood a year ago and 3% behind average.  I recognize that the majority of this news was released yesterday so is technically "old news" by trading standards so the bulls are in need of something fresh to chew on and the bunk is looking somewhat empty this morning.
According to the Buenos Aires Grain Exchange, Argentine farmers were only able to harvest an additional 1.8% of the bean acreage last week and project the total completed has reached only 7.8%.  Last year at this date, they were 14% complete.  Dr. Cordonnier has lowered his estimate of their crop by 1 MMT due to the excessive flooding.  Corn harvested has reached just over 18% complete, an advance of little more than 3% for the week.  In their neighbor to the North, Brazil, it is estimated that bean harvest is now 90% complete.
I do believe it is worth mentioning that the Baltic Dry Index has been on the offensive recently and currently is standing at the highest levels traded since late 2014.  For the benefit those unfamiliar with the index, the BDI should reflect the supply/demand situation for various size bulk vessels operating on 23 shipping routes around the globe.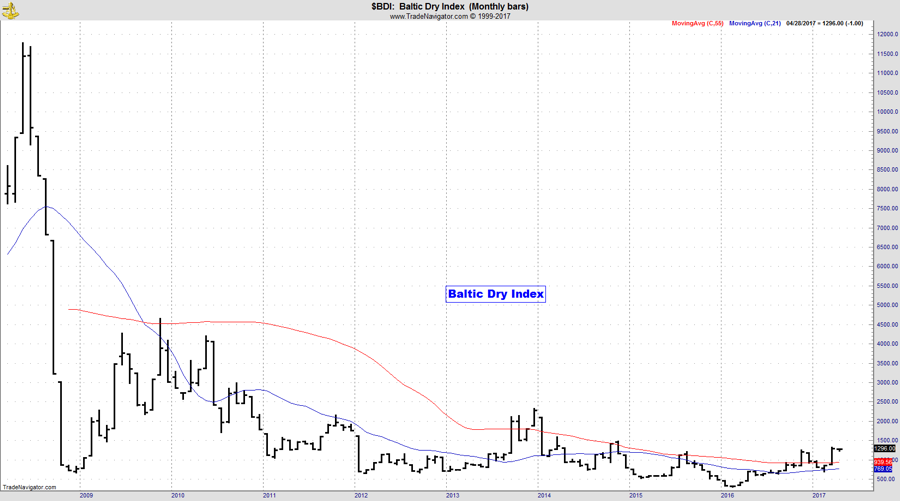 Theoretically, a rising index could reflect an increase in demand for the vessels and hence provide a tip off for trade and possibly the health of the global economy.  It would not be unusual to see a higher trend at this time of year due to the harvest activity in South America but, the pattern/direction for the DBI appears to be positive and could very well be just one more indication that the overall commodity picture continues to turn more positive for the longer-term.
While they do not appear to be helping much this morning, macros as a whole lean to the positive side this morning.  Energies are a smidge higher, equities lower and while metals are weak, gold has been on a pretty solid advance as of late with the increased world tensions.  Last but not least, the dollar is lower again this morning and appears poised to continue south from here.