By: Dan Hueber –
It would appear that the grain and soy markets may have finally shaken off the case of the post-Easter blues that they were suffering through last week and are showing us a nice little rebound here this morning.  Now if we can just find something to help we Blackhawks fans get over the fact that our team was eliminated in four straight games in the first round of the NHL playoffs.  As they might say in the birthplace of hockey as consolation, "C'est pas si tant pire", (it's not so bad).
One would have to imagine that part of the strength this morning may be attributed to the fact that storms are forecast to move back across a large swath of middle growing regions of this country later in the week but I suspect the CFTC releases on Friday showing the massive and growing short positions held by managed money has given traders pause.  While not a record short-position (actually the third largest) I understand it is the largest ever when entering a growing season. Of course, there is always the possibility that these managers will be correct and that the weather and production this year will be near perfect once again but to bank on this at such an early date would seem a bit optimistic, or should I say pessimistic.  Considering that the Climate Prediction Center also updated the summer outlook last week and increased the potential for a dryer than normal pattern across the Midwest, this would seem to reek of getting the cart way ahead of the horse.  This boat, particularly the ones loaded with wheat and corn appear to be listing heavily to one side it I do not believe it would take much of a wave to knock a group overboard as it tries to right itself.
While they have been somewhat detached as of late, I also have to imagine that the pressure in the US Dollar this morning may be providing somewhat of a psychological boost for ag's.  The weakness is directly tied to the elections in France yesterday and while there will be a run off yet in June between pro-business centrist, Emmanuel Macron and conservative populist Marine Le Pen, polling favors the eventual election of the former of these two.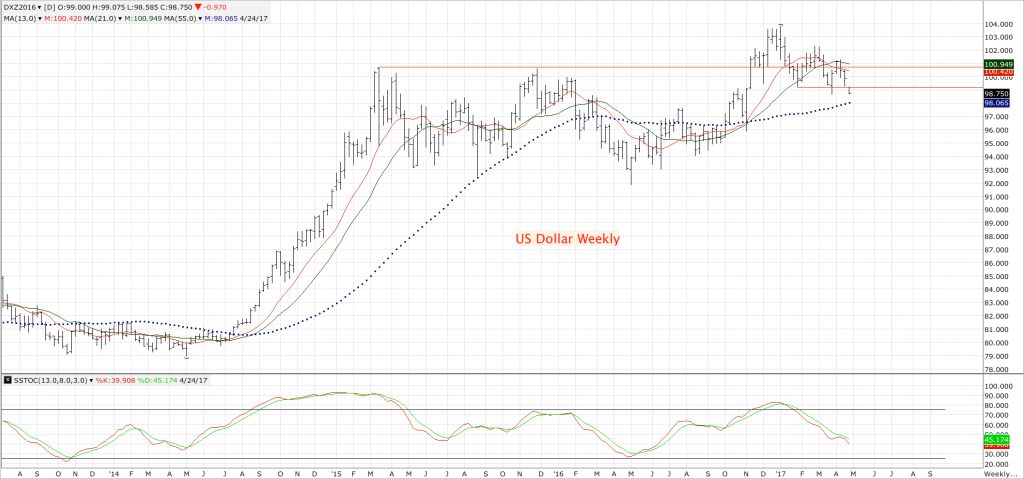 Granted, everyone should be somewhat suspect of polling data after the past year but one has to imagine they have learned from their mistakes. Regardless, this has brought buyers back to the Euro and actually created a gap lower in the dollar index overnight.  While I am not going to hold out that this is going to generate a wave of buying in the grain and soy markets just yet, it should at least remove of one psychologically negative element at this time, and we can use all the help we can get.