By: Dan Hueber –
In the 1983 movie, Trading Places, while having his morning coffee the lead character Louis Winthorpe III, who is played by Dan Akroyd, has an epiphany of sorts and exclaims "Pork Bellies…there is something exciting that is going to happen in pork bellies today." Of course, this was a light-hearted and fictional portrayal of commodity traders, but I could not help but think of this line while witnessing the action in some markets yesterday.  It was almost as if the spirit of Winthorpe III was whispering in speculators ears but this time the revelation was not about pork bellies, but rather "Corn…there is something exciting that is going to happen in corn today."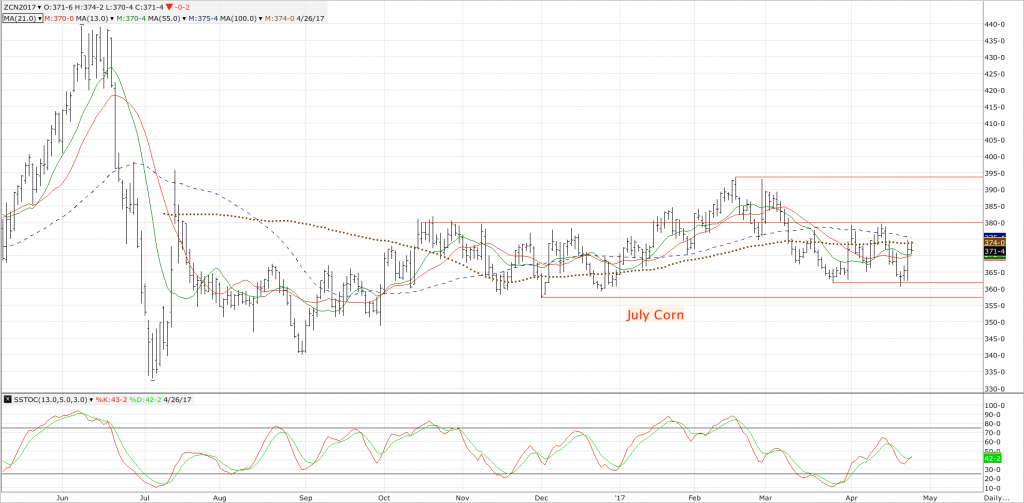 Now, I recognize that the rally yesterday was not all that significant as we remain well entrenched within existing trading ranges (places) but considering that just a couple days ago, we had clicked into a new low for the calendar year, and it was difficult to find anyone who wanted to say anything positive about this market, it was a pleasant surprise to see the action stun the bear, at least for a day.  In many respects, it should not have been a shocker.  We knew that managed spec money was leaning heavily to the short side of grains and we only needed to find a spark to set off a rush for the exits, and it would appear that it was provided by rains and another epiphany; planting is not getting off to a great start in the northern tiers.  At this point, I would not be too confident that we can extend the advance much more on this kind of concern as we all know very well how quickly the crops can be planted, but it should be a stark reminder for the bear that they should not be counting their eggs before they hatch, or in this case placing additional bushels in the bin while the majority of the seed is still sitting in bags.
Keeping with the theme of corn in bins, I read overnight that South Africa is considering the possibility of developing a strategic grain reserve.  As noted a few days ago, this nation is on track to harvest a solid crop this year, currently projected at around 14.54 MMT but this is after an El Nino impacted crop last year of around 8 MMT.  Domestic usage is projected to be in the neighborhood of 11.5 MMT.  Of course to move ahead with a plan as such would require organization and funding from the government, which in itself could be a challenge as the economy of that nation is struggling and would potentially be fraught with other issues of state-owned inventories, i.e. China. Evidently stimulating the discussion though are predictions that El Nino could raise its head later this year which could in turn negatively impact that country once again.
Finally today, a little negative news to temper the rest.  Ukraine reports that during the month of March, overall exports of grain were 52% higher than March, primarily due to record sales of corn.  The private consulting group, UkrAgroConsult is projecting a total grain harvest this year of 61.4 MMT, and the ag ministry is forecasting record exports this year of 42 MMT.  Coincidently, this news came just a day after China reported that corn imports for the month of March dropped down to the lowest level in 3 ½ years.