By: Dan Hueber –
It turns out that we experienced Up Monday/Down Tuesday type of action so far this week and as would be expected prices in the grain and soy markets are mixed this morning.  Here in northern Illinois, the sun is shining this morning, instilling hope that the rains may finally be going away but rays were actually reflecting off the ponds that have accumulated in many a field, which in turn had nearly frozen into ice skating rinks overnight.  That may be a bit of an exaggeration, but it certainly did not feel like an early May morning. The forecasts that I have read do predict more favorable conditions ahead for many of the growing regions of this country, except for the lower Midwest where the most serious flooding has already occurred. They are being promised additional rains through the end of the week.  While I do not suspect the USDA will try and factor any of these spring issues into the May production and supply/demand reports that will be issued next week but there would seem to be no question that damage has occurred to the already planted crop in the lower Midwest and down through the Delta.  Even here, we will most likely require at least 4 to 5 days of dry conditions before fields are fit to work in once again which is pushing us out the 7th of May of so.  Not what you would consider this "late" planting for corn but is approaching the threshold for such.
Additional ag-specific news is a bit sparse this morning, and many traders have directed their attention the two-day Federal Reserve policy meeting that has commenced today. In the last month, we have witnessed a disappointing jobs data report, a decline in the personal consumption expenditures index, and a very weak first quarter GDP estimate so there would appear to be little risk of seeing the Fed announce a boost in rates.  In fact, the market is reflecting a 95% probability that this will NOT happen. Regardless, we have seen a bit of an uptick in the dollar and a downtick in the financial instrument futures.  While that may not appear to make much sense, it would seem that some are building in a little "risk premium" in case there is something surprising in the post report policy statement that will be released tomorrow afternoon.  Currently, the CME Fed Watch tool is projecting there is a 63.2% chance the Fed will raise rates another 25-basis points at the June meeting, so anything within the statement that could hint otherwise will potentially direct the market from there.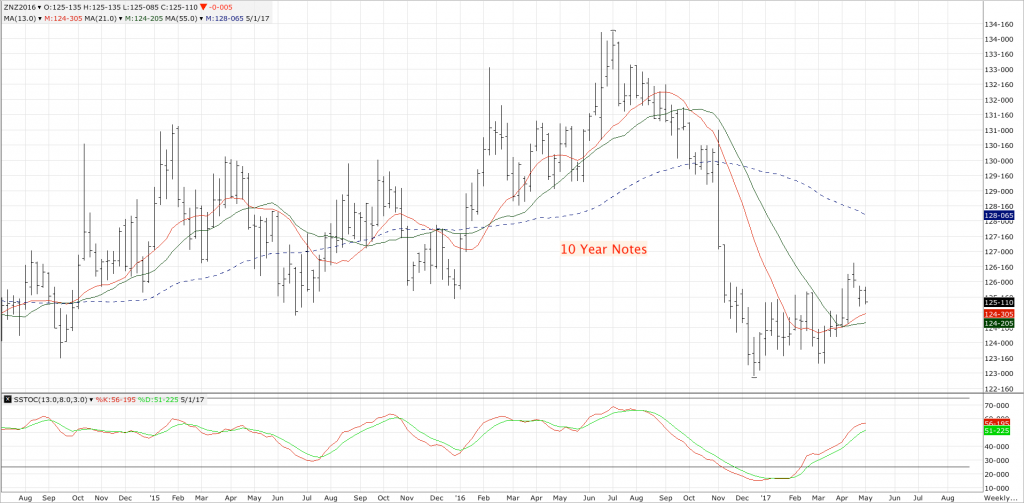 The May USDA reports will be issued a week from today, and we should begin seeing trade surveys released over the next few days.  While we recognize these are little more than statistical projections using the March acreage number, they should at least give us something to focus on outside of weather for a day or so.