By: Dan Hueber –
Now we all have a new and slightly difficult French name add to our vocabulary for the next several years as polls appear to have been correct this time as the centrist candidate and former banker, Emmanuel Macron won the French presidential election by a commanding 66% vote margin.  Although the populist candidate came up on the losing side this time, it is difficult to define Macron as an "ordinary" candidate.  He is only 39 years old, so the youngest person ever elected to that office in France, has never held an elected political office and founded the En Marche political party barely over a year ago.  I believe this still qualifies as a major shift in the power structure and a populace demanding or at least desiring a change.  The initial reaction in the currency markets was to witness a dip in the dollar and rally in the Euro, but after this initial swing, prices turned in the opposite direction.  Looks to be a buy the rumor sell the fact type scenario.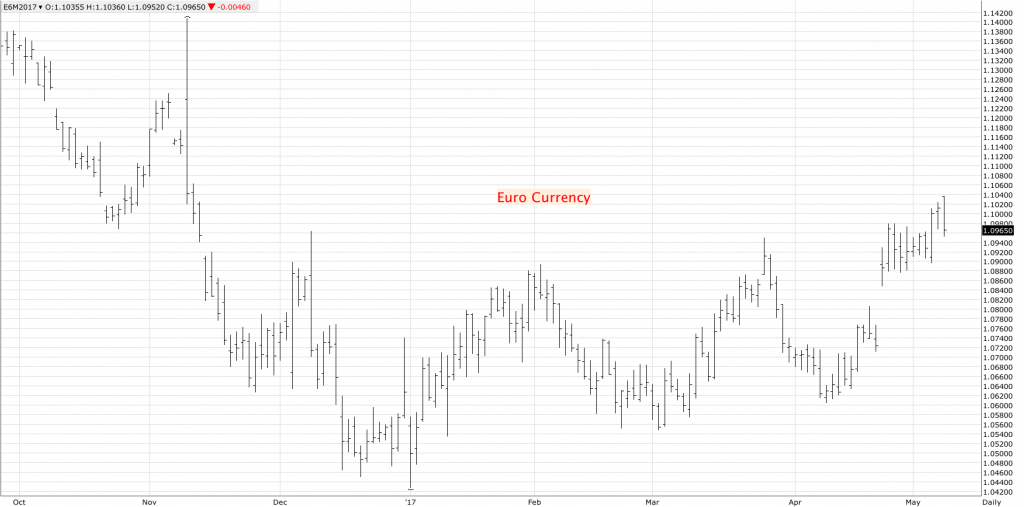 Of course, you may be questioning at this point, why any of this matters to us, but keep in mind that France is the seventh largest economy in the world, (third largest in Europe) and is by far the largest grain producer in Europe.  Even beyond this, the election will be a litmus test of sorts for a different type of change candidate.  As Gideon Rachman said in the Financial Times this morning, "France does not have a comparable global role to the US. But it is certainly true that success or failure of the new president will matter well beyond France – and even well beyond Europe. If Mr. Macron succeeds, the forces of nationalism and political extremism — represented in France by his defeated opponent, Marine Le Pen — will suffer a setback around the world. But if he fails, populism, nationalism and protectionism will soon be resurgent."  That would seem to be a pretty weighty load to bear.   Even beyond this, I understand Mr. Macron has a business/market oriented philosophy and in a country, that 56% of the GDP is attributed to government spending and workers are accustomed to a 35-hour workweek; he will have his work cut out for him.  We wish him the best.
More than a few have wondered out loud just how long the Chinese bean purchasing can last and while I certainly to not have the crystal ball to provide a definitive answer, the recent data would suggest we have not reached a peak just yet.  Imports for the month of April totaled 8.02 MMT, which was up 13.4% from the prior year and sets a new record for the month.  For the first four months of this calendar year, they have now imported 27.54 MMT, which is 18% higher than last year.  It would seem somewhat safe to say that as long as average incomes continue to rise in that nation, demand for meat consumption and production will continue to rise as well, which should translate into increased demand for meal.  That said, demand for vegetable oil is no slouch as for the first four months, imports are up 6.4% above the previous year.
We still have a couple days until the May USDA reports and I suspect markets  will continue to chop sideways between now and then.  The more recent estimate that I have seen comes via Bloomberg News and breakdown as follows; for 2016/17 ending stocks, corn is at 2.315 billion, beans at 443 million and wheat 1.160 billion. Looking out to 2017/18 the corn estimate is 2.129 billion, beans 584 million and wheat 930 million.  Total domestic wheat production is pegged at 1.859 billion and world ending stock are estimated at 223.32 corn, 87.55 beans and 252.16 wheat.