By: Dan Hueber –
There were no real surprises in the weekly planting updates released yesterday but keep in mind that we did slip a little behind average.  Overall, we now have 47% of the corn planted, which is 5% behind the 5-year average and 14% behind last year. The previous week ago we were sitting right on the average pace and were 9% behind 2016. Do note that Iowa increased 27% this past week, bringing them up to 52%; only 3% behind normal but the other two largest production states west of the Mississippi did not report such great progress.  Nebraska planted an additional 14% but has slipped from being 4% ahead of average to now 7% behind, and Minnesota did see an increase of 23% but is still 20% off the normal pace.  While this is by no means a panic-worthy situation, but neither is it the great start that you would expect to see in years with above-average potential.  Emergence for the big four production states are as follows; Iowa 7% compared to last year at 25%, Illinois at 29% compared with 43% in 2016, Nebraska at 10% vs. 14% and Minnesota at 1% compared with 22% last year.  Soybean planting increased 4% this past week and stood at 14%.  This is 3% behind the 5-year average and 7% behind last year.
Cold and dry weather appears to be having an impact on production in France this spring as the Ag Ministry is now projecting that corn numbers will be lower by 2.3% coming in around 1.39 million hectares (3.43 million acres).  Keep in mind that this would be 14.5% below the average planted between 2012-2016.  Part of the reason given for the cutback is due to poor (drought) yields witnessed over the past two seasons.  Note as well that the area sown to rapeseed is expected to slip 7.2%, wheat and barley coming in basically unchanged with the only crop looking at a sizable increase being sugarbeets, projected to be up 17.2%.
While strength can be primarily attributed to the livestock sector, which makes up nearly 30% of the index, it is encouraging to have seen the DB Agricultural Index rebound sharply from the hole it had fallen into at the end of April. By no means would this suggest that we are ready for a major ag commodity advance just yet, but considering that we have once again revisited what has been a major point of value (support) over the past year, bounced, and are now seeing technical indicators reverse higher, I suspect the managed funds could become just a bit more disillusioned with short positions at this time.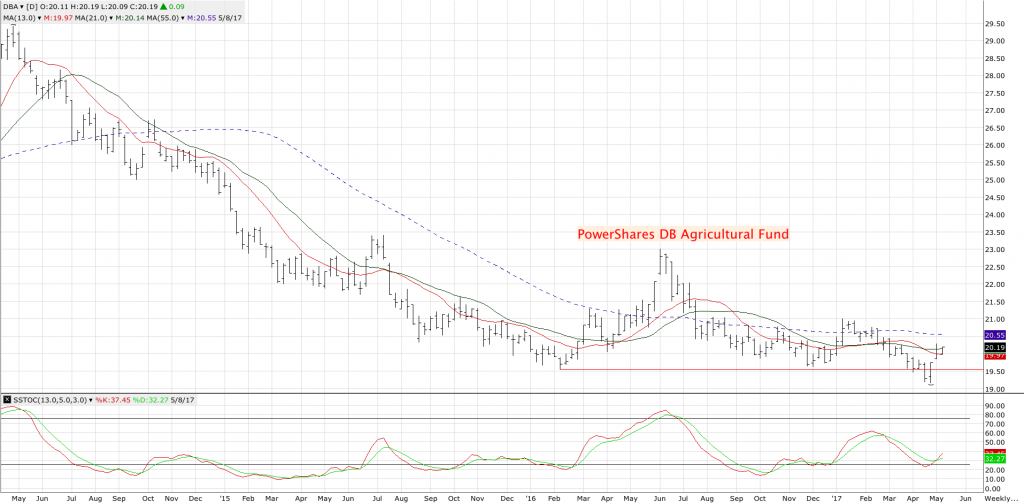 The wheat market continues to struggle this morning but corn and beans appear to have stabilized.  We are not receiving any help from macros as we have energies and metals weak with equities and the dollar higher. Expect stagnant trade at least through the report.  Generally speaking, the May estimate is worth little more than the fact it provides a benchmark to work from as we enter the summer months, but in this era when the trade seems to live and die according to the next USDA release, I guess every report holds potential for excitement.