By: Dan Hueber –
While there still could be an issue to pop up here and there, I believe it is safe to say that the 2017 delayed planting story is now little more than a faded memory. According to the progress reports issued yesterday, farmers across the nation made phenomenal progress last week and just looking the raw data, it would appear to be an average planting year.  Iowa planted 33% more corn, moving from 3% behind normal to 10% ahead and Minnesota surged from 20% behind average to 14% ahead and stood at 84% complete.  Emergence nationwide was reported at 31%, which remain slightly behind the average of 36% and 10% behind last year.  Granted, we know that there is a reasonable percentage that went into less than ideal soil conditions but for now, that matter little to the trade.  Soybeans planting has a way to go yet, but at 32% complete, we sit right on the 5-year average and just a couple percent behind last year.  Moving forward, the focus of attention should shift to crop conditions in lieu of planting progress.  Corn is just a touch lower this morning in response to the updates and beans a smidge higher, which I would believe would suggest we are already looking forward to the next piece of news on which to focus.
With the exception of the cotton market, there is still not a tremendous amount of news in the ag sector, but energies have returned to front and center once again.  Over the weekend oil ministers from Saudi Arabia, and Russia had a little get-together while attending an economic conference in China and issued a joint statement that they were in agreement that the production "curtailment" should be extended until at least March of 2018.  You might say that the two were "priming the pump" for the OPEC meeting that is scheduled to be held in Vienna at the end of the month. While all data would suggest that the previously agreed to cutback of 1.2 million barrels per day by OPEC, has been effective at reducing world inventories, the overall pace is slightly slower than desired.  Hence the plan to extend the limits until March in order to bring global inventories into "balance."  Recognize, the news did not exactly spark any type of panic in the crude markets, but it did lift prices further away from the calendar year lows that were posted just two weeks ago.  Overall, like so many commodities at this time, crude remains in a very broad basing/bottoming pattern.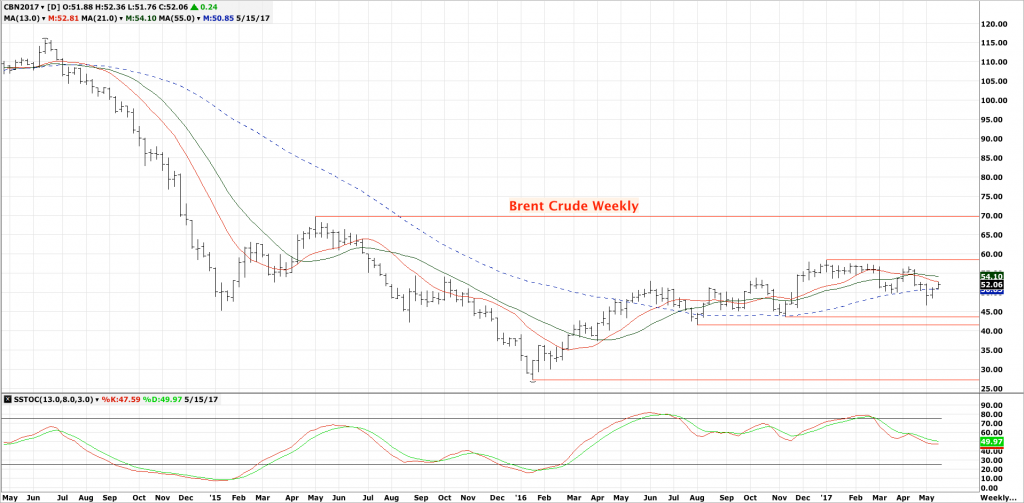 We have seen an announcement of 132,000 MT of beans sales released this morning under the daily system which appears to have bolstered beans just a bit but overall the grain/soy markets act lethargic.  Macros at least do lean to the supportive side for now, and the US Dollar has extended into lower week lows once again and is closing in on pre-election ranges.