By: Dan Hueber –
Grain and soy markets appear to be breathing a sigh of relief this morning after suffering a panic attack in response to the big risk-off session in the equity trade and the breakdown in the Brazilian Real.  While both of these outside influences have settled down this morning, the longer-term implications remain unknown and could very well work out to be conflicting influences on the commodity trade.  A downturn in the equities could ultimately direct investment money back to commodities while additional erosion in the Real would make Brazilian commodities more competitive on the world stage.
A few additional observations on that last topic.  In many respects, after all of the political scandal and economic woes that Brazil has suffered over the past several years, it was almost amusing to think anyone would be shocked to learn there was another bribery scandal involving the President and other officials in that nation.  On a side note, this one involved, JBS, the largest meat processing company in the world, who has not only been embroiled in a tainted meat debacle in the past year but if you recall, is the company that purchased Cargill's U.S. pork business back in 2015 and already owns Swift and Company.  Regardless, the news yesterday sent the Real lower by as much as 8%, which sounds dramatic but realistically had just taken this currency back to levels it was trading at towards the end of 2016 and certainly well off the lows posted last year.  I understand that Brazilian farmers did rush to make additional sales yesterday but there are some analysts that would argue the additional turmoil with that government and currency could actually cause farmers to hold product as a soybean could be more secure than the currency.  We did witness something similar to this in Argentina just a few years ago.  The point is, no one knows for certain how this will play out and without additional "shock value" next week, we may have already witnessed some of the most negative response.  Keep in perspective as well, the U.S. Dollar index continues to dive.  For the week it is currently down 2% and since the beginning of the year is down over 6%.  That said, it did not all happen in one day so is far less shocking.  Kind of like the old story of boiling a frog.  You have to do it slowly.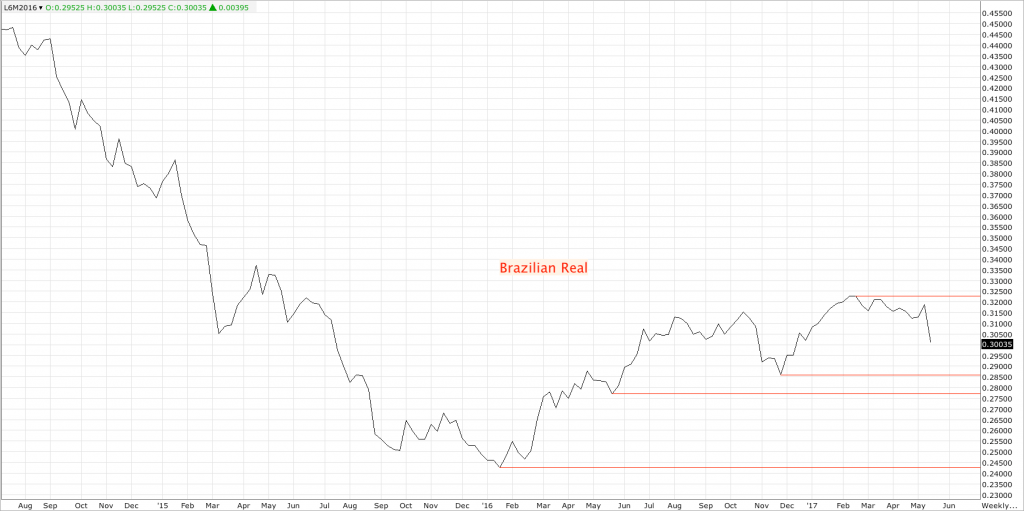 Before we completely leave the topic of Brazil, Mexican officials reported yesterday that they have worked out agreements to purchase a record amount of corn from Brazil this year.  Now, record in this case means 300,000 MT between August and October, which is a relatively insignificant when measured against the 12.75 MMT shipped from the United States to this nation last year. One has to believe that this announcement by Mexican officials was taking aim at the fact that the Trump administration began the process to open discussions to revise NAFTA this week.  Regardless, we should never take lightly the fact that our Number One corn customer is looking elsewhere for product, particularly when more and more countries around the globe are learning how to produce this crop.