By: Dan Hueber –
Not a bad way to begin the week in Northern Illinois.  The sun is shining AND prices for grains and soy are trading higher.  Of course, the forecast calls for rains to move back in this afternoon and then remain with us for basically the balance of the week, so hopefully that does not translate into a stormy market as well.  One would think that it would be premature to begin hearing the mantra "rain makes grain" but if traders lack something else to focus on, that could be the next.
Seeing a real lack of other news, I have to believe that at least a portion of the overnight strength is in response to the ongoing weakness in the U.S. Dollar.  While not significant yet this morning, we have extended into lower lows for the drive and this after a sharp dive lower last week. This takes us back to the same vicinity that we were trading at in Oct/Nov last year and currently sits nearly 10% down from the peak set at the first of the year.  Realistically, this break has been rather orderly and looking at it just from a technical standpoint, would appear to be in the final phase of the swing. (Possibly a push to the 38.2% retracement at 94.40) Ideally by the time that occurs, grain/soy markets will have actual weather related concerns to draw their attention once again.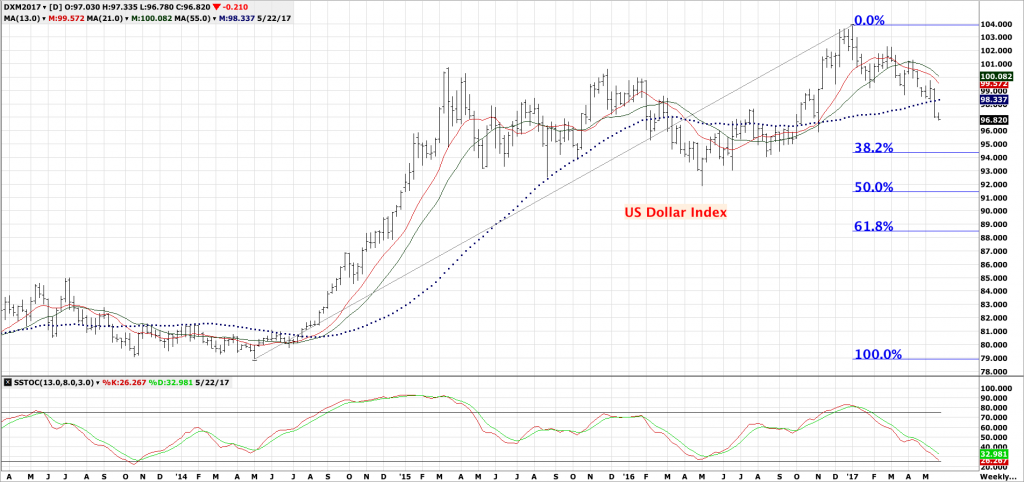 This should be an interesting week in Washington as the White House's new budget is expected to be presented to congress on Tuesday.  While this will of course only be a proposed budget and will be immediately confronted with opposition from every department, except defense, but the preliminary stories suggest that there is no corner of the USDA budget that will not have to fight for every dollar of funding, including crop insurance.  Thankfully we have a very strong advocate in the position of the House Agricultural Chairman, Mike Conaway, who in response to questions about cutting the CI program stated, "We think it is wrongheaded.  Production agriculture is in the worst slump since the depression – 50% drop in net income for producers.  They need this safety net."  While we know, such words will fall on deaf ears over at the Heritage Foundation, hopefully the same will not be said of the White House.
This afternoon the trade will be looking for the planting progress to come at 82 to 88% complete in corn and 42 to 48% complete for beans.