By: Dan Hueber –
While I do not want to become too excited just yet, it would appear that we may be developing a little upside momentum in the grain/soy complex and particularly in corn.  It is a bit difficult to pinpoint a real fundamental story that would provide rationale behind this new-found interest.  Yes, the dollar has remained under pressure but I would classify that are an excuse rather than a reason at this point. So, one has to suspect the combination of a less than ideal beginning to the growing season, the critical months laying ahead and the fact that the managed funds have the boat listing dangerously to the short side in face of all this may well be the reason we are seeing the strength.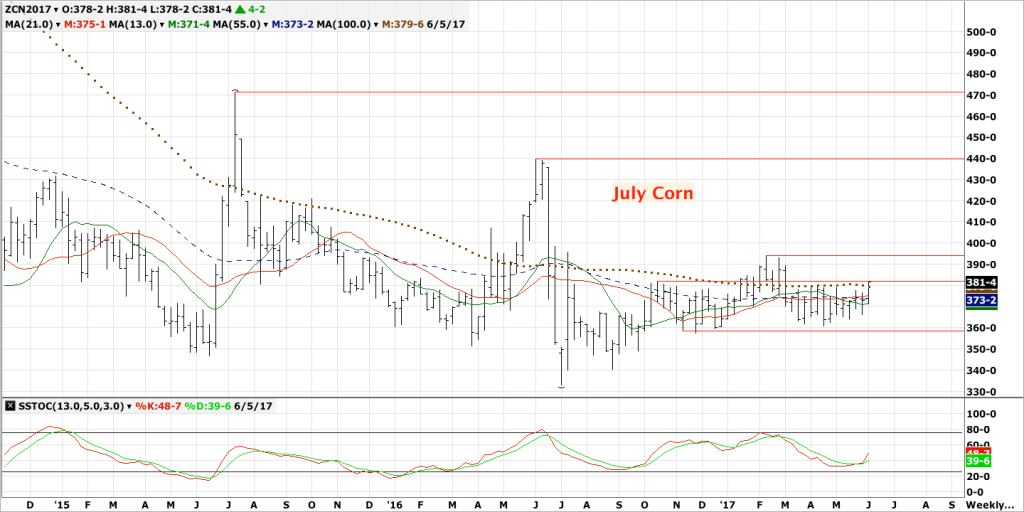 This morning we have July corn finally pressing against the key 3.80price level that, outside of a brief stint in February, has held the upper end of the trade in this contract since October of this past year.  What I find encouraging at this time compared with the February rally is the fact that we currently have weekly indicators at the oversold level and beginning to turn back higher. If we can begin closing through this 3.80 level, it could have the door open for a kick back to at least the calendar year highs at 3.94 but I suspect this time around, a run north of the 4.00 mark.
The picture in December corn looks just as interesting as we once again have this contract poking against the psychological 4.00/4.04 level where it was stopped back in February.  With weekly indicators turning higher and the possibility that fund shorts are becoming increasingly uncomfortable with their position, barring some type of surprising negative news, i.e., USDA, it would appear we have potential this go around to violate the early year highs.  As you can see, there is little then in the way of resistance from there and the 2015 and 2016 highs up around the 4.50 level.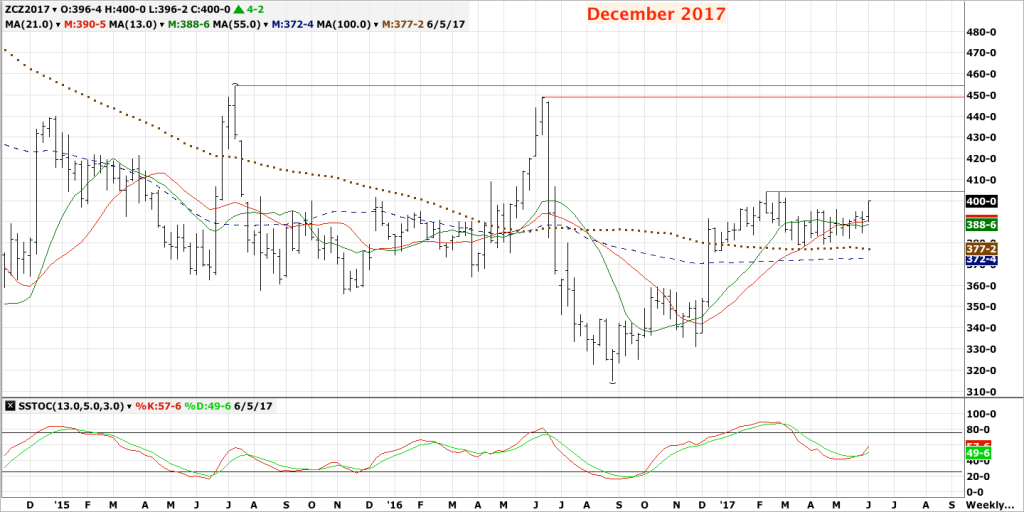 All of this said, we still need to move beyond the USDA production and supply/demand estimates on Friday without some kind of negative blast to stop the momentum.  The latest survey estimates come curtesy of DJ Wall Street Journal and break down as follows; 2016/17 ending stock at 2.284 billion corn, 432 million beans and 1.158 billion wheat.  Then for 2017/18 the estimates are 2.073 billion corn, 498 million beans and 909 million for wheat.  They have 2017 production estimates for corn at 14.022 billion using a yield of 169.7, bean production at 4.229 billion with a yield of 47.6 and all wheat production at 1.825 billion.  We shall have to be patient for a couple more days now and see if the "word of gov" helps or hinders the current optimism.