By: Dan Hueber –
While the extreme heat that those in the southwestern region of this nation are experiencing may be the headline weather story on the nightly news, understandably it has done little to make bears in the corn and bean markets sweat.  Of course, seeing little change to a slight improvement in the weekly conditions report provided them with an additional level of confidence as well and we have seen prices return to a defensive mode again this morning.  Wheat was the exception in the condition reports as the overall rating slipped just a bit more, but after initial strength in the overnight trade, even this market is acting a bit bull-weary this morning.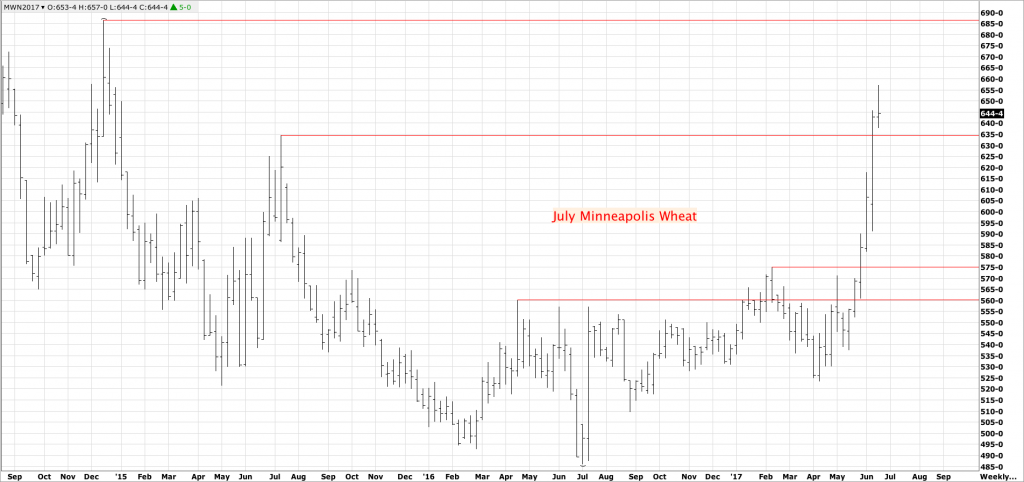 It would appear that you could find just about any type of weather that you want to talk about in the US for the next week as there is a tropical cyclone headed into the gulf that promises to bring rain into the southern states and the delta, extreme heat in the southwest and through the weekend at least, slightly cooler than normal temps in the Midwest and plains states. There does appear to be a little more consistency in the weather in Europe but in their case, it is expected to be consistently hot.   Temperatures have pushed into the 90's into northern France and is expected to last for at least a few more days and a high-pressure ridge may be developing in Eastern Europe.  Undoubtedly this has helped support the wheat market.  Needless to say, weather markets are always the most challenging to work with and can change at the whim of the next forecast.
While it has faded into the background as weather captures most of the attention, I have to suspect that the ongoing pressure that we have seen in energy markets has been creating a drag on the overall commodity scene.  Crude oil is currently trading lower for the fifth week in a row and has slipped down to levels not traded since last fall.  Even with all the recent negative supply news, I have no reason to believe this will be anything more than a retest of major support in the mid to low $40 range but psychologically, it provides bulls little incentive to try and excite the troops.   For now, commodities will continue to wander through the wilderness.