By: Dan Hueber –
It would seem that for time immortal, writers and storytellers have used metaphors and allegory to convey their message.  Not only can these tools be used to make associations with other events or experiences, they can also function as verbal or visual examples of the circumstances at hand and even be used as a tool that represents the future.  I could not help but to think of this when I arrived at my office this morning, as directly outside of the window there was this unexpected guest.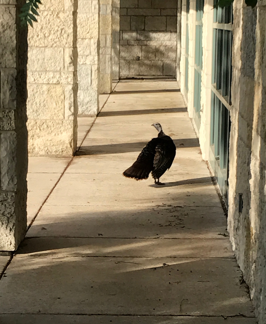 Could there be a better representation that is more indicative of the opportunities that markets have offered producers so far this summer?  Or possibly, it is an harbinger, providing a look into the future and forecasting that we are just about ready to take flight but it will take until fall (November) to fully recognize the issues that we are dealing with this year.  Alright, I admit that I am probably allowing my imagination to "fly" away this morning, and some of you may believe such thinking is for the "birds", but it is interesting to note that at this time, markets appear to be impervious to ideas of lower yields and the impact they could have on the supply/demand balance sheets. Just in the past few days were have had satellite imagery and other firms projecting average corn yield down in the 166/167 range which would potentially trim production 320/330 million bushels from current production estimates.  While if correct, this would not move us into a "tight" corn stocks situation but would push carryout back below the psychological 2-billion-bushel mark and would say we that we should not be down trading at what has been the low end of the price range for nearly a decade.  While we still have the most critical portions of the growing season yet ahead, I have to imagine that at least some of the lack of concern stems from the sentiment that current hybrids are "bullet-proof."  For the last four years in a row, we have seen average yields consistently work higher, and for many that is now just the expectation. For anyone who has been around agriculture or basically life in general for any length of time understands that whenever we deceive ourselves into believing, there will not be ups and downs and at times, some major disruptions.  They are probably in for a surprise as those black swans (or maybe turkeys) are always out there lurking around the rest of the flock.  Yes, it is too early to say if this is the year, but there are enough trouble spots around the nation that the stage is set and if you want to pass that off as nonsense, look no farther that the Minneapolis wheat market, which is fifty cents higher again this morning.
Nothing terribly exciting in the weekly export sales release.  Overall wheat sales were solid at 492,100 MT or 18.08 million bushels.  The top purchasers were Mexico with 157.6k MT, followed by Indonesia with 135.1k and the Philippines at 97.6k.  Corn sales were a bit dismal though at 316,200 MT or 12.45 million bushels.  On the top of the list is our most reliable customer Mexico purchasing another 144.9k MT, follow by Japan with 106.6k and the China purchasing 58.2k.  Beans sales bounced back quite nicely this week with a total of 312,400 MT or 11.48 million bushels.  I cannot imagine that the USDA will not boost number again on the July S/D reports.  The tops purchasers were Bangladesh with 110k MT, followed by the Netherlands at 79.6k and finally Indonesia buying 43.2k.
There is additional interesting news from amongst the world of the commodity trading giants as companies position themselves for the future.  It turns out that Louis Dreyfus Corp. has decided to appoint Citigroup to help them potentially find a new owner for their metals trading business.  Note that this has been the fastest growing division within the firm and they are currently the third largest trader in the world for copper, zinc and lead concentrate.  According to CEO, Gonzalo Ramirez Martiarena, this would allow LDC to focus on expanding business in agricultural commodities.  Makes one wonder if there may not some type of Louis Dreyfus-Bunge alliance in the future?