By: Dan Hueber –
While I do not want to wear out the topic, it has been so long since we have experienced a grain market that is providing us with upside excitement, it is difficult not to bring it up again. Of course, I am talking about Minneapolis wheat, which at one point during the session yesterday, traded over $.55 higher before closing $.365 higher and buyers have returned once again this morning.  Since the April low, spot Minneapolis wheat has now gained $2.45 or nearly 48%.  Understandably, the Chicago and KC markets have not witnessed quite the same levels of interest and enthusiasm but it would appear they may finally be kicking into a higher year and have now reached up to the highest levels witnessed since early summer of 2016.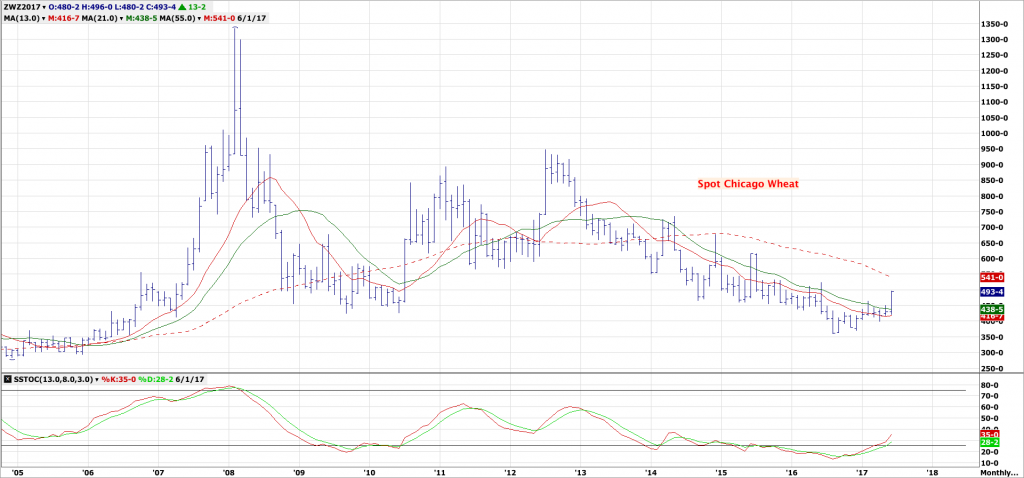 Actually, if we can sustain the current strength for the close today, spot Chicago futures will have recorded the highest weekly close since September 2015.  Now there is certainly nothing that assures that we will continue this advance but I do believe this is a solid confirmation that we have a cycle low behind us and the general pattern for the next 12 to 18 months will be one of generally higher highs and higher lows instead of the opposite. While I recognize we have seen little of the wheat enthusiasm bleed over to the corn or bean markets but as I have commented previously, I was brought up in the school of market philosophy that believes that you can never sustain strength in corn unless the wheat market is leading the charge, and at this point, there would be few that would argue wheat is not doing just that.  All that said, we have a couple key reports to move through yet today and just as or more important, the critical pollination period just a few weeks away.
First things first though and those are the grain stocks and acreage reports.  Once again, here are the trade survey estimates, these courtesy of Dow Jones-Wall Street Journal; Grain stocks for corn 5.160 billion, beans 981 million and wheat 1.154 billion.  For acreage, they found an average estimate of 89.82 million corn, 89.946 million beans and 46.045 million wheat.
Last but not least, the USDA released the quarterly hogs and pigs report yesterday and the number were as follows; All hogs and pigs 103%, kept for breeding at 102%, kept for market 104% and a March-May farrowings of 103%.  While most of these figures were very close to estimates, it reconfirms that herds continue to grow, which in turn is positive for feed consumption.
Keep in mind that next week after the close on Monday, markets will not reopen until Wednesday morning as we celebrate Independence Day on the 4th.  With that we wish you all a safe and enjoyable weekend.