By: Dan Hueber –
"Mind the Gap."  While I have never been to London, let alone ridden on their subways or Underground, as it is referred to there, I understand that just about everywhere you turn, there are signs or audio messages alerting passengers to "mind the gap."  The reason for warnings are to try and prevent passengers from tripping on the gap that exists between the subway car and the platform as they enter and exit.  I would try and make a snide comment that if everyone did not have their faces buried in a smartphone this may not be a problem, but considering the warning message was first introduced in 1969, it predates our current addiction to that specific form of technology.  You are probably already wondering what any of this has to do with grain and soy markets this morning but after yesterday's negatively interpreted USDA reports, wheat, corn and beans have all three have "stumbled" over the gaps there were left on Monday morning as recent longs pushed each other out of the subway cars.
I believe it is worth noting that, in typical fashion of markets that are heavily influenced by often mindless computer generated trading, this would appear to be an exaggerated knee-jerk reaction to the data that was released yesterday.  We all should know and understand that the release was little more than a statistical figure and does not necessarily reflect what is actually happening out in fields, either good or bad, but the market has reacted as if this were the final word on what will be ultimately be harvested this year.  While we suspect that is not realistic, particularly with the problems that are being witnessed in the western corn belt and northern plains, but until fresh ammunition is delivered the current supply appears to have been spent. A peak at the most recent Drought Monitor show that the dry regions have expanded, with a greater portion of Nebraska and Iowa becoming engulfed and just a lot of red up in the Dakotas. The forecasts that I have read this morning are suggesting that there is some divergence showing up between different models, with some showing temperatures out over the next couple weeks to be less warm than previously forecast but none really offer much relief for those Plains states.  Even if there were, it may only halt the deterioration and for those western and northern regions the question is, how much damage has been done already?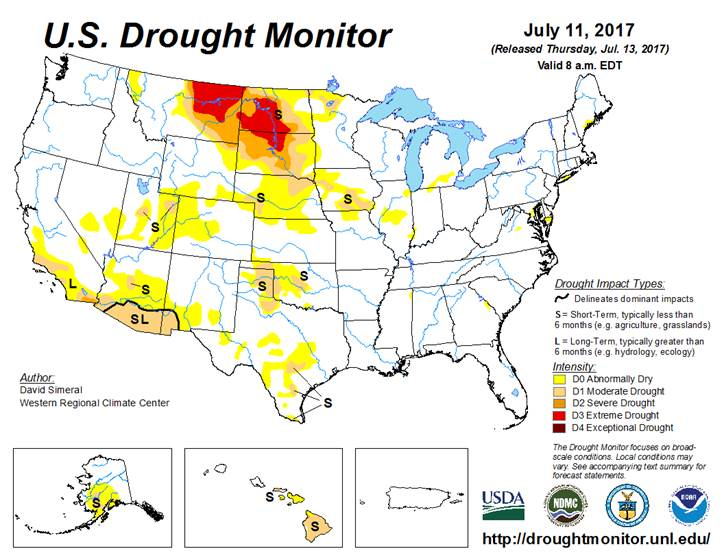 In the process though, we are either turning daily indicators lower or are on the cusp of doing so, and technical traders will probably move back to a selling mindset without another shock from mother nature.  While I continue to believe that we have turned the longer-term pattern higher, we may need to work through a corrective swoon before prices can move back into higher ground.
Unfortunately, it would not appear that bulls will be finding any assistance from new export sales business at this time. For the week ending July 6th, we sold just 161,000 MT or 6.34 million bushels of corn.  Granted, this was 15% higher than the low water mark set last week and did include a holiday but was still 59% below the 4-week average.  The top sales were made to Japan with 112.2k MT, followed by Spain at 94.5 and then Mexico with 87.7k.  Of course, to keep this in perspective, this bring total sales for the marketing year to 2.1953 billion bushels or 98.7% of the targets.  With 8 weeks left in the season, we need to average 3.7 million bushels per week to hit the target.  Of course, any sales on beans just pushes us further ahead of pace and this past week we sold an additional 228,000 MT or 8.38 million bushels.  Yes, this was 38% below the previous week but bring the marketing YTD total up to 2.203 billion bushels, which even after the 50 million bushels hike that the USDA made yesterday, we are still nearly 5% ahead of the projected figure and have another 8 weeks to go.  Wheat sales totaled 357,700 MT or 13.15 million bushels.  This figure was 5% less than last week and was 21% below the 4-week average.  The top sales went to Japan with 111.7k MT, followed by the Philippines at 59.1 and then Malaysia with 56k.  We are only 4-weeks into the marketing year and thus far have sold 33% of the USDA projection.