Reading Time:
4
minutes
By: Dan Hueber –
Obviously, we have not yet swept out all the weak longs as the grain and soy markets are under pressure once again this morning.  In the case of corn and wheat, we remain within recent trading ranges, but the bean market is down to levels not witnessed since June of last year.  It is interesting to note that this morning, July 2018 beans are trading at 9.32 and one year ago today, July 2017 beans were trading at 9.32.  Interesting as well is the fact that the low posted last summer came on the 23rd of June so in more than one respect, we have come full circle.  Of course, there is nothing to say we are done just yet.
With the report in the rear view mirror and the weather outlook rather benign, markets are searching for something to refocus on and unfortunately, they landed on tariff talk.  It is expected that President Trump will announce what and when tariffs on Chinese goods will begin, possibly as early as the end of this week or maybe early next. If that come to reality, China stands ready to retaliate with soybeans square in their sights.  Nothing like kicking a market that is already beaten down to the ground.  Maybe this is just what we need.  We have been agonizing about such a move for months now, with spot futures currently $1.40 or 13% down from the March high when all this chatter began so if it actually comes to fruition, what is left to fret about?  It is now fully factored into the price structure.
The market that I am watching most closely at this point is meal, which has now been on a six-week slide.  Always keep in mind that meal represents 80% of the value of soybeans so if this market is under pressure, unless oil is on-fire, rallies in beans would be akin to Sisyphus rolling the boulder up the hill for eternity.  You might make a little progress now and again, but all the forces of nature are working against you.  All that said, note that back in February, the meal market posted a weekly gap higher between 346 and 349, providing us an upside target of 400 which was met.  This week now we have returned to the scene of the crime (gap), meaning we have basically completed a 50% retracement and are back against what was a resistance level for all of 2017.  While there is nothing the assures we will stop right here, particularly considering indicators are still pointed lower, but I would suggest the time is drawing close to look for a low in this market, ideally before the end of the month.  If correct, it should at least stem the selling pressure in beans and of course a reversal in meal could bring a return of much needed buying.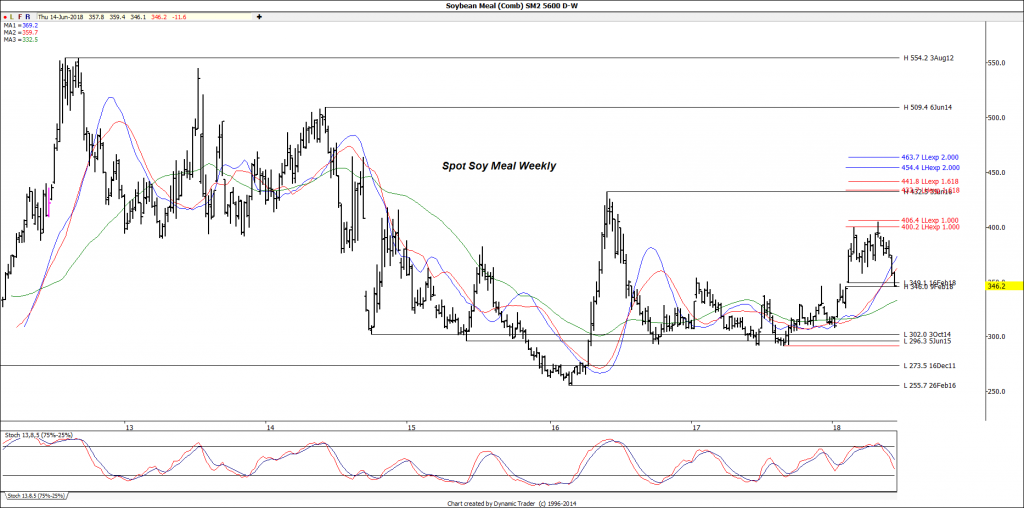 Informa has published a few updates for acreage and now projects corn to come in at 88.706 million and beans at 89.902.  Previously they were calling for 89 million corn and 89.4 million beans. The USDA will not issue any changes in acreage until the end of June (29th) and their existing numbers are 88.026 corn and 89.982 beans.  Strategie Grains of Europe has also made a few adjustment in their projections for EU crops.  They are now calling for wheat production of 139.9 MMT, which is down 900k from last month and would be 1% below last year.  They increased the barley estimate 300k to 62.5 MMT or 7% above last year but left their corn estimate unchanged at 60.9 MMT.  This would still be up 3% from 2017.
This is Thursday morning and for normally scheduled weeks that means exports sales. For the week ending June 7th, we sold 936,400 MT or 36.87 million bushels of corn.  This number was 12% higher than last week, 2% above the 4-week average and well within the expected range of 800k to 1.3 million.  The top purchasers were South Korea with 402k MT, followed by Vietnam at 138k and then Japan with 105.1k.  Sales of the 2018/19 crop year tallied 240,200 MT or 9.46 million bushels. Bean sales showed a marked improvement over last week coming in at 519,600 MT or 19.09 million bushels.  Indonesia was on the top of the buyers list with 133.1k MT, followed by unknown destinations at 73.5k and then Egypt with 70k.  2018/19 sales were uninspired at 291,000 MT or 10.69 million bushels. Wheat sales were expected to fall in a range between 150k and 400k MT and they did not disappoint.  Total sales were 302,300 or 11.11 million bushels.  The tops purchasers were the Philippines with 94.6k MT, followed by Japan with 48.7 and then Ecuador at 36.9k.
Please rate the quality and usefulness of the content
Click on a star to rate it!
We are sorry that this post missed your expectations.
Let us improve this post!
Thanks for your feedback!