Reading Time:
3
minutes
By: Dan Hueber –
Well, it has finally happened, with the exception of the weekly export sales report, which itself is technically old news as it is reporting the sales for the week ending December 27th, there is virtually nothing truly newsworthy to influence the grain/soy markets this morning.  Understandably, as such prices just continue to wallow around in the same vicinity that we have now for weeks/months/years.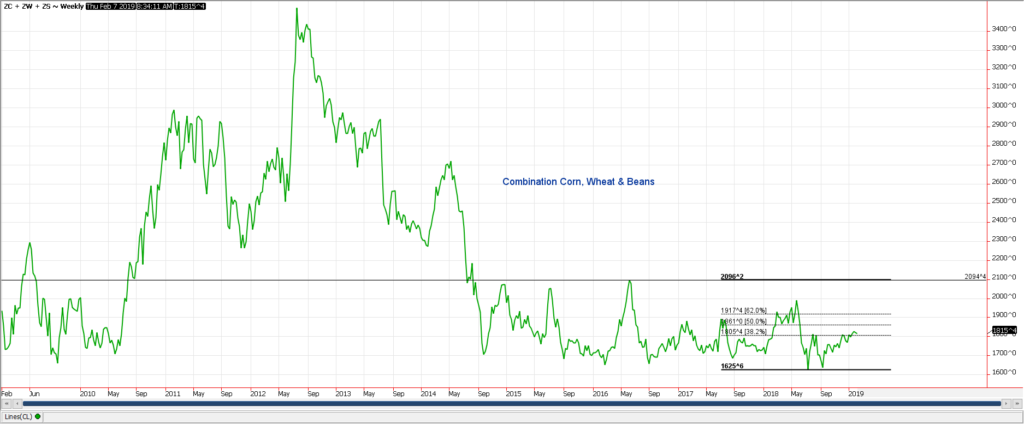 As far as the export sales for that final week of 2018, the wheat number was solid, beans towards the upper end of expectations but corn a bit on the disappointing side.  The trade was expecting to see wheat sales in the 150 to 400k MT range and they ended up coming in at 593,000 MT.  Mexico was the top purchaser with 135.3k MT, followed by the Philippines at 75.8k and then Peru with 70k.  As of that date, we have sold a total of 653.2k MT for the marketing year, which is 65% of the USDA target.  Counting from then, there are 22 weeks left in the year.  Bean sales were just above the upper end of expectations at 1,051,500 MT.  China was the largest purchase that week with 808k MT, followed by Spain with 171.3k and then the Netherlands at 84.5k.  This brought total sales for the year up to 1.1384 billion bushels or 59.9% of the projected 1.9 billion. We will need to average weekly sales of 593k MT per week to reach the 1.9 billion target.  In case you were wondering, at that point total sales were running 24% behind the previous year.  Last and technically least we have corn and for that week we sold a total of 503,100 MT.  The trade was expecting a figure somewhere between 600k and 1.4 million.  As has so often been the case, Mexico was the top purchaser with 159k MT, followed by Colombia at 154.6k and then Peru with 152.5k.  That brought the marketing year to date sales up to 1.253 billion or 51.1% of the projected 2.45 billion.   With 35 weeks left in the year, we will need to average 868.6k MT per week to reach the 2.45 billion bushel projection.
For those who would like to take the time to read it, there was a fascinating story in Reuters about a shipload of U.S. produced ethanol that ultimately ending up unloading in China, sans extra tariffs, despite the 70% retaliatory tariff currently in existence. https://www.reuters.com/article/us-usa-trade-ethanol-insight/long-strange-trip-how-u-s-ethanol-reaches-china-tariff-free-idUSKCN1PW0BR It turns out that as long as the cargo contains 40% Asian-produced fuel, it then becomes exempt.  This particular boat was originally scheduled for the Philippines but transferred the cargo somewhere around Singapore, headed for Malaysia where it took on additional ethanol and then headed into port in China. Not only does this reflect how creative buyers and sellers can be, but once again verifies the adage; If there is a will, there is a way.
I will be traveling tomorrow on the way to record AgDay so there will be no morning comments so one last time, here are the estimate for the USDA report; US corn production of 14.523 billion bushels from a yield of 177.8 bpa.  Ending stocks for this crop year are expected to fall in at 1.711 billion bushels.  Domestic bean production is expected to come through at 4.566 billion from a yield of 51.75 bpa.  Ending stocks at 926.5 million bushels.  Wheat ending stock are estimated to be 991.5 million.  We also missed the December 1st grain stock estimate and the average estimates have corn inventory at that date at 12.079 billion, beans at 3.754 billion and wheat at 1.960 billion.  Looking at wheat acreage, the trade surveys look for 32.05 million. Of this 22.55 million would be HRW, 5.94 SRW and 3.499 White.  Looking now to South America, the average estimate for Brazilian bean production is 116.75 MMT and corn 93.16 MMT. For Argentina the estimate calls for 55.17 MMT of beans and 43 MMT corn.  Last but not least, global ending stock for corn are expected to come through at 307 MMT for corn, 112.8 MMT for beans and 268.3 MMT of wheat.
Please rate the quality and usefulness of the content
Click on a star to rate it!
We are sorry that this post missed your expectations.
Let us improve this post!
Thanks for your feedback!