Reading Time:
3
minutes
By: Dan Hueber –
Putting the crop reports behind us and giving the trade a weekend to think about them did not improve their disposition one iota and we have generally lower prices across the board this morning.  It is just a bit ironic that the grains, and particularly corn has reacted a poorly as it has in the aftermath, as if there were any bright spots beneath the surface, it was there.  Had the USDA not slashed domestic usage the way they did in corn, the carryout number could have bordered on bullish and of course the reduced wheat acreage number was a bit of a surprise.  Yes, there was a decent reduction in both domestic and global ending stocks for beans but at 910 million and 106.7 MMT respectively, they are beyond ample and could still qualify for terms such as overwhelming or burdensome.  Even a quick resolution of the Chinese trade spat will not change this any time in the near future.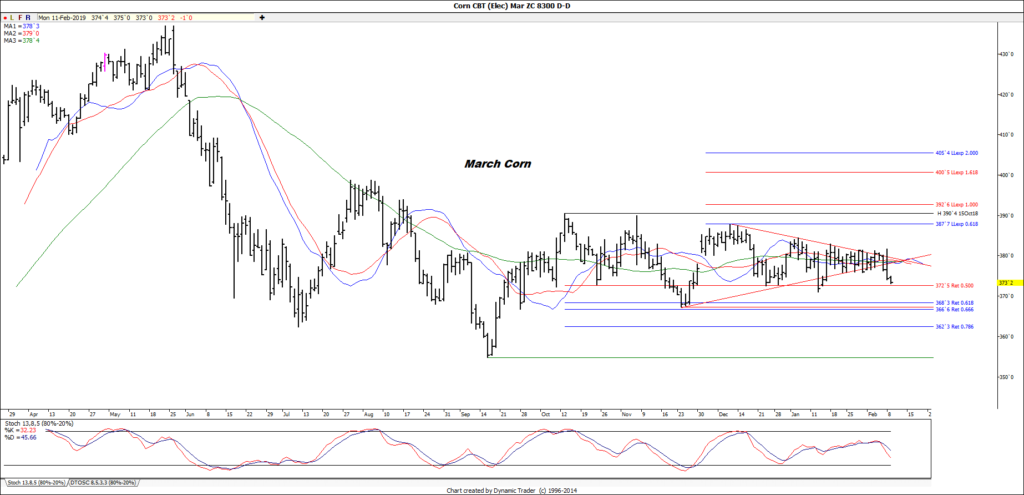 U.S. negotiators are in China this week and if all goes well, the Chinese should return to Washington next week.  There have been a number of stories circulating that the March 1st line in the sand when additional tariffs are set to go in place, could be moved ahead if progress continues to be made.
We did see a few nice exports sales announced again this morning but this time, China has been absent from the list.  120,000 MT of SRW was sold to Egypt, 128,000 MT of HRW to Nigeria and 120,000 MT of soymeal was sold to Ecuador, split evenly between the 2018/19 and 2019/2020 crop years.
Possibly helping to support the bean market is the uncertainly concerning the crop size in Brazil.  As you are aware, the USDA trimmed the estimate by 5 MMT to 117 MMT last Friday, and while that was pretty much on the average estimate, a number of private forecasts sit below that mark.  Over the weekend, AgRural dropped their estimate down to 112.5.  Do keep in mind though that even if the production comes in at that level and that was taken directly from the global ending stocks, we would still be looking at 102.2 MMT of carryout, which still sets a new record by 4 MMT.
With the Jan/Feb reports now behind us, the trade will be looking forward to the next piece of fodder.  While certainly that could be something concerning trade with China, but I suspect it may be news from the upcoming USDA Ag Outlook Forum on the 21st/22nd of this month.  This is when we will be provided with updated acreage and yield estimates for the upcoming year.  Of course, this is  predicated on the Federal government remaining open and according to the most recent news I have read concerning the budget/border wall negotiations, that could be in question.  Of course, they have ALL the way until Friday to reach an agreement.
Please rate the quality and usefulness of the content
Click on a star to rate it!
We are sorry that this post missed your expectations.
Let us improve this post!
Thanks for your feedback!