Reading Time:
3
minutes
By: Dan Hueber –
As it turned out, Uncle Sam had a surprise or two up his sleeve for the corn market yesterday as they broke with tradition by making both acreage and yield adjustments in the June report.  As I have noted previously, the June estimate is most normally just an exercise in taking the March Prospective Planting numbers times a trend line yield, but as anyone involved with production agricultural knows, this is anything, but a normal year and the USDA responded accordingly.  Planted acreage for corn was trimmed just over 3% taking it down to 89.8 million, but the more significant adjustment came in yield as it was reduced by 10 bpa (5.68%) to 166 bpa, which would be the lowest yield since 2013.  This equated to a crop size of 13.68 billion bushels, down 1.35 billion from the initial estimate and projected ending stocks were lowered 810 million bushels to 1.675 billion, which would also be the lowest since the 2013/14 crop year. As you are undoubtedly aware, the adjustment provided the corn market a nice shot of adrenaline but not a big enough one to send us into new highs for the year.  Do recognize, the changes were by no means more significant than what the industry already believed has happened, it is just that few thought the USDA would make the adjustments this soon.  As I have commented previously until we have a better look at the pollination period, let alone acreage, it would be difficult to see the corn mark remain under pressure for long, and the release of these number would seem to solidify that premise.  For now, it is the bears who have their backs against the wall.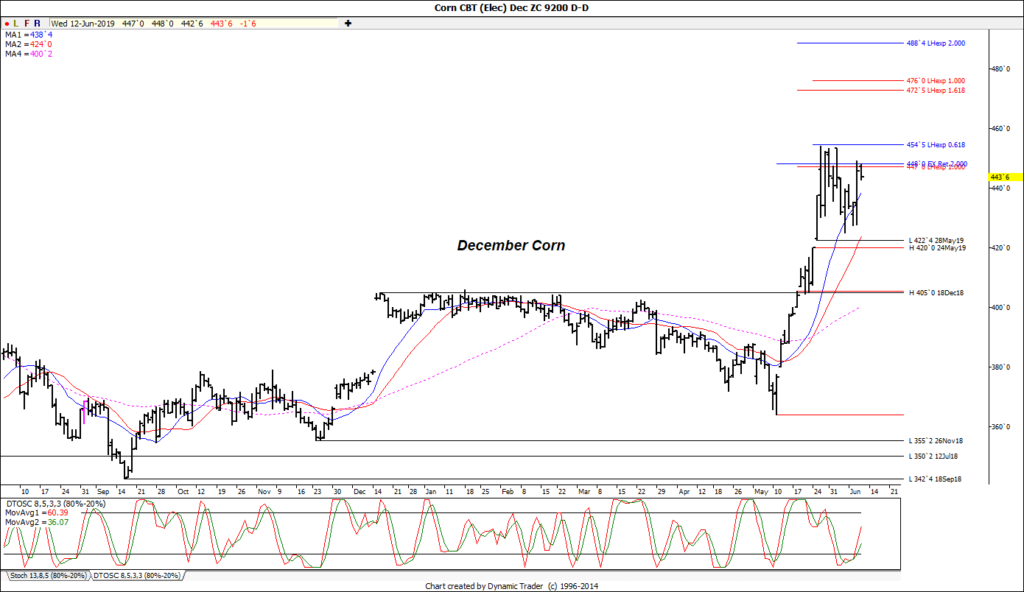 The lowly bean market found no such positive news as the USDA left acreage and yields untouched for now.  This is not to say they did not make adjustments though as they trimmed exports once again for this current crop year by 75 million bushels which moved both 2018/19 and 2019/20 crop year ending stocks north of the psychologically negative 1-billion-bushel mark. We all know beans also have significant production risk yet in front of us and prices did not collapse with news, but there should be no doubt that this market will face considerable headwinds until more is known about the crop size.
I do not intend to disregard wheat as there were a couple of minor tweaks that turned out to be mildly positive but not real price movers per se.  Exports for the current crop year were boosted 25 million bushels, with a corresponding cut to ending stocks. For the 2109/20 crop year the projected yield we increased a mere 1/10th of a bushel, but overall usage was pushed up 50 million, resulting in a decrease of 69 million in ending stocks.  As a rule of thumb, a reduction in the ending stocks should be viewed as a positive, and prices did poke higher yesterday, but when both year-ends are still above the 1 billion bushels threshold, it is difficult to build much bullish excitement.
Markets have quieted in the overnight trade but as I commented above, I suspect we will need to maintain risk premium until more is known about the crop sizes in the weeks ahead.
Please rate the quality and usefulness of the content
Click on a star to rate it!
We are sorry that this post missed your expectations.
Let us improve this post!
Thanks for your feedback!