By: Dan Hueber –
With bulls remaining in a semi-flummoxed state, still stunned by all the confusion surrounding acreage this year, the bears appear to have the upper hand in the grain and soy market trade for the time being.  Yes, over the next few days a number of us will be suffering from near-record heat, but unstable conditions such as we have can spur thunderstorms as well, and for those who receive them, they will be welcomed indeed.  I should probably temper that statement a bit, seeing that this spring taught us that there truly is too much of a good thing when it comes to rainfall.  Overall, it is difficult to view this action as much more than market "noise" as we remain at the same price levels that we have for the past several months and realistically five and one-half years.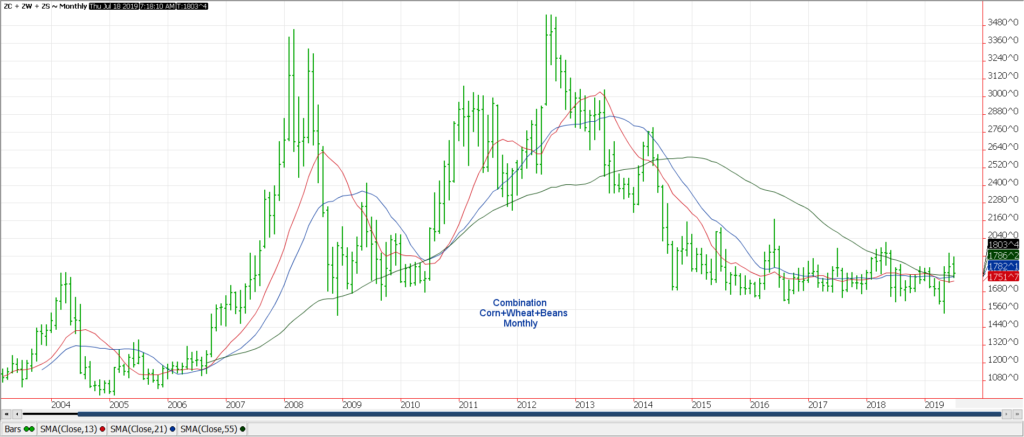 There will not be an "official" reassessment until July, but there does appear to be an uptick in the conversation about the amount of Prevent Plant acreage in the country this year and where the actual planted acreage will settle out.  The USDA Ag Undersecretary, Bill Northey, has commented that there could be over 10 million acres that will remain un-planted and it seems that many estimates are ranging from 8 to 12 million.  The vast majority, 80% of so, would be coming from corn.  The RMA should have a pretty solid handle on this as PP claims should be in and tallied by the end of this month, but then the question that begs to be asked is, what starting figure do you use?  The figures released in the last three reports do little more than muddy the waters.  This will be an issue that will vex the trade at least until the USDA has resurveyed and released the numbers next month and may continue to be a point of contention right through the completion of the harvest.
The White House dynamic trade duo of Steve Mnuchin and Robert Lighthizer have a phone call with Chinese trade negotiators on the schedule today and if all goes well, could lead to the next face-to-face meeting.  Secretary Mnuchin has stated they are trying to get on a path heading towards a "large jump" in progress.  Needless to say, we have heard this story far too often over the past year, and one-half and the trade has grown numb to such comments.
The small refinery coalition has threatened to sue the EPA in 60 days if they have not made a decision on blending waivers, and one can almost assume they will sue if the decision is not in their favor.  Already during the Trump Administration years, the number of waivers granted has quadrupled, but pushback from the bio-fuels industry appears to have been effective at slowing this down.  Never assume that your voice will not be heard.
It is Thursday morning, which means weekly export sales have been released and for anyone looking for encouraging news for corn and beans, they have been sorely disappointed.  For the week ending July 11, we sold just 200,000 MT or 7.88 million bushels of corn.  This was 60% lower than last week, 21% behind the 4-week average and below the lowest estimate of 350k MT.  Japan was the top purchaser with 144.3k MT, followed by unknown destination at 31.2k and then Jamaica with 18.5k.  Beans sales tallied 127,900 MT or 4.7 million bushels.  This was 3% below last week, 68% below the 4-week average and towards the bottom end of estimates.  At the head of the list was Indonesia with 123.5k MT, followed by Germany purchasing 62.1k and then Bangladesh with 53.2k.  Obviously, there were cancelations, the largest coming in the unknown category totaling 171.1k.  We actually sold more beans for the new crop year, 198.4k MT, than the current.  If there was a bright spot, it was in wheat where sales totaled 347,300 MT or 12.76 million bushels, which is nearly 200k MT more than the combined total for corn and beans.  This was 22% better than the week before and 2% above the 4-week average.  Mexico was the top purchaser with 166.5k MT, followed by South Korea at 80k and then Italy buying 31k.