By: Dan Hueber –
After the shellacking the corn market took on Monday, it needed a little injection of positive news to shore things up, which was delivered via the weekly conditions update.  It almost sounds like an oxymoron to say something is worse so prices will improve, but it was the 1% drop in the good/excellent range, now 57%, that helped inspire a little buying.  Of course, the fact that this number is 15% below a year ago and that silking is 31% behind average and 43% behind a year ago at just 35%, helped the cause as well.  Beans conditions were unchanged at 54% good/excellent but beans setting pods at only 7% compared with 28% on average and 41% a year ago was also a solid reminder of just how delayed these crops are this year. While none of this news would be considered bullish enough cause the bear to tuck their tails and head back for the cave, but should give pause to anyone who thought we were on the verge of a real collapse.  Further downward correction?  That is pretty believable until we have another weather scare and/or uncover more definitive information about planted acreage.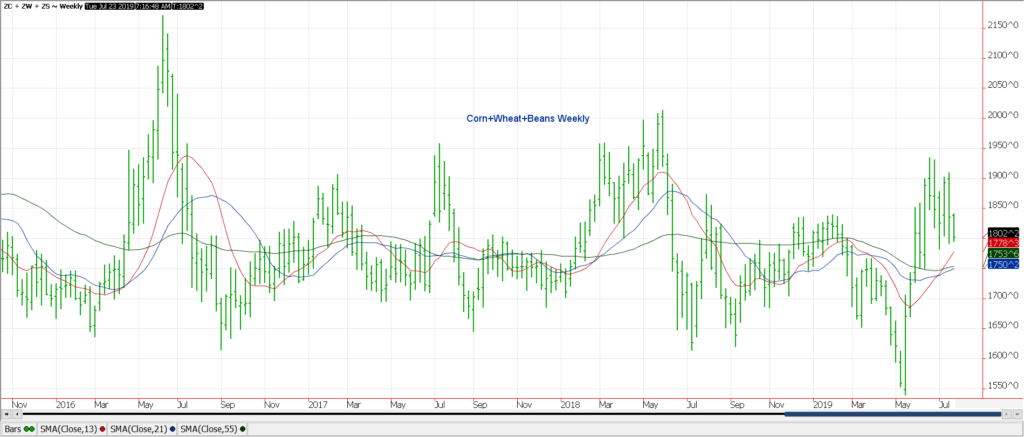 June import data for China has been released with one commodity showing a marked increase over last year. Yes, you guessed it, Pork.  For the month they unloaded 160,467 MT, which was up 62.8% from the same month a year ago.  This number was actually 14% below May, but for the first six months of this year, they have imported 818,703 MT, up 26.3%.  Even with the increase, domestic prices are on the rise, and for the month, wholesale prices were 36.4% above a year ago.  The U.S. pork industry has not really capitalized on the increased Chinese trade due to not only the trade tariff battle but also because we allow the use of the growth stimulant ractopamine, which is banned in China and as such our exports to that nation are down about 7% for the year. This is not to say we have not benefited though, as when more pork from other exporting countries moves to China, it opens the door for non-traditional markets.  The import data also revealed that corn imports into China in June were up 39%, wheat imports were up 1%, but sorghum imports were at zero, down 99.3% from a year ago.
South American corn harvest continues to move along.  It is now estimated that the safrinha crop in Brazil is 67% complete, which is 41% ahead of the pace last year.  Corn harvest in Argentina has reached 61%.
Last but not least this morning, it appears that the White House and Congress have reached a two-year extension on the federal debt limit and spending caps.  Depending on your viewpoint, this could be either good news or bad news.  Good news for those concerned about another shutdown of the federal government but bad news for those concerned about the ever-rising federal debt.  In reality, the can has just been kicked down the road once again, but this time with enough force that it should not be encountered again until the 2020 elections are over.  I cannot imagine that had anything to do with the decision though, do you?