By: Dan Hueber –
Trade in the grain/soy markets began this week on a sour note, and it would appear we could finish in the same fashion.  While weather concerns and the prospects of renewed dialog with the Chinese provided glimpses of hope here and there, sagging demand and a lack of genuinely fresh news have outweighed the other factors.  Were we to close right now, for the week December corn would be down 11-cents, December wheat down 10-cents and November beans down 19-cents.  One has to imagine that the fact that we are quickly winding down another month has discouraged new trade and may have hastened the liquidation of some existing longs.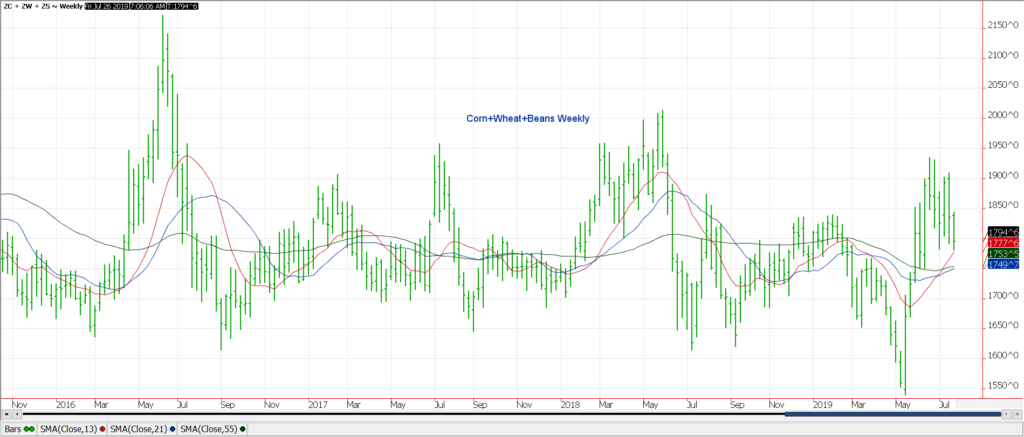 I am not going to get into the nitty-gritty details as they have been covered extensively elsewhere, but as promised the USDA did release details for the Market Facilitation Program payments that are being issued in response to the ongoing ill effects U.S. farmers have been plagued with from the trade war.  Signup begins next Monday, and the initial payment, representing 50% of the projected amount in each count should be issued in August.  If I am reading it correctly, there will a maximum payment of $15 per acre on prevented plant ground.  I would at least consider the possibility that as the market expected this announcement, it gave the trade less incentive to maintain risk premium, i.e., long positions.
The drought in Europe appears to have finally caught up with French corn crop.  AgriMer lowered the good/excellent rating from 74% to 67% this week.  As noted previously, the heat arrived late enough that wheat came through pretty much unscathed.  The rating for the soft crop in France remained unchanged at 73% good/excellent, and 63% of the crop is now harvested.
According to the Buenos Aires Grain Exchange, the corn harvest in Argentina is now 68.6% complete, which was an increase of nearly 9% for the week but still lags the average for this date of 72.6%.  They also estimate that the winter wheat crop in that country is 96.4% complete and rate it 54.8% good/excellent.
Chinese officials appear to be doing all they can to put their best conciliatory face ahead of next week's trade meetings.  According to a report from Bloomberg, they have given the green light to several companies to import U.S. corn, sorghum, cotton, and pork, sans the increased tariffs.
There is really little else to talk about as we wind down this week.  Macros are mixed, and for the week, gold is on track to close lower, crude oil a smidge higher, 10-year notes lower, equity markets higher and last but not least, the dollar is higher and back to the highest level traded in six weeks.