Reading Time:
2
minutes
By: Dan Hueber –
You have all heard the old saying; "If I didn't have bad luck, I wouldn't have any luck at all," and if we substitute the word luck for news, it would pretty much sum up what has happened to the corn market this week.  Understandably, this market is desperate for something fresh that could contain a hint of optimism, and that appears to have been delivered by the U.S. Trade Representative's office with news that the implementation of an additional 10% tariff on some Chinese goods will be delayed until December 15th of this year.  Commerce Secretary Ross elaborated just a bit more this morning, and I guess he wanted to temper any enthusiasm, insisting that there was no quid pro quo regarding the decision, nor has then been any date set for the next face-to-face meeting with China. Actually, I am not sure if Wilbur Ross would be capable of delivering positive news as if it were cause enough to elicit a smile, his face could crack.  Of course, as desperate as markets may be for something hopeful, interpreting this as positive news reminds me of another old saying; "Fool me once, shame on you. Fool me twice, shame on me", but realistically it would fool me twice, thrice, etc., etc., etc.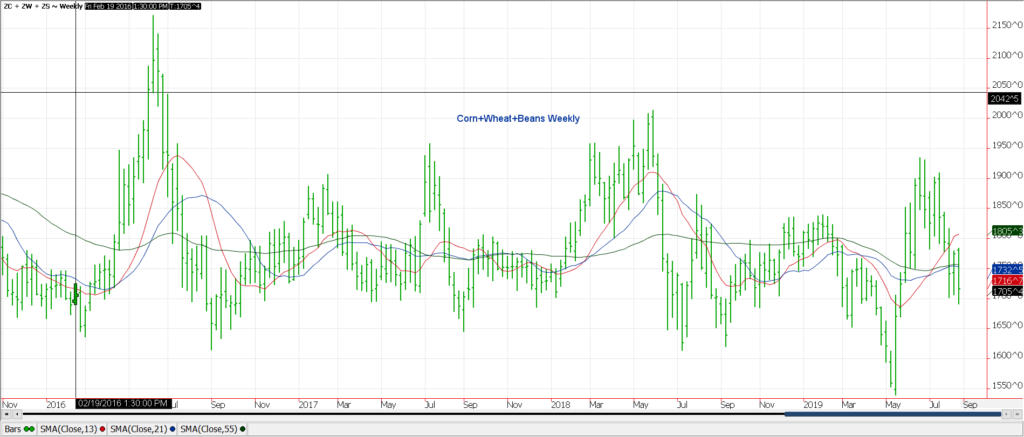 Actually, the bounce in corn and wheat this morning really just appears to be a little evening up of positions with the soy complex. When you step back and take a look at the combination chart, you will see that, albeit, towards the lows ebb, the sector remains within the same parameters as during the last three weeks. While there could be a little more jockeying around and testing of support, I suspect we will see prices move flat from here.
Other grain/soy news this morning is really non-existent outside of continued debates as to the accuracy or lack there-of in the acreage/yield estimate this week.  No doubt this will be debated until the crops have been harvested.
There is one tidbit of outside news that is worth mentioning.  If you are a reader of my weekly comments, you are aware of the fact that that months ago, the rate on 90-day government securities inverted with 10-year notes, which has been in the past a reliable indicator for an impending recession.  This means it costs more to borrow money short term than longer-term.  Yesterday, the 2-year notes also inverted with the 10-year, both here and in the U.K., which is the first time that has occurred since 2007.  It would appear that storm clouds are forming over more markets, not to mention the economy, that just in the ag commodity sector.
Please rate the quality and usefulness of the content
Click on a star to rate it!
We are sorry that this post missed your expectations.
Let us improve this post!
Thanks for your feedback!