Reading Time: 3 minutesBy: Dan Hueber –
The early morning calm in the corn and bean markets yesterday turned out to be little more than a brief respite before the storms as these markets succumbed to the global psychological panic that plagued a number of different arenas. As I commented in yesterday's letter, for the first time since 2007, the yield on 10-year treasury notes dipped below 2-year notes and then to cap it all off, the yield on 30-year government bonds dipped below 2% for the first time on record (dates back to the 1970's) further heightening the fear that a global recession is just around the corner.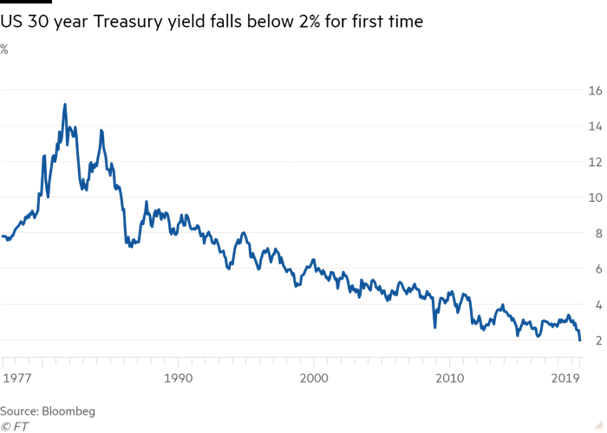 Of course, it did not help the corn market that there is once again significant uncertainty about who will be leading Argentina which caused the Peso to fall out of bed, rendering U.S. corn even less competitive.  For the grains at least, these are the kind of near nonsensical days that occur at the culmination of a move, which is where I suspect we are at, but until we at least begin to see a little stabilization, it is difficult to say that will resounding confidence.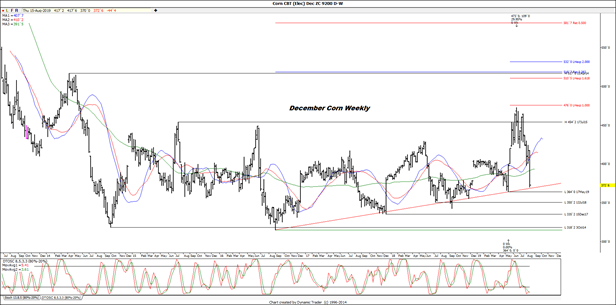 It is Thursday morning, so it is time for our weekly dose of export sales medicine and it still does not taste very good.  The best number were once again in wheat as for the week ending August 8th, we sold 462,200 MT or 16.99 million bushels.  This was toward the upper end of expectations but was still 5% below last week and 2% below the 4-week average. Top purchasers were Japan with 106.7k MT, followed by South Korea at 106.2k and Sri Lanka with 75k.  Corn sales were 32% above last week but that still only amounted to 56,100 MT or 2.21 million bushels.  The lowest trade estimate was 200k.  There were new sales of 107k MT to Japan, 86k to Mexico and 28.6k to New Zealand but also reductions of 151.3k MT from unknown and 60k from China.  Then we have beans. For the week we posted a net reduction of 109,900 MT or – 4.04 million bushels.  There were new sales of 127k MT to the Netherlands, 71.4k to Pakistan and 62.9k to Japan but reduction from China of 422.7k MT.  Actually, it was not all bad news for beans as for the 2019/20 crop year we recorded sales of 817,400 MT.  The largest purchaser was Mexico with 586k MT.  It is worth noting that pork sales did pickup this past week with a total of 20,400 MT of which half were made to China.
Please rate the quality and usefulness of the content
Click on a star to rate it!
We are sorry that this post missed your expectations.
Let us improve this post!
Thanks for your feedback!