Reading Time: 3 minutesBy: Dan Hueber –
Apologies in advance as this is what can happen when there is just not enough fresh quality news around.
Could it be that a new star has emerged?  After weeks, if not months of languishing in the wings as the big names, corn and beans, were hogging all the attention, a trio of wheat performers burst onto the stage yesterday and grabbed the spotlight with an inspired upside performance that left many in the crowd gasping. Unquestionably, of the three, the one from Chicago unleashed the most inspiring presentation and seemed to be aided by the other two via time tested maneuvers known as spreading. That said, in the encore performance overnight, it appears to have maintained that lead role. It certainly helped that while waiting their turn, these markets have been developing their base strength, while being fed a steady diet of Southern Hemisphere crop concerns and again overnight, appear to have received an extra booster shot.  ABARE, one of the actors from Australia trimmed it performance schedule this for the year by another 10%, which means all told, they will have 22% less of a run this year than their average for the past ten years. When you add in the news that the cast from Argentina has been under quite a bit of stress already in this new season, it does appear to provide an incentive for people to snap up tickets to see the U.S. wheat tour.  While we are not quite sure yet if this will be a "breakout" performance or not, as we know how fickle audiences can be at times, but so far it is the best showing we have seen in months and does appear to hold quite a bit of promise.  I am sure the investors in this group have high expectations of seeing a return on their investment.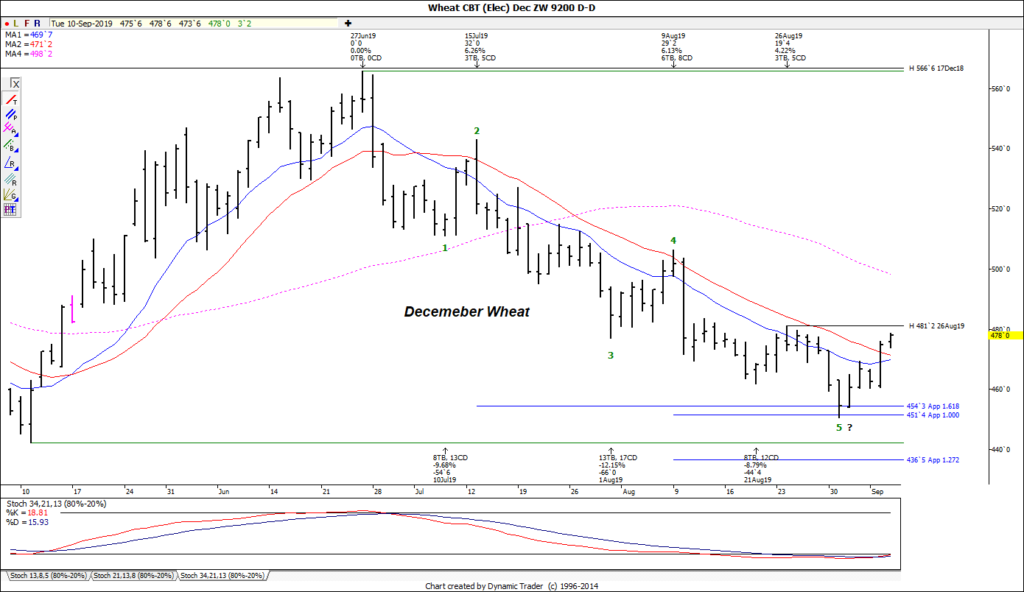 It does seem that the wheat performance has brought a little inspiration to the corn and bean cast member overnight as well as each have attempted to stage a little comeback.  Providing a little extra incentive for these two was the release of the weekly "beauty" report and let's face it, neither of these two are getting any younger.  Beans at least were able to maintain as 55% of the fans believe they still look good to excellent, but corn is not ageing well and saw its rating slip 3% and is now regarded as looking 55% good to excellent as well.  This really should not be a surprise as that is pretty common to see these two slip this time of the year, but for those who seem to live and die by the weekly appearance contest, it can still come as a letdown.  It seems so superficial doesn't it?
Let's not forget that we have another major review of the all these players scheduled for later this week that could either enhance of derail their "futures."  All of the lessor critics have been tabulating scores ahead of time and this is what they think the grand dad of them all will say; Domestic corn production is expected to come in at 13.672 billion bushels from an average yield of 167.2 bpa.  This compares with the August performance numbers of 13.901 billion and 169.5.  Bean production is estimated to total 3.577 billion bushels with a yield of 47.2 bpa.  In August Uncle Sam came up with a crop of 3.68 billion from a yield of 48.5.  2019/2020 ending stocks are expected to total 2.002 billion corn, 660 million beans, and 1.016 billion wheat, compared with 2.181 billion, 755 million and 1.014 billion respectively for each crop last month.
Finally, 2019/20 world ending stock for corn are expected to total 303.18 MMT, which would be down from 307.72 MMT last month and 328.58 for the 2018/19 crop year.  Beans are projected to come in at 100.11 MMT, down from 101.74 last month and 114.53 last year.  Finally, global wheat is projected to be 285.71 MMT, up from 285.4 last month and 275.49 last year.
Please rate the quality and usefulness of the content
Click on a star to rate it!
We are sorry that this post missed your expectations.
Let us improve this post!
Thanks for your feedback!