Reading Time: 3 minutesMost years by the time we have reached October, weather markets are but a distant memory, but here in 2019, the weather has returned to the center stage for an encore performance.  It almost seems fitting for what we have experienced already this year.  As predictions for heavy snow and cold temperature in the Northern Plains states and other points east become more and more solidified, it appeared that more of the remaining bears decided it was time to get out of town while the roads were still open.  Beans, corn, and even wheat all pressed through resistance that has been capping these markets for over a week and has extended into higher highs for the swing yet again.  Soybeans appear to have taken the lead in the overnight trade, stimulated not only by the impending winter storms, but also by rumors surrounding the trade negotiations that China may be offering to increase purchases of U.S. Ag products by upwards of $10 billion and November futures have reached to within 20-cents of the summer peaks.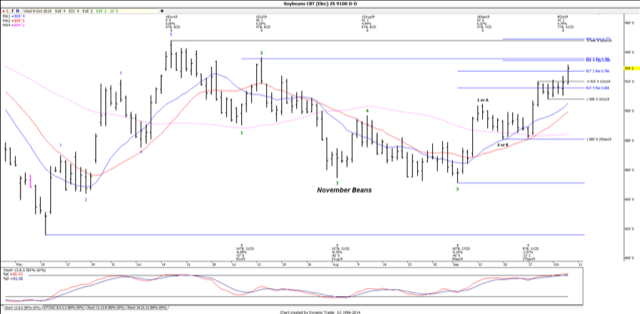 Seeing we have already broached the subject of China, there are two other noteworthy stories to mention.  First, the Chinese national grain trade center has announced that state held corn auctions for the balance of 2019, will be suspended as of October 18th.  No reason was given, but it could be a simple as a lack of interest with new crop corn becoming available to the market.  The overall interest in corn from the auction was already 30% lower than the previous year, undoubtedly reflecting the lower demand due to the ASF disaster.  It was also reported that one of the largest hog operations in China, C.P. Pokphand, imported 906 breeding hogs from Denmark in August, the first such import since the outbreak began. The hogs were brought in on a charter plane, but there was no word if they were in coach, business, or first class.  While these pigs will reportedly remain in quarantine for a month, there is no doubt that China will try and rebound hog production as quickly a possible.  C.P. Pokphand is estimated to raise 4 million head currently and intends to increase production to 10 million by 2021.
France AgriMer has lowered its ending stocks estimates for both corn and barley. They reduced corn 200,000 MT, taking it to 2.1 MMT and barley down 100,000, also to 2.1 MMT.
Outside of this news, we all await the "word of gov." to be released tomorrow morning.  Once again, here is a pre-report breakdown from the trade survey numbers; Total corn production is expected to come through at 13.636 billion bushels, derived from harvested acreage of 81.57 million and a yield of 167.1 bpa. Last month the USDA stood at 13.799, 82 million, and 168.2. Bean production is expected to total 3.573 billion from harvested acreage of 75.70 million and a yield of 47.15 bpa. In September, Uncle Sam had production of 3.633, acreage of 75.9, and yield at 47.9.  2019/2020 domestic ending stocks are expected to come through at 1.733 billion in corn compared with 2.190 last month, 508 million for beans versus 640 million, and 1.013 billion wheat instead of 1.014. Globally, corn stocks are expected to tally 297.43 MMT (-8.84), beans to 96.68 MMT (-2.51), and wheat to come in at 285.34 MMT (-1.17).
Please rate the quality and usefulness of the content
Click on a star to rate it!
We are sorry that this post missed your expectations.
Let us improve this post!
Thanks for your feedback!