Was it just a one-off event?  An anomaly in an otherwise psychologically battered risk-off atmosphere that clouds the commodity trade right now. Or was it a taste of what is yet to come?  Another subtle hint that commodity prices remain at levels of value and to try and press them lower for any extended amount of time will be met with fierce opposition. While I may not be able to provide the definitive answer to that, I remain in the camp that believes the latter to be true.  Not only were grain and soy markets able to snap back into higher closes yesterday, but many within the commodity sector also appear to have found footing as well, and commodity indexes appear to be climbing back from the Post-Phase One, Post-Coronavirus corrective swoon.  This is not to say that a Black Swan could not be lurking out on the pond somewhere, getting ready to take flight, but I would suggest without such, we should be prepared to turn the page to a new chapter.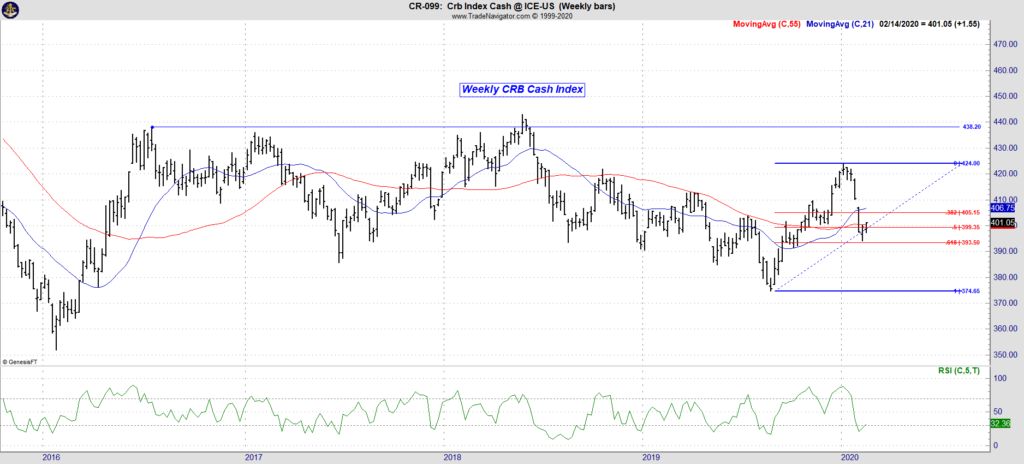 The question du jour seems to be; will they or won't they?  Will China begin to snap up ag commodities from the U.S. once Phase One officially kicks in this weekend, or will they ask the U.S. for leniency as the sort out the ill effects (no pun intended) from the coronavirus? According to the Department of Ag Undersecretary of Trade, Ted McKinney, to date, "We have not received any formal notification of a delay, which pleases me.  We hope it doesn't come."  I believe we all share that sentiment, but undoubtedly it will ultimately be determined by just how long this virus plagues that nation. Mr. McKinney also added that he hopes China would consider additional tariff relief to help importers meet the commitment.
The senior state weather forecaster in Ukraine has stated that winter grain crops in that nation are looking great. In fact, he said that 80% of the crops were in "perfect" condition.  The area planted to winter crops this year was fractionally higher than last, and they produced record numbers in 2019.
Weekly export sales are all in line with expectations, but beans did arrive towards the lower end.  For the week ending February 6th, we sold 644,800 MT or 23.7 million bushels of beans.  This was 8% lower than last week but still 2% above the 4-week average.  China was the top buyer but with only 132k MT, followed by Egypt at 120k and then Bangladesh with 60.9k.  Corn sales slipped 22% from the previous week but were still decent at 968,800 MT or 38.15 million bushels.  Japan was at the top of the list with 383k MT, followed by South Korea taking 193.5k and then Colombia with 110.7k.  Wheat sales snapped back nicely with a total of 643,100 MT or 23.63 million bushels.  This was 90% higher than the previous week and 10% above the 4-week average.  Nigeria was the top purchaser with 130.8k MT, followed by the Philippines at 104.8k and then South Korea with 91.1k.  While I am not sure if it "officially" counts as Phase One does not take effect until this weekend, but it should be interesting to see where China pops up on the sales report each week.  In addition to the aforementioned beans, I see they purchased 72.6k MT of sorghum, canceled 48.4k bales of cotton, bought 236,900 pieces of hides and skins, and 3,700 MT of pork.