Corn is Yellow
Soybeans are round
Exports to China
We Hope will Rebound
Well, that does not quite measure up to Rose are Red and Violets are Blue, but considering it is Valentine's Day, it seemed that some type of verse was in order. And also, for those of you who have yet to grab that card, candy, or bouquet of flowers, it is a subtle reminder that there is still time. Let's not forget that Emperor Claudius (the cruel) had St. Valentine beheaded on this date for not obeying the rules.
Grain and soy markets are stable and even slightly firm as we enter the final few hours of trade this week. If we were to wrap it up right now, for the week corn would have lost 3-cents, wheat 12-cents, but beans would have gained 15-cents and balancing out the three. If it is any consolation, the group sits 2% higher than we were a year ago on this date.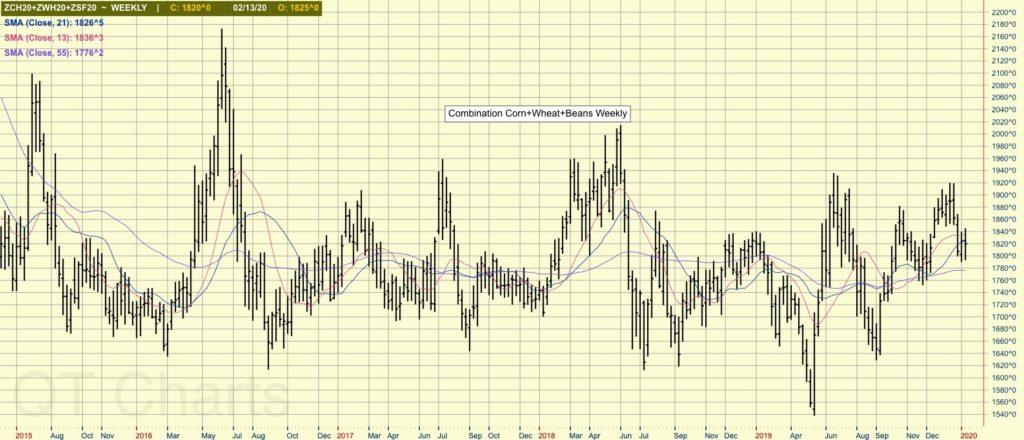 Of course, this weekend, Phase One officially takes effect, and while having no idea if China will be rushing in with purchases, we know for sure we need to witness a pickup if there is any hope to sustain the recent strength. Export shipments last week to that nation were the lowest since April last year. In fairness, we know they had just wrapped up the Lunar New Year holiday and, of course, were struggling with the more significant issue of the coronavirus. It is interesting to note that as this problem has drug on, it has been revealed just how much coverup and suppression of news was taking place and should be a lesson for us all. As frustrating, inaccurate, trivial, and biased as the press may be at times, the founding fathers knew exactly what they were doing when they wrote the First Amendment of the U.S. Constitution. Freedom of Religion, Freedom of Speech, Freedom of the Press, the Right to Assemble, and the Right to Petition. The problems witnessed in countries where these things are suppressed should not come as a surprise.
Food and food prices continue to be a problem in China. Retail pork in January was 116% higher than a year ago, and the Commerce Ministry announced this morning they are releasing another 14,000 MT from state reserves. Virus concerns have also forced cargo containers for chicken from the U.S. to be diverted to Hong Kong, South Korea, Taiwan, and Vietnam.
Rabobank now projects that Brazilian bean exports to China will drop 15% this year in part because of the increased competition coming from the United States and because of the other issues in China. Brazilian farmers are not sitting around and hoping for the best and have been active sellers of products. In Mato Grosso, the top bean producing state, farmers have already sold 68% of their production compared with an average of 54% for this date. It is reported that they have also already booked 13% of 2020/21 beans. This is not in response solely to concerns about lost business to China as world demand continues to grow but also for the fact that because of the depressed Real, they are actually looking at domestic bean prices are around 13% higher than last year at this time.
As I noted previously this week, the USDA will be holding the annual Agricultural Outlook Forum next Thursday and Friday and will issue baseline estimates for upcoming acreage and production. Granted, they are nothing more than a statistical estimate but have been good predictors, at least in years with normal planting conditions. Look for trade estimates to show up early next week.