Reading Time:
2
minutes
While it has not sent prices higher as of yet, the wheat market has been fed a little more positive news.  According to COCERAL, production in the European Union is projected to dip around 5% to 137.9 MMT from 145.7 MMT last year.  Too much rain in the major producing countries of France, Germany, Denmark and, Great Britain during the planting season was cited as the reason for reduced acreage.  I guess technically, Great Britain is no longer part of the EU but that will matter little when world numbers are tallied.  They painted a different picture for corn though, and, project an increase of 6.5% in EU production, moving from 61 MMT last year to a potential 65 MMT this year.
The USDA Ag Forum is underway in Washington and, they have released the projected acres for 2020 this morning.  Their statistical analysis comes up with corn acreage of 94 million, which is just slightly ahead of trade expectations of 93.6 million.  If realized, this would be 4.3 million above last year.  For beans, they came up with a number at 85.0 million, which compared with the trade estimate of 84.6 and last season's 76.1. Wheat came in at 45 million and, cotton was reduced by 1.2 million to 12.5 million.  I did not have the data from last year's conference but, just for comparison sake, I looked up the March 2019 Prospective Planting estimates.  At that time, for corn they were looking for 92.8 million, beans 84.6, wheat 45.8 and, cotton at 13.8.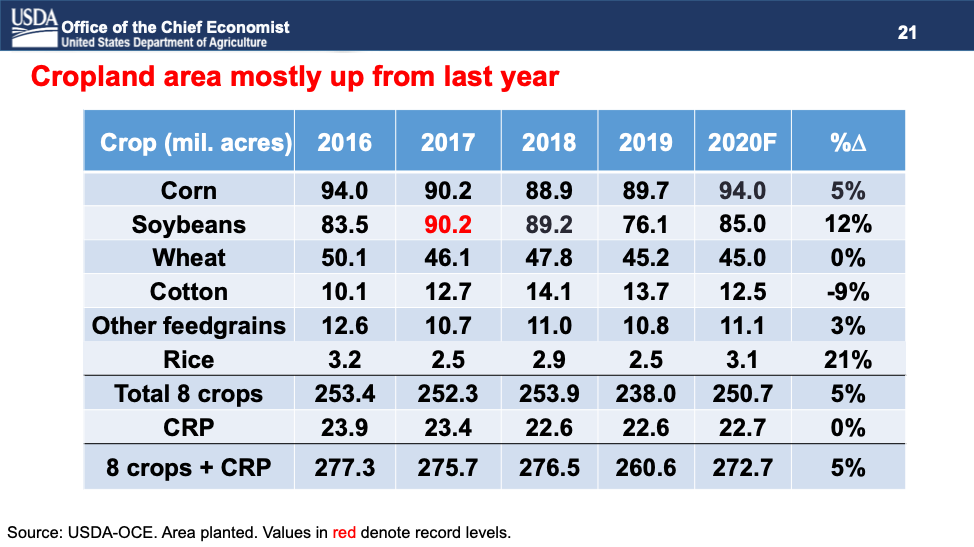 Note as well that, using these numbers, the economists projected the average price of wheat will increase 8% over last year, corn will lose 6% and, beans increase 1%.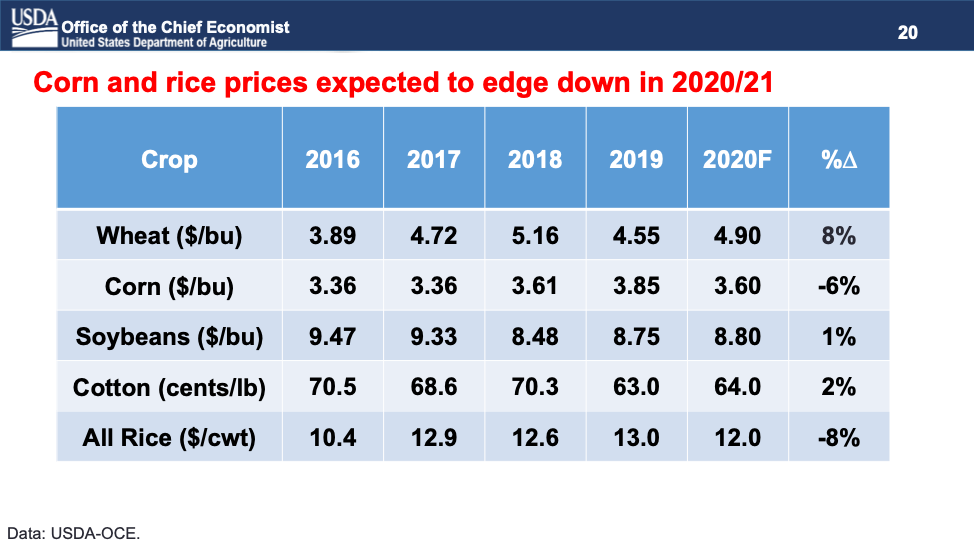 Last but not least, the USDA economists are projecting US pork production will increase 4.7% over last year and beef 1.1% but also expect to see record exports as a percentage of production with pork leading the way.  As such, the projected average prices of pork is expected to increase by 2.2%, beef just .2%, milk 1.3% but, expect to see broilers lose 1.8%.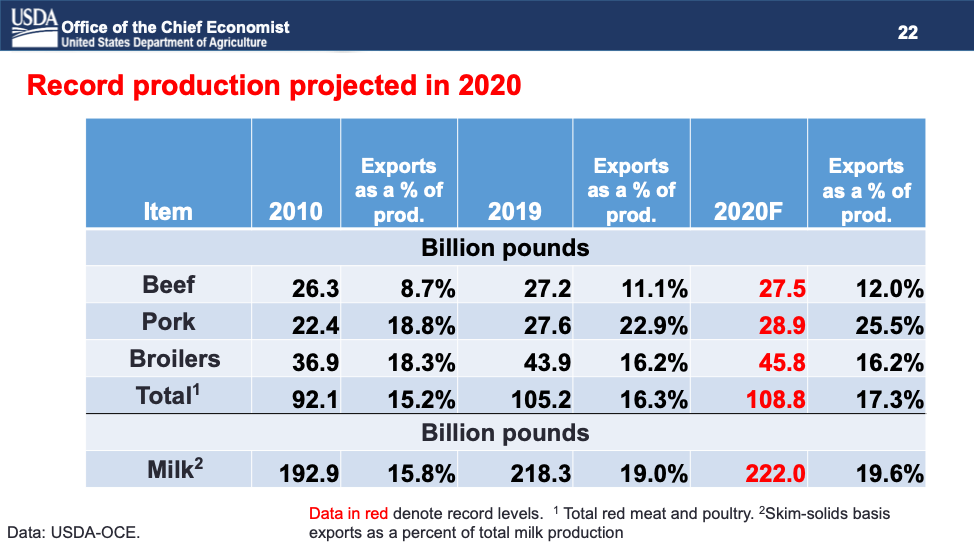 Please rate the quality and usefulness of the content
Click on a star to rate it!
We are sorry that this post missed your expectations.
Let us improve this post!
Thanks for your feedback!