It would appear that many markets are experiencing another round of Covid-19 liquidation, and the fact that we are just a few days from months end certainly would not appear to be helping stimulate any would-be buyer, even if they are out there.  Gold and silver would appear to be the only markets that people are viewing as a safe harbor at this time, and even the dollar, which had been supported during the initial outbreak, has turned sharply lower and is testing critical support. Not a very welcoming market for the kickoff for the Commodity Classic Convention that begins in San Antonio this morning.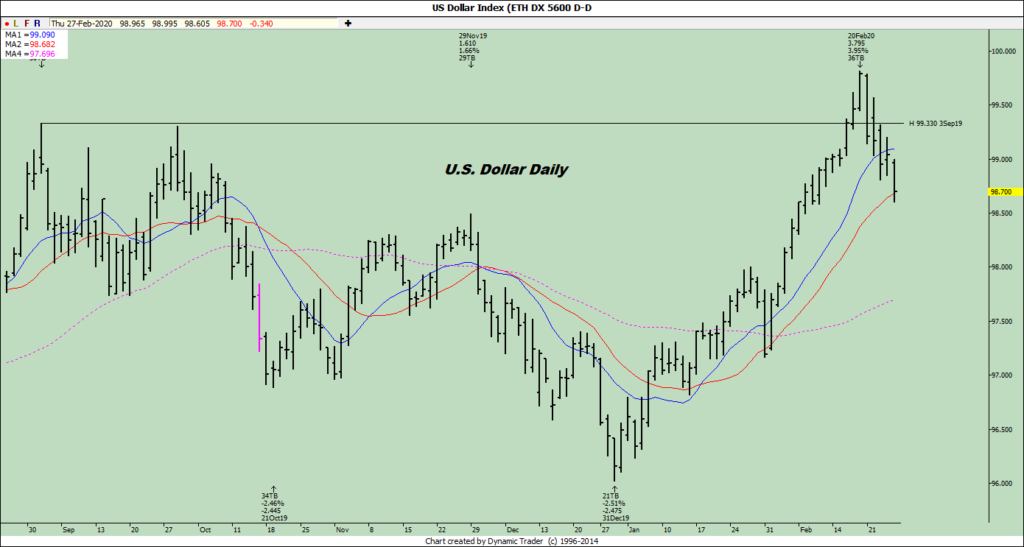 While not unexpected, the new (old) government in Argentina has announced that all registration of agricultural exports from that nation will be suspended until further notice.  When they have done this in years past, it signaled that they were preparing to raise export taxes.  As I said, this was expected after the election, so it comes as a shock to no one in that nation and possibly, after all the coronavirus smoke clears, will eventually be a competitive boost for U.S. exports.
Export sales have been released but and not providing us with much to write home about.  Wheat was the sold commodity to register an improvement over last week with sales of 381,800 MT or 14 million bushels.  This was a 10% improvement from last week but 23% below the 4-week average and below the low estimates.  Japan was the top buyer with 116.8k MT, followed by the Philippines at 76k and then Indonesia with 55k.  At face value, corn sales of 864,600 MT or 34 million bushels do not sound bad, but this was still 31% below last week and 26% under the 4-week average.  Japan was the top purchaser of this commodity as well, taking 316.7k MT, followed by Mexico at 162.3k and then Costa Rica with 146.6k.  It is worth noting that export shipments for corn this week set a marketing-year high of 844.7k MT but were largely overlooked.  China finally showed up on the bean register but for only 71.7k MT.  Total bean sales came in at a disappointing 339,300 MT or 12.47 million bushels.  Japan again took the top spot with purchases of 108.2k MT, followed by the aforementioned Chinese sales and then Costa Rica rounding out the top three with a purchase of 69.5k.  If there were a bright spot, it was in sorghum as we set a marketing-year high of 444,500 MT.  Of this, China purchased 119k.  For those keeping track, China also purchased 39.6k bales of cotton, 89,200 whole cattle hides, and 7,200 MT of pork.