Do you recall TARP, the Troubled Asset Relief Program?  For those who may need their memories jogged just a bit, this was the government's response to the 2008 financial meltdown that was triggered by the subprime mortgage crisis. Passed on the 3rd of October that year, it authorized the federal government to purchase up to $700 billion of toxic debt in an effort to stabilize the banking/financial sector and restore confidence in the market.  It ultimately turned out to a successful endeavor as not only did it accomplish the goal of providing necessary funds and psychological boost the financial sector that was sorely needed at the time, but by the time the Federal government had finally sold all of the holdings they purchased, it turned a tidy $15.3 billion profit for the effort, which worked out to be an annualized .6% return.  It is always fun to recall events with happy endings, but what most have probably forgotten was the heated battle that led up to the passage.
In true Washington fashion, there was a group of elected officials that did not believe the government should be, in essence, "nationalizing" financial institutions or bailing out companies that got themselves into the mess, to begin with.  It seems to have been expunged from most of the records I can find, but I can vividly recall watching the vote on television, seeing it fail to pass at least once and possibly twice, and the panic it setoff in the financial world each time.  For those who want a little more in-depth trip down memory lane, there was a very well done movie made about this episode a few years later titled, Too Big to Fail.  Fast-forwarding to today, we find Washington grappling with the 2020 version of TARP, although without the catchy acronym just yet, and once again, we have a temporary stalemate.  As is to be expected in this era of hyper-partisan politics, each side is blaming the other for the failure, and each is undoubtedly throwing out partial truths concerning what is really happening, but the end result is the same; No deal and the financial market reacted negatively.
Interestingly enough, markets appear to have shaken this off overnight and have bounced back rather sharply.  Is this in response to promises by the Fed of unlimited funds being available? Were people encouraged by yesterday's press conference from the White House that discussed trying to get business and personal activities moving again next week? Or have we decided that regardless of all the tomfoolery in congress, they are going to pass an aid package sooner than later, just like they did in 2008?  I suspect it is a combination of all three, and while we are almost certain to have a more than our share of volatile days ahead, I suspect we have neared the end of the financial panic itself.  Just how long it will take to recover is the bigger question.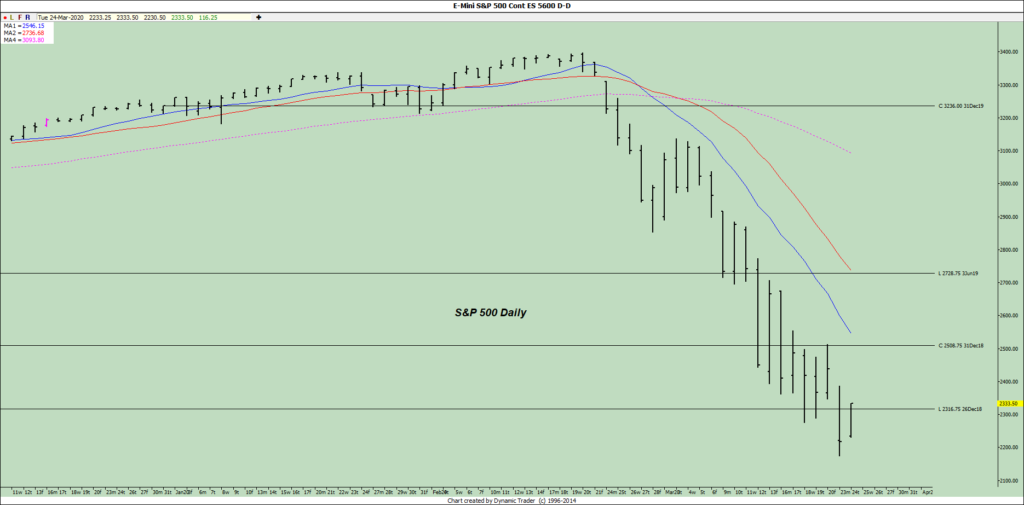 Bulls in the grain and soy markets appear to be taking the morning off to catch their breath after all the excitement on Monday, and ideally, this is little more than a Tuesday undo session.  Of course, those in the corn market cannot be too exhausted as that market, in particular, has not come off of dead center just yet.
Obviously, consumers in Russia are a bit more concerned about the coronavirus than government officials, and demand has become such for some processed grain, the Kremlin has decided to suspend exports of some.  Listed were ready-to-eat buckwheat and rice or oat flakes.  The "official" count for confirmed Covid-19 cases in that country has risen to 438, but…
Even with the backlog of products that could not get unloaded in February at Chinese ports, for the first two months of this year, they imported 560,000 MT of pork, which was an increase of 158% over the previous year.  This follows a record 270,000 MT imported in the month of December.  Keep in mind that since December, they have released 370,000 MT from reserves, and some of the imports could be flowing back into storage.
While concerns grow about the spread of Covid-19 in Brazil and the disruptions it could create at ports and processing facilities, harvest continues to move forward.  Estimates for bean harvest range between 66% and 70% complete, which maintains an average pace. This past week, Dr. Cordonnier lowered his estimate another 1 MMT to 122.  In Argentina, the bean crop is now rated 35% good/excellent, which over the past three weeks reflects a decline of 36%.  Corn harvest in that nation increased by nearly 7% during the week and stands at 13.5% done.  The good/excellent rating is at 35% and reflects a drop of 24% over the past three weeks.