While the corn market provided us with a pleasant and slightly surprising bounce higher yesterday, the undisputed champ of the one-day rally was most certainly equity indexes. Posting the largest single-day advance since 1933, the Dow Industrials gained just over 11% and the broader S&P 500 a smidge over 9%.  Granted, this rally came on the heels of another washout on Monday and dive down to the lowest level reached since December 2016, as panic-stricken investors bailed after the Senate failed to work out a compromise stimulus package.  As I commented yesterday morning though, one would have to really think the glass was half-empty, or maybe even completely dry to believe that a deal was not going to be forthcoming sooner than later.  Word began to spread that negotiations were beginning to produce buds, which stimulated the buying yesterday, and indeed, during the wee hours of this morning, an actual flower blossomed, and the Senate confirmed, we have a deal.  In typical market fashion, though, once we had confirmation, prices sold off.  A little buy the rumor, sell the fact at play? Of course, this package will now be headed to the house of representatives and eventually to the White House before it is "officially" approved, but I doubt it will run into much resistance along the way.  While a very much needed and appreciated economic rescue deal that has reduced some uncertainty, I would not go so far as to say this marked the end of the break in equities.  Not only will it take a little time to push this money into the hands of those who need it, but we are also still feeling our way through the fog that has been created by the coronavirus, and at least until we can say with certainty, that the number of cases have stopped going higher, it will be impossible to say what the impact will be on the overall economy.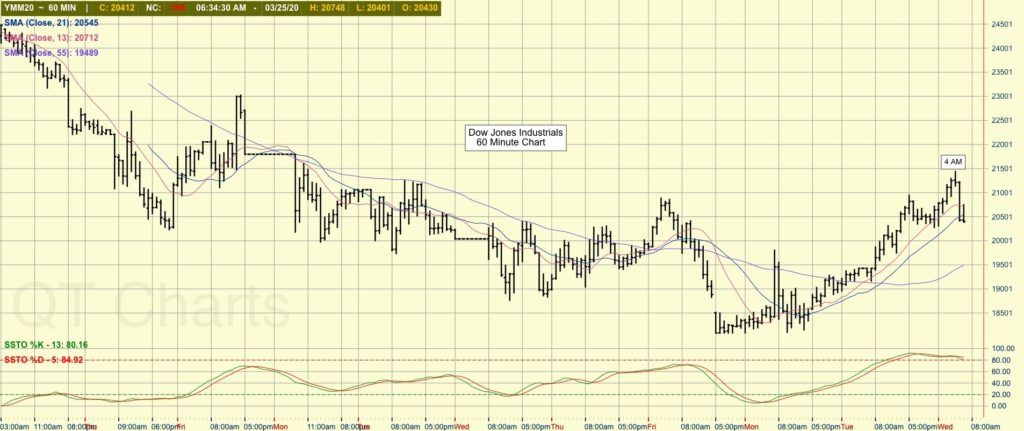 While many may have easily assumed that once the Phase 1 deal between the United States and China was inked that the floodgates were open for trade, but as with all things involving government oversight, there are those fine details that have to be addressed.  Representatives from the USDA and the office of U.S. Trade Representative (USTR) do report that progress is being made. In a joint statement, we are told that a number of steps are being taken that should help boost U.S. exports of beef, poultry, and other farm products to China and that U.S. food and agricultural products exports were benefitting from Chinese tariff relief.  While I am glad to hear that progress is being made, this would seem akin to saying that the factory that is producing Ford F-150's is operating at full capacity, and trucks are rolling off the assembly line.
Even though it would seem we have not witnessed the surge in Chinese business that many have hoped for, there have been significant gains over a year ago.  During the months of January and February, China unloaded 6.10 MMT of U.S. beans, which compared with 1.04 MMT the year prior.  Shipments from Brazil during that same period tallied 5.14 MMT, which was down 1.78 MMT from the prior year.  Of greater concern has been the lack of new business directed our way, but we have thankfully witnessed a recent uptick.
Coronavirus concerns continue to escalate in both Brazil and Argentina, where there are now confirmed cases totaling 2,247 and 387 for each nation, respectively. As the movement of commodities has been restricted in several regions, crush facilities in Argentina have been grinding (no pun intended) to a halt and in Brazil, the lockdown of a second principal city the ag region of Moto Grosso is threatening to close processors as well and could also begin hampering harvest progress.  Thus far, Abiove, the Brazilian processing association, is maintaining its projections for the export of beans and meal.  They are forecasting bean exports of 73.5 MMT, versus 74 M, last year, and meal exports of 16.2 MMT.
Covid-19 has also created problems for Malaysia, and several palm oil plantations have been forced to cease operations.  With confirmed 1,624 cases, the outbreak is the highest in Southeast Asia, for now at least.  This would appear to have been at least part of the reason we have finally witnessed a little life in the bean oil market.
While not stimulated by a virus, there are concerns in Ukraine that recent cold weather could have damaged crops.  The northern and central regions of the country have minimal snow cover, and on both Monday and Tuesday evenings, the temperature dipped down to 23 degrees Fahrenheit.  Already, earlier this month, the minister in charge of Ag has warned that the total grain could drop by 10 MMT because of lower acreage, with half of the reduction coming in wheat.
South Africa may make up for part of this, though, as the South African Crop Estimate Committee (CEC) is predicting a corn crop of 14.959 MMT this year.  This compares with a crop of 11.26 MMT in 2019.
Weekly export sales will be released tomorrow morning, but this morning the USDA did announce a couple of new sales.  138,000 MT of corn has been sold to unknown destinations and 20,000 MT of bean oil has been sold to South Korea.  Once past tomorrow's number, the trade attention will quickly shift to the Prospective Planting and Quarterly grain stocks reports to be issued on Tuesday next week.
Last but not least this morning, the time has now run out for the E.P.A. to challenge the federal court ruling on the granting of blending exemptions to small refiners.  Chalk one up for the ethanol industry, who certainly needs all the help they can get.