By: Dan Hueber –
The countdown to Christmas is on and markets are providing us little more than a mixed bag as we begin this new week. Wheat and oat markets lean a bit to the positive side but corn and beans are under pressure, energies are soft and the dollar is trying to stretch higher once again. It is not we are devoid of positive news as the USDA did announces sales of 264k MT of beans to China and 128k MT of corn to Japan this morning but maybe traders are becoming like those little children (and more than a few adults) who are used receiving positive reinforcement each and every day but then slip into a funk when it fails to be showered upon them.  Let's hope that is not the case with markets just yet.
Maybe everyone is on pins and needles seeing that is the real day when we find out if Donald Trump will be the 44th President of the United States as the final electoral votes will be counted.  Since the popular vote was cast, there have been more than a few stories written concerning the potential of various electors casting their votes in opposition to the popular votes from the various precincts and that I am aware of at least one resigned instead of voting this year.  While this election has been and continues to be full of many interesting twists, turns, and surprises, I do not believe there should be much concern of an upset today.  Of course, I also thought Hillary had this election in the bag so do not trust my political instincts.
It turns out that 2016 was not a discouraging year for all annual crops produced in the United States. Hop famers are brewing up record revenues this year.  If you recall, earlier this year I had written about the concern in the craft brewing industry about a shortage of hops, particularly the varieties that are used in specialty brews. This was created after a tough crop in 2015 but US farmers responded this year with a 17% increase in acreage and combined with a price jump of more than 30%, it translated into revenues of nearly $500 million, which was up 44% over last year.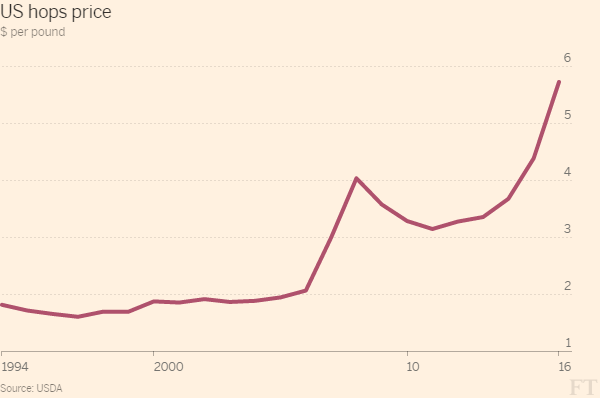 Now, before you pour a round to celebrate the good fortune of these producers, recognize the keg could be turning foamy and flat.  The real driving force has been craft beer sales which have been growing between 15% and 20% annually for the past few years and it would seem that a new "micro brewery" begins fermenting every week.  Sales this year though could suggest that consumers are developing a taste for something different.  According to the Brewers' Association, sales of craft beers during the first six months of the year are down 8% and have not appeared to pick up in the second half either.  Trouble indeed could be brewing.