Grain and soy markets are on track to finish out this pre-Memorial Day week of trade on a dour note.  Prices are uniformly under pressure this morning, and if we wrapped up business right now, corn would have lost 3-cents for the week, beans 7-cents, with wheat as the exception with the Chicago contract 8-cents higher.  When viewed from a long-term perspective, we are doing little more than churning sideways, limping along down towards what has been the low ebb of trade for the past five years.  That said, were it not for the fact that we have the entire growing season (risk) for the Northern Hemisphere still looming ahead of us, bulls would have little to pin their hopes on at this moment.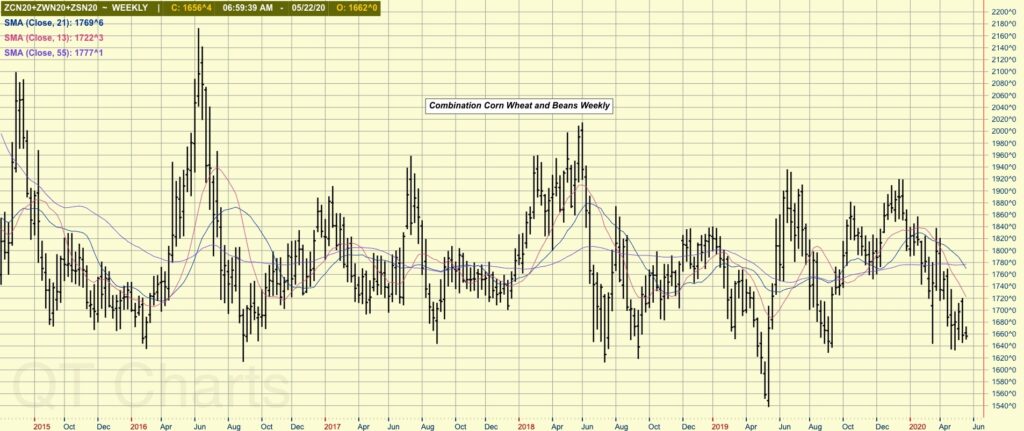 Delivered in its annual report to parliament, this morning, China's National Development and Reform Commission stated that it is in the process of drafting a new national medium to long term plan for food security.  Now, one might expect that this would be business as usual for a centrally planned government. Still, without a doubt, the issues they have encountered over the past two years, beginning with a trade war, then the devastation of the hog herd from AFS and finally COVID-19, which exposed many a weak link in the supply chain, I have to believe it was pushed up a few notches on the list of importance.  Premier Li Keqiang told parliament that "It is imperative, and it is well within our ability, to ensure the food supply for 1.4 billion Chinese people through our own efforts." (emphasis mine). I am not sure if by saying "our own efforts," he was implying they could internally produce everything they need, which they cannot.  That said, the government has been encouraging both state and private companies to build or rebuild inventories of ag products, which is something they certainly can do by their own efforts.
Many could easily assume that China is just making a (potentially) good business decision.  Global supplies are plentiful, and where it not for the strong relationship of the dollar against the Yuan, prices would be a bargain as well.  That said, all of the issues they have confronted over the past several years may have also reawakened them to the risk of food price inflation and the fact that it does not necessarily require a global pandemic or significant crop disruption to make that a reality.  There is an interesting article in the Foreign Policy magazine this week that looks at the relationship between food prices and change in U.S. monetary policies as well as the correlation between food prices and social unrest.  Click here for a link as it could be a good read for a rainy weekend. The article suggests that expansionary monetary policies have a correlation with global food inflation, and there would appear to be no hesitation in saying that the coronavirus has resulted in a major monetary expansion by the Fed.  Just between the end of February and the end of April, the central banks' assets have swollen from $4.2 trillion to almost $7 trillion.  This could bring up the age-old debate as to if something is just correlative or causative, but regardless, should not be dismissed as inconsequential. As the premier pointed out, China has 1.4 billion people to feed and the last thing that want to deal with would be a hungry and unhappy populace because they failed to embrace information that provided warning signs.
Indicative as to just how vital the cattle export trade is to the country of Argentina, it was reported overnight that the country has chartered a private jet to bring in Rabbis from Israel to certify meat as Kosher. Coronavirus related travel restrictions have evidently created a shortage of these needed rabbis and seeing that Israel is their third-largest market for beef, importing around $100 million annually, you can see why they would go to such an extreme measure.
It should come as a surprise to no one, but the inventory for most meats in cold storage in the United States shrunk in April.  Pork inventories were down 2 million pounds, which would not seem like much in light of all the shutdowns at processing plants, but keep in mind that typically, there is an increase of between 25 and 30 million pounds at this time.  Beef inventories were down 6 million pounds, which is double the normal drawdown for the month.  The exception to the rule again was pork bellies, which saw an increase of 2.7 million pounds.  This speaks to the importance of the restaurant trade for this cut of meat, but I have to ask, have people forgotten that nearly everything tastes better with some bacon around it?  Here is a picture of a salad I made this week.  So, when you fire up those grills over this Memorial Day weekend, maybe throw a little bacon on there as well.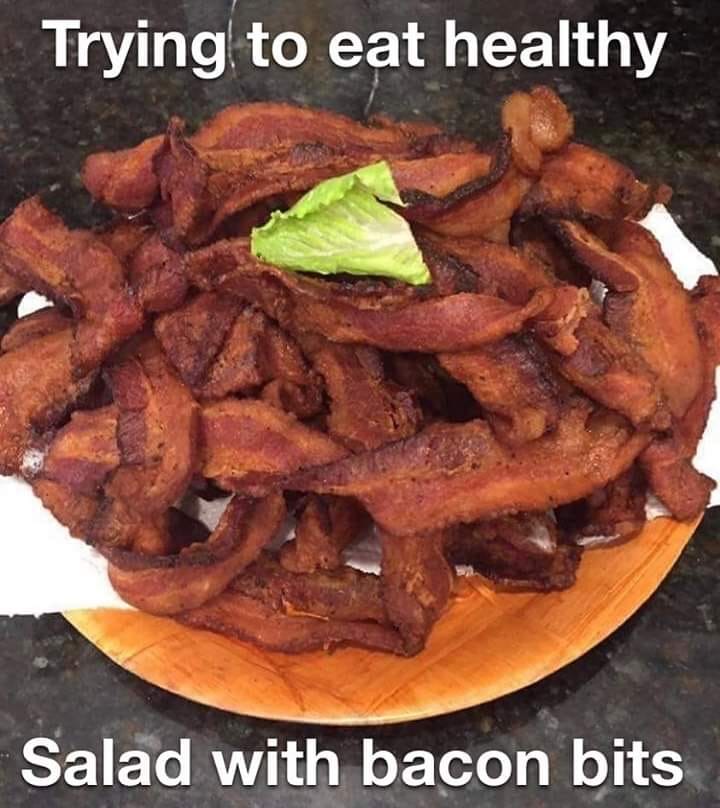 Have a Safe and Happy Memorial Day.