There is certainly no shortage of proverbs that instruct us to be patient.  That could speak to the fact that we as a species are not very good at that, particularly in this era of instantaneous reward. "You mean I cannot have it delivered today?" We have heard them all before; Patience is a virtue, to everything there is a season, a penny saved is a penny earned, and of course, good things come to those who wait. In fact, I suspect that most of us have used such pithy advice on more than one occasion, undoubtedly, to temper an anxious child or possibly co-worker. Regardless, as with all such sayings that have stood the test of time, there is also an element of truth, and that appears to have been borne out by the corn market's performance yesterday.  Long-suffering bulls who have been patient waiting, realistically since January for a signal that prices had pressed too far, were finally rewarded with a sign that enough was enough.  Now, we should also keep in mind the old adage that, one day does not a reversal make, (I just made that up) but I would suggest that with the risk of the growing season straight ahead, the bounce yesterday should break the stranglehold that bears have held on the market for the time being at least.  That said, any advance from here will be both figuratively and literally an uphill battle and, for now, would be primarily accomplished via short covering.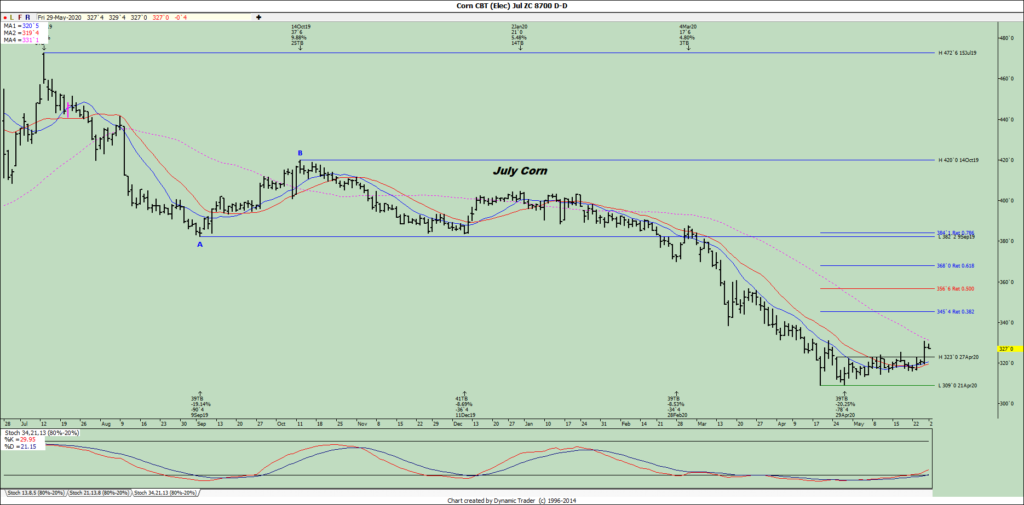 I do not believe we should undervalue, no pun intended, the action we have witnessed in the US Dollar this week, and the potential aid it may have provided in the corn strength.  After weeks of sideways congestive trade (sound familiar?), this index has pressed lower this week and currently sits at the lowest level since mid-March.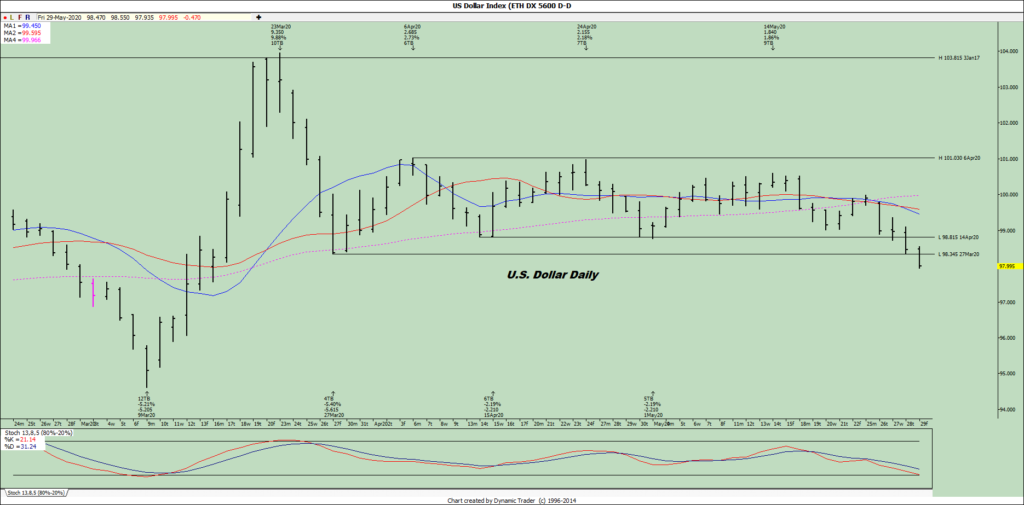 Weekly export sales have been released this morning but do not provide much for the corn or beans to cheer about.  For the week ending May 21st, we sold 427,200 MT or 16.8 million bushels of corn.  This was 52% below last week and 58% under the 4-week average.  Japan was the best buyer with 171.3k MT, followed by Israel at 87.7k and then Mexico for 80.4k.  New crop sales of corn were negligible, but there was also an announcement this morning of 101,600 MT sold to unknown destinations for the current crop year.  Old crop bean sales were 47% lower than last week, with a total of 644,300 MT or 23.7 million bushels.  China was the top buyer with 192.4k MT, followed by Mexico taking 175k and then unknown destinations with 104.4k.  There were sales of 203k MT of new crop beans, of which China purchased 200k. Additionally, in the daily system, we find another sale of 132k MT to China, split evenly between old and new crops.  Wheat fared a little better last we as we sold 209,800 MT or 7.7 million bushels of old crop and 496,500 MT or 18.2 million new.  Looking down the list, we find that China was also a buyer of 180.1k MT of sorghum last week, combines old and new crop 171.8k RB of cotton, 381k whole cattle hides, 1,600 MT of beef and 6,100 MT of pork.
Water issues continue in Argentina as the Parana river has dropped to its lowest level in 50 years. Another ship has run aground, this time a boat owned by COFCO, with a 42,000 MT load of soymeal on board, and is backing up traffic.  Some believe conditions will not improve significantly until spring rains arrive, which will not be for another three months. This situation has turned out to be a boon for Brazil, though, as demand has shifted over to that country.
Dry conditions have also persisted in Europe, and the European Commission cut its wheat production estimate over 4 MMT from last month, reducing it to 121.5 MMT. This would be over 7% down from last year.  According to the International Grains Council, we need not fear running shy of inventory, though, as they have raised their global grain production estimate for the coming year by 12 MMT and global stocks by 13 MMT.
While China has undoubtedly learned how to deal with the disease more effectively, by no means has African Swine Fever been eradicated.  In the western province of Gansu, a new outbreak was confirmed in a herd of 9,900 hogs.  So far, 90 head have died.
This is not only the final day of this week but also for the month of May.  If we were to wrap up trade right now, nearby corn would be up a dime for the week, and believe it or not, up 8-cents for the month.  The first monthly gain since December.  Chicago wheat sits 7-cents higher for the week but is still 8-cents lower for the month.  Beans are up 11-cents for the week and down 11-cents for the month.