After the breakdown last week, it was a minor relief to turn on the quote screen this morning and be greeted with steady to higher values and the grain and soy markets.  Of course, looking at the date on the calendar, it should not come as a shock to see a little short-covering as bears have enjoyed another month of "having it their way," not to mention the fact that we are on track to record the lowest combined monthly close since late last summer and sit towards the low ebb of trade for the past five years.  Be that as it may, it certainly has not discouraged large speculators from piling on the shorts in grains. For the week ending the 23rd, they sold a combined 32,000 contracts of Chicago and KC what and over 10,000 contracts of corn.  This moves them back to a record short corn position for this time of year of over 320,000 contracts.  Keep in mind it is estimated that they sold an additional 38,000 contracts last week after this data was collected.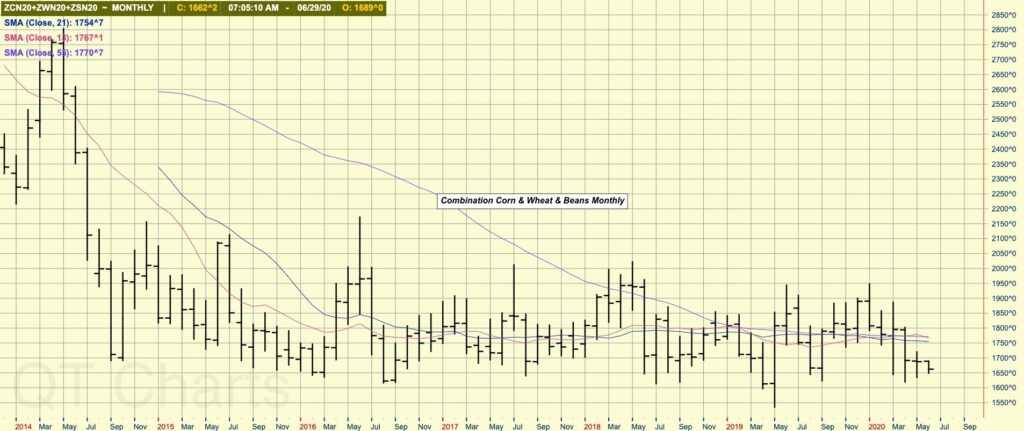 While I would not suggest that it will spur any significant changes in attitude, we do have a couple more USDA releases to mull over before we wrap up this month; Planted Acreage and Quarterly Grain Stocks.  These will be released Tuesday noon EST, so we will still feel their influence before closing out the first half of 2020.  Here again, are the average estimates; Corn acres are expected to be around 95.2 million (-1.8 mil.), beans at 84.7 (+1.2 mil.), and all wheat at 44.7 (+100k).  June 1st corn stocks are estimated to be 4.95 billion bushels, beans at 1.39, and wheat at 980 million.
As we discussed last week, U.S. food and feed exporters were a bit more resistant to certifying their products COVID-19 free for the Chinese market, as some in the meat industry had done, and instead have drafted a commitment statement that assures importer that the products have been "harvested, processed and handled consistent with industry safety standards and guidelines from medical experts." As Peter Friedmann, executive director of one of the organizations representing this industry, stated, "You're not signing your name to a guarantee that they have no coronavirus. Nobody can do that…If a Chinese customs inspector has the virus and he handles something, someone can come back later and say the shipment has coronavirus."
Taking a quick look around the globe, we find that ratings for the French wheat crop remained unchanged at 56% good/excellent for the fourth week in a row, suggesting pretty benign weather conditions.  Keep in mind that last year the crop was rated 80% good/excellent.  Farmers in that country are gearing up to begin harvest and have already started in barely (2% complete) and durum wheat (4%).  Monsoons in India have come a bit early than usual, but coverage has been extensive and beneficial.  Maybe this will help wash away a few of the locusts as in some parts of the country; they have been battling the most substantial infestation in decades.  As I commented last Friday, it seems that is nothing that should be shocking at this point in 2020.
There is nothing terribly exciting happening in the macros as we wind down the month, either.  Energies are a bit higher, gold is firm and, as I pointed out in the weekly newsletter, is on track to record the highest monthly close since the peak was set back in 2011, equities are higher, and the U.S. Dollar is lower.  While that final market certainly has not crumbled just yet, current values place us at the lowest close since February, and indicators continue to suggest there will be more weaknesses to come.  This market could ultimately hold the key to the commodity action in the second half of this year.