By: Dan Hueber –
Yesterday turned out to be a rather unpleasant post-Christmas day surprise for bears in the grain and soy markets and even over in the hogs which were supposed to have been slaughtered by the larger than expected hogs and pigs report that was issued last Friday.  On the third day of Christmas, the bulls gave to me…Granted, in most of these markets all we managed to do was to press back up against resistance and have partially unwound some of the gains now overnight but it was still refreshing to see that we still have a bit of bullish life in face of the overall bearish fundamental picture.
Unfortunately, there is really little more ag specific news around this morning than there was yesterday.  Yes, the weekly export inspections were solid, particularly for a holiday week, with beans at 62.8 million and corn 38.2, and there are still remnants of concern about parts of Argentina missing out on rains but on any given week, either of these factors would be quickly overlooked.  Note that there has been in increase in cases of bird flu in South Korea and reports that it has been infecting humans in China, which of course is not a positive factor for grain/soy markets.
Looking at outside commodity markets through, there remain several standouts that have continued to advance this year, the most notable for many being the crude oil market.  Granted, the agreed to cuts in production will not actually be taking place until after the new year rolls around but evidently, many in the trade believe that the resurrection of the Saudi led OPEC will be enough to bring world supplies back into line with the ever-growing consumption…at least for now.  Crude has pressed into slightly higher highs for the year this month and currently stands 46% higher than where it finished at the end of 2015.  If you would like to put that into perspective, if corn were 46% higher than last year it would be trading at just over 5.00 and beans around 12.70.  Granted, there is no cartel nor should there ever be, that would dictate how much corn, bean or wheat we should produce but we have a different variable that could come into play and that of course is mother nature.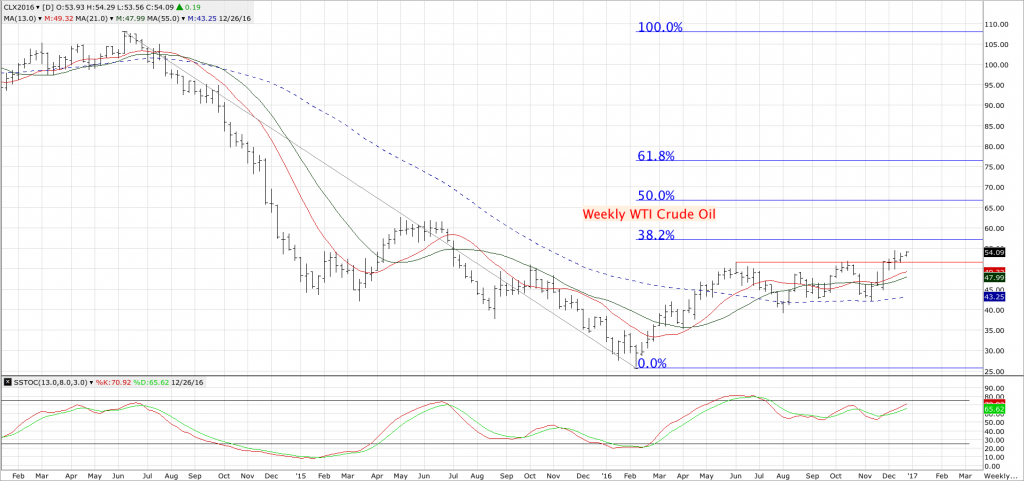 There is one other market and influence on commodities that has posted a tremendous rally year and that is the U.S. Dollar.  This is going to be part of the topic for the weekly/year end letter this week but right now, it would appear that the dollar will finish 2016 at the highest point in the past 14 years and up 5% from last year.  While it is always a little dangerous to use biblical phrases for market comparisons but I am sure you have all heard or used the phrase, the first shall be last and the last shall be first.  I am in the camp that believes that could be an apt analogy for what we could be looking at by the end of 2017 in a number of markets including the U.S. Dollar.