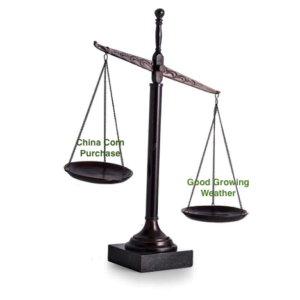 Granted, it is the final week of a month, but overall it has been a rough one for the grain and soy markets, and in particular for corn.  If you think of the classic balance scale, and on one side, the dish holds the largest single-day sale of corn to China on record, and on the other side, good growing weather, the latter absolutely outweighed the former.  It should be noted that for the month, we sold 6.29 MMT of corn, of which 5.47 were purchased by China.  If we were to wrap up trade right now, for the week, nearby corn would be down 8-cents, and on the spot weekly chart is back to the same level we were trading at prior to the surprise acreage number that was released at the end of June.  For the month nearby corn would be down 22-cents, but beans would be 12-cents higher and wheat up 43-cents.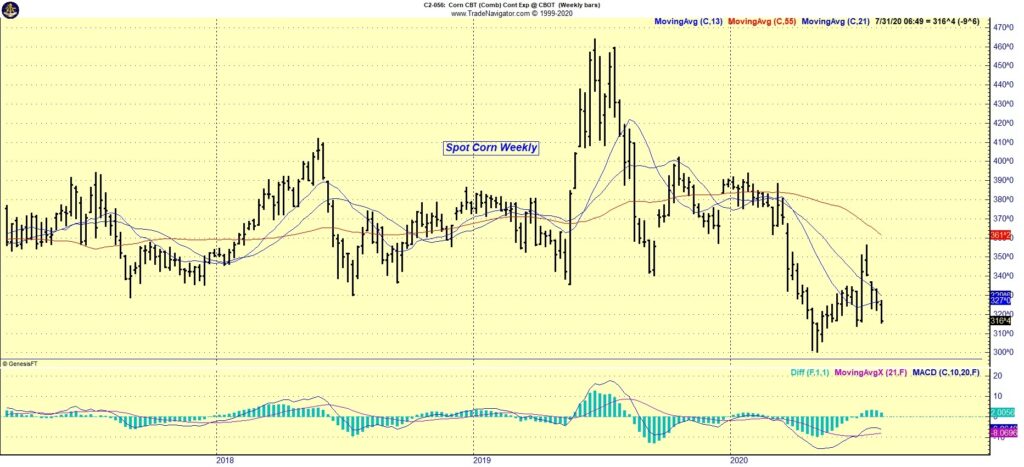 We did have a couple more export sales released this morning to round out the month.  Mexico purchased 114,300 MT of corn and the Philippines bought 222,000 MT of soybean cake/meal.
In France, dry weather has allowed the harvest of wheat and spring barley to move forward rapidly. Soft wheat harvest is now reported to be 90% complete, which was up 19% for the week and barley harvest increased by 48%, reaching 85% complete.  Obviously, the dry conditions were not perfect for corn though as the good/excellent rating was lowered 3% to 77%.
Outside of this, there is little ag specific news around as we wrap up the seventh month of 2020.  The U.S. Dollar is set to post the lowest monthly close since April of 2018, gold is positioned to close at the highest on record, 10-year notes at the lowest point on record, and the S&P 500 at the highest. If you do not believe all of this seems to make sense, welcome to the group as you have a lot of company.