By: Dan Hueber –
Finally, it is just about time to wrap it up. No, I am not talking about the presents for that last Forced Family Christmas gathering. The one that you are still required to attend because great-aunt Gertrude has not missed one for the last 96 years. Of course, I am referring to market trade for the calendar year 2016. While there remains a few hours of action left, if we were to finish right now nearby corn would be down just over $.10 or 2.7% for the year, nearby beans up $1.31 or 15%, and nearby wheat down $.64 or around 13.5%. Believe it or not, if you average the three we would be up just over 3% for the year. If we peek over at the livestock trade, you might be surprised to find out that for the year spot hog futures are up $4.85 cwt or 7.5% but less shocked to see that nearby cattle futures have lost $18 cwt or around 15% for the year and this still after the solid advance we have witnessed over the past couple months. If I use the Deutsche Bank Ag ETF as the measuring stick, we would find that according to their breakdown and weightings of eleven different markets, the ag sector will be finishing the year down right at 5%. I believe the larger message to take away from this, particularly as you look at the chart of the index is that in face of the massive crops that have been produced around the globe over the past couple years and the still questionable economic performance in many regions, the overall picture is one of sideways base building, which should be indicative of a point of overall value. Generally, this is the setup you witness before the next major advance develops, not the next major decline.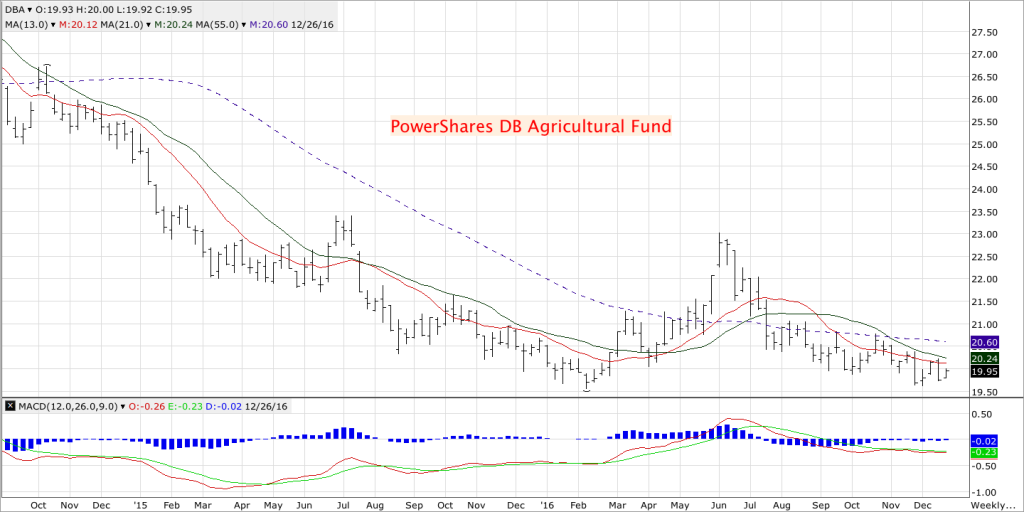 Granted, there are a number of pieces that have to fit into place before that can begin to unfold but as we sit on the cusp of another New Year, all the production risk lays yet ahead. Yes, the USDA will fine-tune the 2016 production number in early January but generally we have a handle on current supply and already know it is large. That said, when the world continues to literally eat up record levels of grain production, farmers around the globe will need to continue to produce record quantities to match that as well or all hell will break loose in prices.
So with that, I look forward to 2017 and continue to believe that for we in the ag sector the worst is behind us in regards to the price outlook for commodities. We consider it a privilege to be one of your partners in navigating the waters ahead and wish you all a Very Happy New Year.