By: Dan Hueber –
Welcome to 2017 and it would appear that traders nearly across all lines are feeling just a bit hopeful as we embark on the journey into this fresh year. Beans are struggling just a smidge but we have corn and wheat higher and both acting as if they would like more. Crude oil is finding additional buying as the trade tries to anticipate and position for the OPEC and friends cutback in production.  Gold is a hair softer but that is most likely because bulls are forging ahead in equity markets and the U.S. Dollar, not wanting the miss the possibility of the Trump boat setting sail with them left behind at port.  Now keep in mind that with the exception of crude oil and commodity indexes, not a one of these markets has pushed into new territory versus last year nor would it be reasonable to expect them all to simultaneously maintain strength but it is nice to see at least a brief moment of optimism as this new day (year) dawns.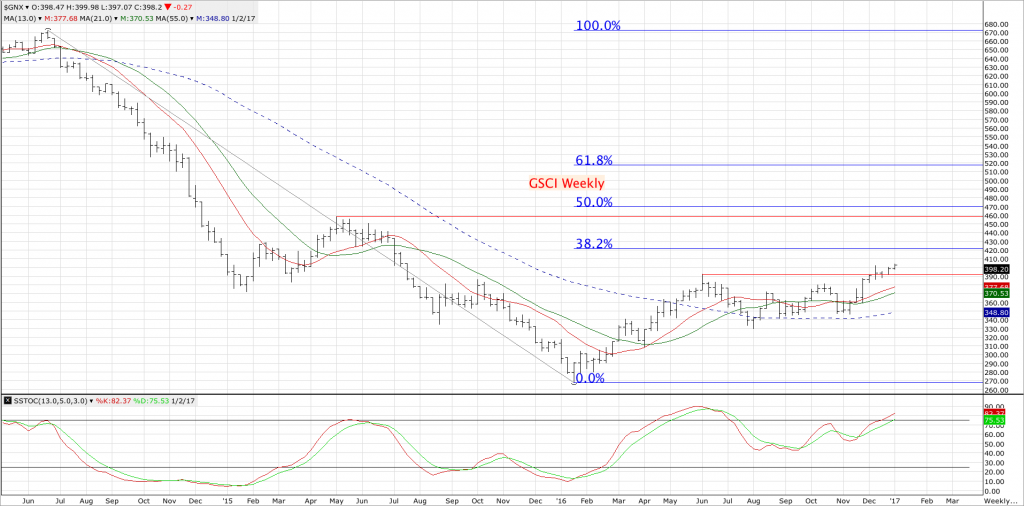 We have another eight days to wait for the USDA to release the final crop production numbers on the 12th of this month and while there will undoubtedly be the usual lineup of preliminary estimates, until they begin being published the market will be looking for other news to work with.  The most prevalent will be growing conditions and crop progress in South America.  Overall the conditions/progress in Brazil have been good with harvest of the earliest beans already underway.  There is a little increase in concern about the northeastern part of the nation that has been warm and dry but rains within the next week, if they materialize, would change that situation.  Argentina has been a different story but in this case, too much rain in several regions is creating the concerns.     Currently it is estimated that 85% of the soybean crop is planted, which means there is around 3 million hectares yet to go into the ground.  On top of that, over Christmas some areas received in excess of 10 inches of rain and replanted will be required if it dries out in time.  The same issues exist in corn, which is now estimated to be around 71% planted.  Dr. Cordonnier has not yet lowered production estimates but does suggest the potential exits for that to soon be the case.
By no means do I expect corn and wheat to do anything exceptional to the upside but they appear to have a setup for a little more pre-report advance.  Beans have struggled a bit more as the morning has continued but even here after a day or so of defensive action, I would not be surprised to see prices bounce a higher again into the report.