By:  Dan Hueber –
As it worked out, only corn was able to sustain gains for the close yesterday but that evidently did not discourage the bulls too much as we have strength across the grain and soy complex this morning. While I suspect the strength in corn and to a certain extent wheat is due to those trying to position ahead of fund rebalancing scheduled for next week, which should bring additional buying to those two markets.  Regardless, the action is beginning to turn shorter-term daily indicators positive which could encourage additional buying.  By no means would I expect that to evolve into something "major" barring some kind of shocking bullish revelation by the USDA next week and the probability of that occurring would seem remote.  At least for now it should provide a minor positive bias that could push these markets towards the upper end of trading ranges.
Here it is already two days into the new year of trade and I have not really mentioned the action in the dollar so I had better rectify that. The dollar index did push into a higher high yesterday, of course eclipsing the high-water mark for 2016, but appeared to stimulate little new interest or excitement at that point. By the close it had drifted back down into the general range that we traded within for the last several weeks of the year.  I continue to believe that this index will establish a major peak during the first quarter of 2017 but the action the past day and a part could suggest that the high will be coming sooner than later.  The daily indicators have already crossed lower and over the past couple months when that happened we witnessed corrections of 2.5 to 3 full points but were that to happen now with the weekly indicators at the most overbought since the beginning of 2015, the setback could be a bit more prolonged and severe.  If this assessment is correct, I do not believe it would mean that we will be looking at a massive influx of new buying for the commodity world but do feel it would psychologically begin setting the stage for bullish moves later in the year.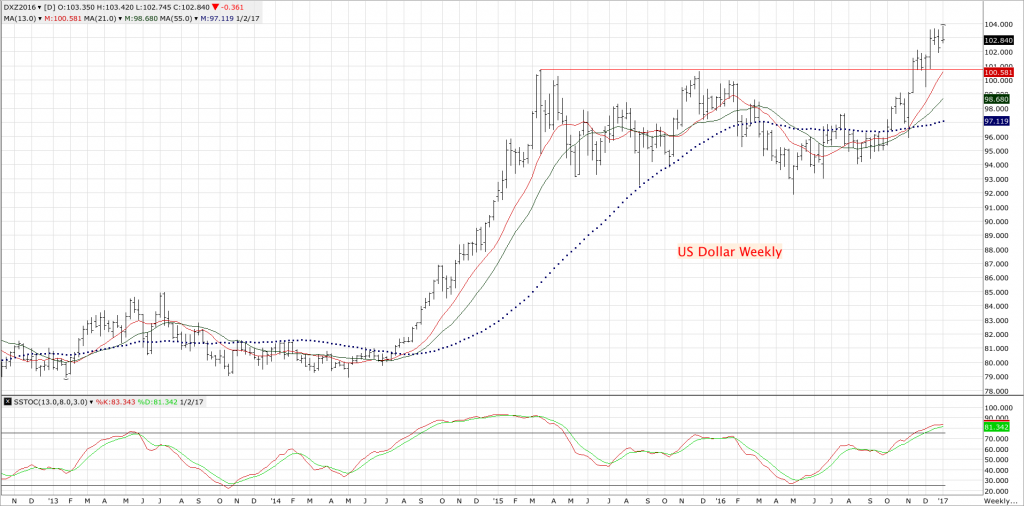 Seeing that there is little else fresh in Ag news in the early days of this year we might as well join the fray in discussing who might be the next Secretary of Agriculture.  Problem is, we are just as much in the blind on this matter as the rest of the world.  Previous names such as Heidi Heitkamp from North Dakota appear to have fallen from favor and names such as Elsa Murano from Texas A&M, Susan Combs who is also from Texas, Sonny Purdue, former governor of Georgia and now Abel Maldonado, the Lt. governor of California are all being circulated.  I am not even going to try and venture a guess as to if any of these individuals will be the next Secretary of Ag and in fact I will heed to words of John Block, the former Secretary of Ag and member of Trump's ag advisory council, "It's very risky to think you know anything, because you don't." What I do know is that with the next farm bill coming into focus for 2018 and organizations such as the Heritage Foundation who would like nothing more than to gut the existing programs and supposedly have the ear of the incoming President, we are going to need an individual in that role that truly understands agriculture.