Anyone who has seen the musical My Fair Lady knows that the rain in Spain falls mainly on the plain, but the bean market is currently more interested in the rains that fall in Brazil, and it would appear they have been increasing.  While they are certainly not out of the jungle yet, (bad pun, I know) but storms have been occurring in crucial production regions with forecasts for more on the way.
Of course, the counterpoint to this is demand and specifically Chinese demand.  This morning we find that they are back with another purchase of 261,000 MT.  While they are most certainly not going to provide us with their overall strategy, one can be pretty confident it will now center any further delays and the general growing conditions in South America.  Additional problems, and there is effectively only one place to turn to.  I do not say this to try and "bull up" producers. I wholeheartedly believe they should be rewarding this market with sales.  Inverted futures, a strong basis, pressing against what has been a cap in prices for most of the last five years and a technically overbought market.  What is not to like?  That said, just because you have sold your crop does not mean marketing for the year is complete, as I suspect that after a correction, we may want to be looking for ways to still participate in rallies, with controlled risk.  Oh, by the way, the same basic logic applies to corn.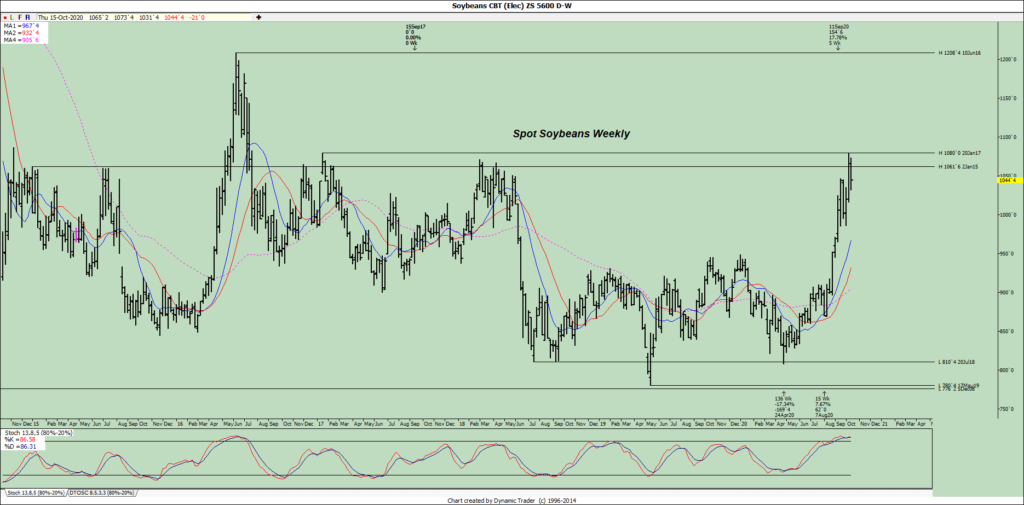 Weekly export sales are delayed until tomorrow morning, but the Department of Labor was still on schedule, and weekly initial jobless claims were released.  For the week, 898,000 people filed, which was an increase of 53,000 from the previous week and above the expected 825,000.  Granted, this is more of a flat-line than a trend at this point, but as I have commented previously, it points to a long-term issue with unemployment in this country.  Add this to the diminishing hope of another stimulus package before election day and the rising number of second wave of coronavirus cases worldwide, and it is quite understandable why equity markets have swooned today.