By: Dan Hueber
We have basically dour attitudes across the commodity world in overnight trading with pressure just about everywhere you turn. Grains and soy, metals, energies and the soft markets, with the exception of cocoa are all posting red ink this morning.  Has our mini-rebound run out of momentum?  While it would be premature to say that just yet, the engine that pulled this train up the hill, crude oil, may be showing troublesome signs of exhaustion.  Over the past 10 days or so, this market had posted an impressive advance on news that OPEC was going to gather together to discuss caps on production but now we find out that not only the number one producer in the cartel, Saudi Arabia is pumping out record quantities of oil but number two, Iraq is planning to boost production by 150,000 barrels a day and is a proponent of seeing OPEC keep production elevated in an effort to rebuild cash reserves.  From a technical perspective, yesterday after poking into a slightly higher high for the swing, spot crude reversed lower and posted an outside lower reversal and has followed through to the downside again overnight.  Daily indicators have not quite reversed lower but are moving quite close to the edge.  If we do turn lower, I guess there could be some other market that could assume the lead role for a commodity advance but I am having a difficult time imagining which one for now.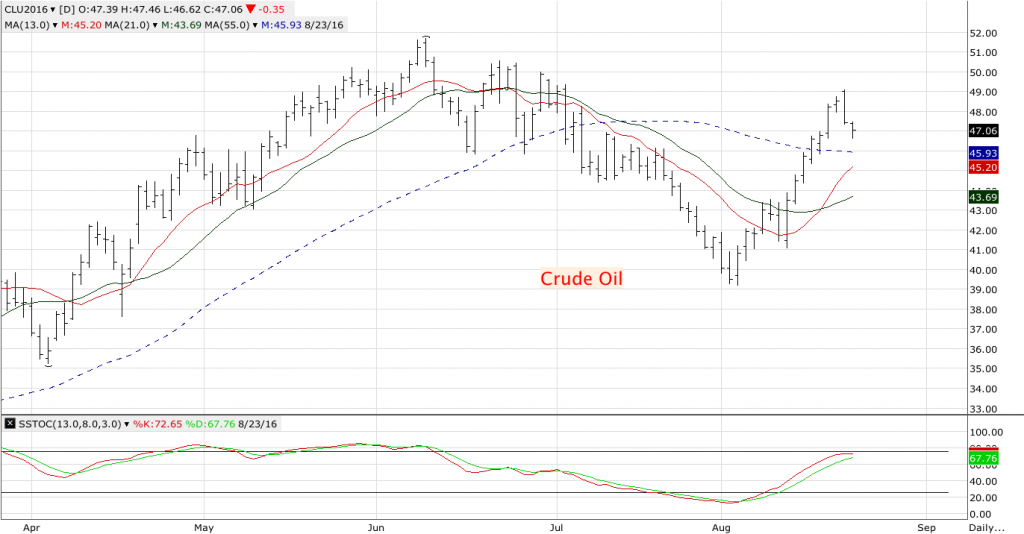 While certainly not to the extent of some of the other global commodity giants, Cargill has struggled over the past several years as commodity prices have collapsed and have recently announced a fiscal year earning of $1.6 billion.  Of course the more cynical of those out there may counter "ONLY $1.6 BILLION, but for a company of that size, that is only a 5.8% return on investment and slipped from 7.1% the previous year.  Earning were about half of the record set in 2010/11.  This company has already been making some rather aggressive restructuring moves over the past year such as selling its pork division and shuttering its hedge fund, Black River Asset Management.  There have also been persistent rumors that they could sell off the energy and metals trading groups.  I do not suspect we need to worry about Cargill going the same route as other commodity houses such as Glencore or Noble Group as they remain a financially solid powerhouse and further more enjoy private ownership by families that evidently still understand the cyclical nature of the commodity business.
As I commented initially, commodities in general are all under varying degrees of pressure this morning and it would appear that the late summer bump could have exhausted.  While if correct, I still do not believe we are headed for new swing into lower lows but it could be many markets will continue to drag sideways into the fourth quarter.  There does remain one outside market that could provide a little reprieve from the bearishness though.  The dollar remains under pressure and further pressure there could keep the would-be bears sidelined.