There was a faint glimmer of hope late last week that the ongoing negotiations between Ukraine and Russia could produce something positive over the weekend. Seeing that was not the case, commodity markets are on a mission to restore risk premium this morning. Evidently, Russia's idea of a peace settlement was for Ukraine to surrender Mariupol and seeing that was rejected, they have resumed their efforts to terrorize the population and reduce the city to rubble.
While we have all felt the impact of this war in higher energy and food prices, as is almost always the case, the effect is the greatest on those who can least afford it. Compounding that issue is the fact that many of those poorer nations rely on Ukraine for their wheat. As pointed out in a piece in the Financial Times this morning, at the top of this list is Lebanon, which sources 80% of its wheat from Ukraine, and since March has seen staples such as flour completely disappear from the shelves. If that is not bad enough, consider the fact that their currency has lost 90% of its value since 2019, so needless to say, inflation is out of control. I would point out from this chart that Egypt gets around 25% of its wheat from Ukraine and then approximately 60% from Russia, so one can only imagine the impact it is having on that nation. If you recall, the Arab spring uprising in 2010 was sparked by food prices, so it would seem safe to say that this war could destabilize places outside of Ukraine.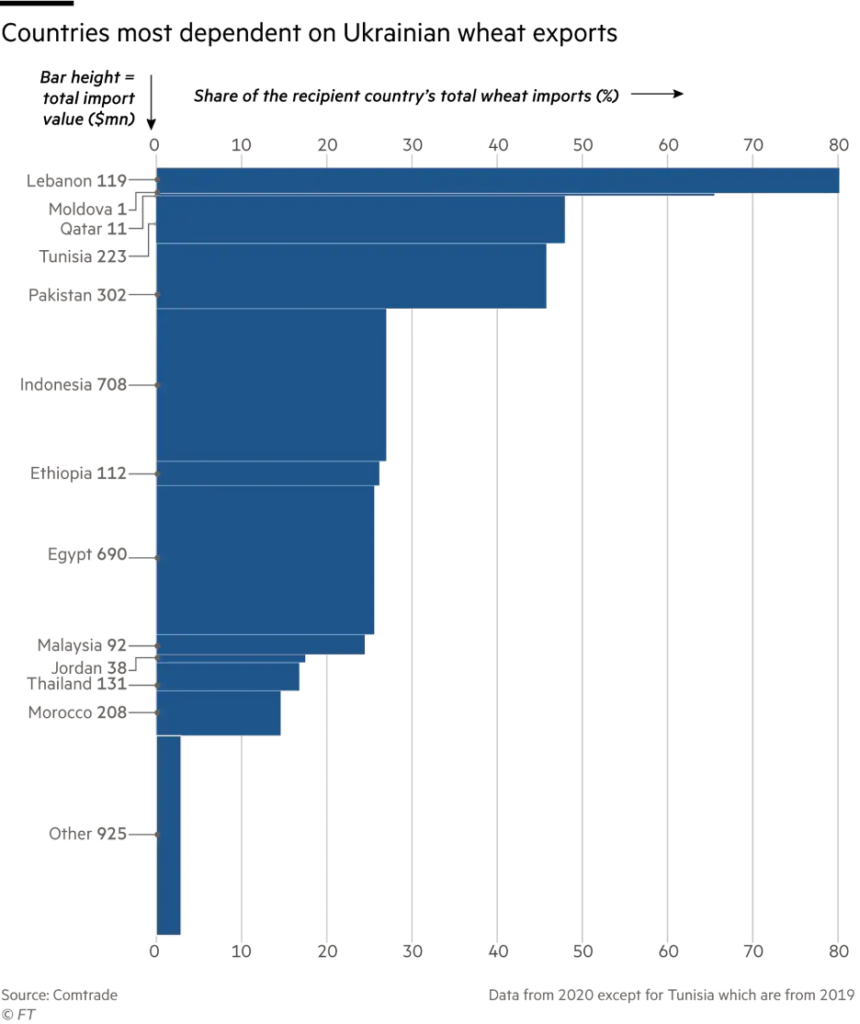 Looking at the overall weather picture as we begin the week, we find additional moisture forecast for hard wheat areas and then rains across the Midwest for Tuesday and Wednesday.  Southwestern Argentina should see rains later this week, and Brazil is forecast to receive beneficial moisture for the next couple of weeks.
Despite all the problems Brazil has experienced with bean production this year, during the first two months of 2022, they witnessed a significant surge in exports to China.  Keep in mind that the Brazilian harvest was delayed due to late planting last year.  Regardless, during January and February, China imported 3.51 MMT of beans from there, an increase of 241%. Imports from the U.S. totaled 10.04 MMT during that period, but this was down 16% from the previous year.  In other South American news, the Argentine government made it official and has boosted the export tax on soy meal and oil and an extra 2% to 33%.  Corn and wheat will continue to be taxed at 12%.
It is now just 10-day until the USDA releases the Prospective Plantings and Quarterly Grain Stocks estimates.  Look for trade estimates to be published within the next few days.
In the macro scene this morning, as you might have suspected, energies and metals are higher, financial instruments are under pressure, equities are lower, and the dollar is steady to higher.
One final note this morning.  I just read that Russia has summoned U.S. Ambassador John Sullivan to inform him that the ties between the two nations are on the brink of collapse.  While I was unaware that they were not already ruptured, this obviously makes it official.  I understand the notice came about because Putin was upset that President Biden called him a war criminal.  If the shoe fits…
Wheat
For the past seven sessions, July wheat has been alternating between higher and lower closes and in the process, has largely been consolidating above the 50% retracement level of 10.10.  Daily stochastics continue to track lower, but one has to suspect the uncertainty of the war in Ukraine has kept prices from extending down through that 10.10 mark.  I continue to lean to the bearish side right now, but obviously, until we have a little more certainty concerning the end of this war, it will be difficult to sustain additional pressure.  The next cycle counts line up between the 25th/28th.
It may be premature to suggest KC July wheat has settled into an actual congestion range but for about two weeks now we have been contained between roughly 11.40 and 10.10.  No question this is a might larger range than we are accustomed to for this market, but these are unusual times.  Daily stochastics continue to point lower, but I have to suspect as long as the uncertainty of Ukraine exists, so will additional risk premium.  The next cycle counts line up between the 25th/28th.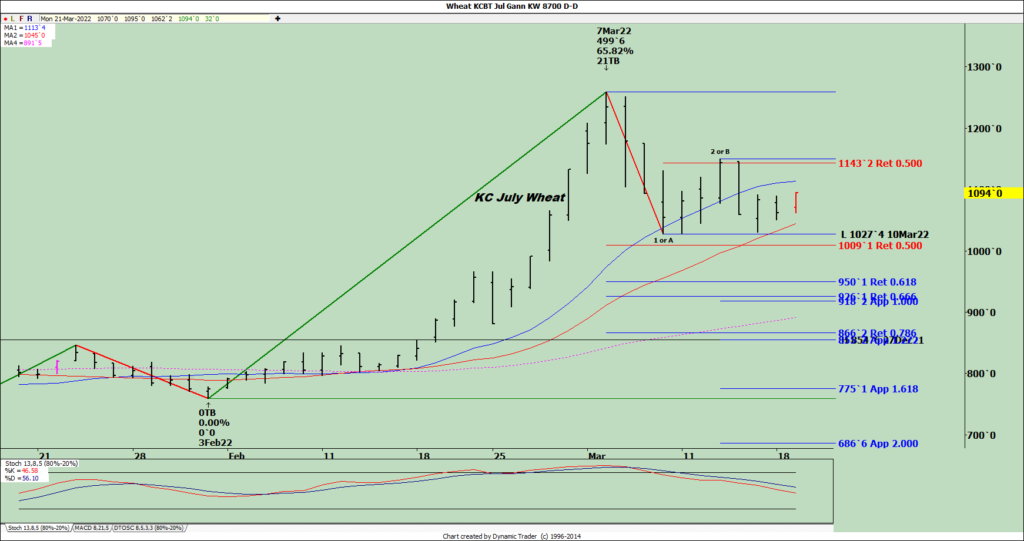 Corn
Rangebound trade may be the name of the game for the time being as May corn futures have now spent the past two- and a-part weeks chopping back and forth between 7.70 and 7.30 and do not appear anxious to exit that range.  Short-term indicators have a positive bias, but the rest point lower so we can do little more at this point than wait for something that can carry us out of the range. Cycle counts ahead line up between the 29th/31st.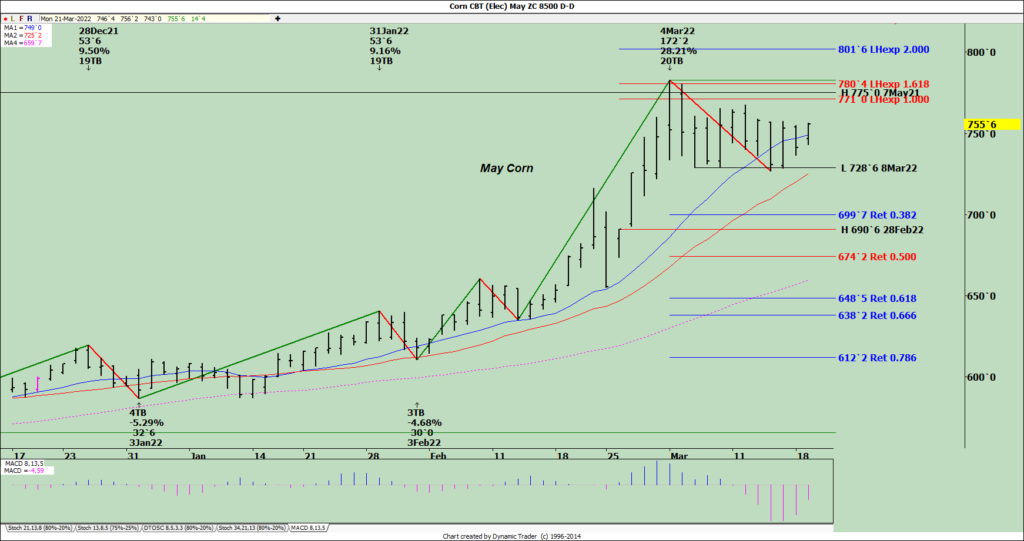 December corn has begun this week with a poke into a slightly higher high for the year.  It is a bit early in the week to say if this constitutes a breakout to the upside, but for now, at least, bulls appear to be in control.  The next possible target will be the major 2/3rd retracement that sits at 6.72.  Do note that weekly stochastics have now pushed into the overbought zone, really for the first time since the highs last spring.  The next cycle counts line up between the 29th/31st.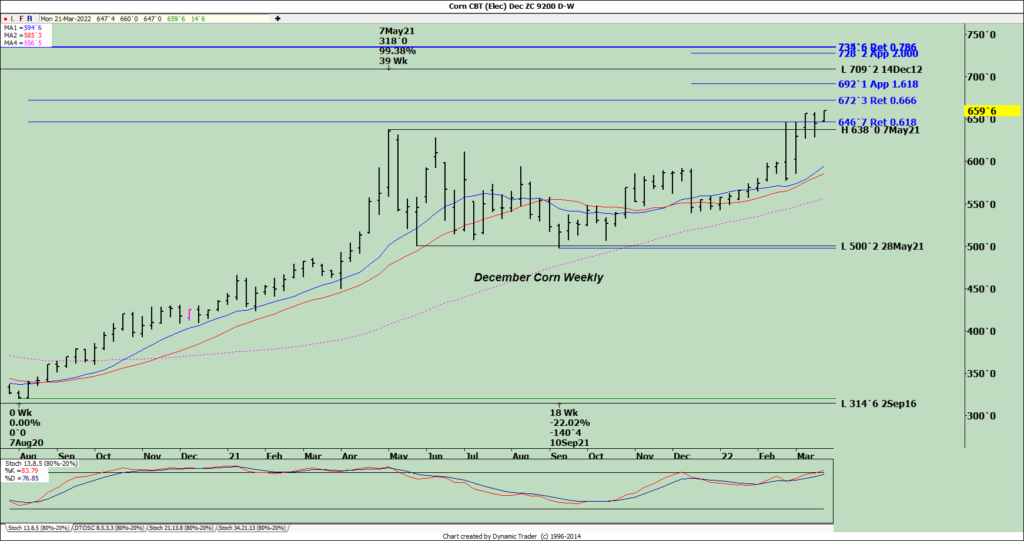 Soybeans
It is unusual when the trading range for beans is narrower than that in the grains, but for the past three weeks, May futures have been stuck between 17.00 and 16.40.  Right now, we are on track to test the upper side of that range and will have to see if it stops the bulls yet again.  The next cycle count lines up for the 31st.
November futures have also begun the week on a positive note, and we have poked just through the 14.80 level again this morning.  While we have extended beyond that point a couple of times, we seem to run out of positive momentum when that happens.  Cycle counts ahead line up for the 31st, and the 11th of April.
Soy Oil
Last Friday, May bean oil closed below the 21-day moving average for the first time since the 22nd of December, but still held above the early March reaction low at 71.87.  Prices have snapped back this morning, but with indicators pointing lower, bears should hold the upper hand for now.  If they can capitalize on that is yet to be seen.  Closing below 71.87 should open the door for a run to at least 68.12 and possibly 64.90.  Cycle counts ahead sit on the 25th, the 6th and the 18th.
Soy Meal
May meal did little more than tread water last week but for now, bulls continue to remain in control.  Indicators have maintained a positive bias and I suspect we will be testing in the existing high at 491.60 within the next day or so.  If we have the power to extend through is another question.  If successful, the next targets are between 500 and 505.  Cycle counts ahead on the 21st, and the 31st.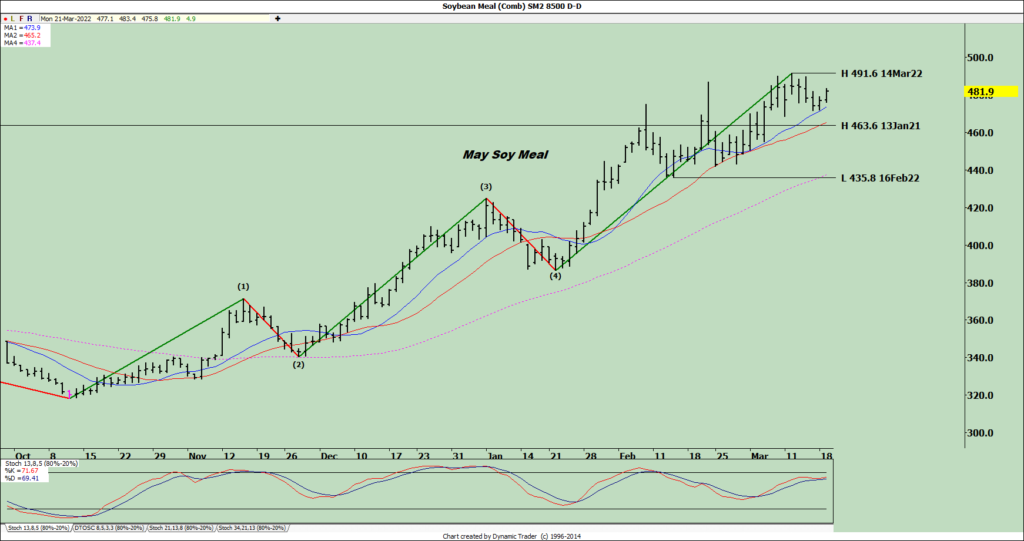 Cotton
Cotton bulls were successful in pushing May futures into a higher high for the close last Friday and we have begun this new week with a gap higher. This does confirm we are in a major 5th wave with the next potential targets overhead between 138.35 and 140.  Cycle counts line up for today and then for the 1st of April.
Lean Hogs
April hogs finished out last week on a dour note but remain above key support at the 98-cent level.  Not only do we find the 50% retracement at 98.22, but the 55-day moving average is also currently at the same level.  If we can hold here again through the close on Monday, look for bulls to try and step up and wrest control once again.  The next cycle counts line up for the 29th/31st.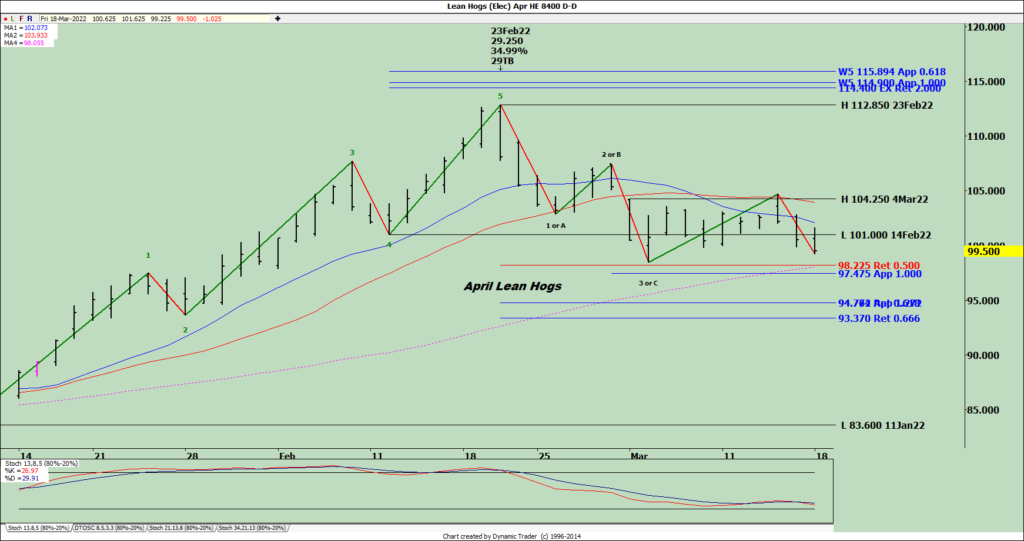 Live Cattle
April cattle finished off last week on a positive note and appear poised to try for a push into higher highs.  Stochastics continue to point the way higher, and we should have room to extend this advance to at least the 143/144 retracement zone.