There was a faint glimmer of hope late last week that the ongoing negotiations between Ukraine and Russia could produce something positive over the weekend. Seeing that was not the case, commodity markets are on a mission to restore risk premium this morning. Evidently, Russia's idea of a peace settlement was for Ukraine to surrender Mariupol and seeing that was rejected, they have resumed their efforts to terrorize the population and reduce the city to rubble.
While we have all felt the impact of this war in higher energy and food prices, as is almost always the case, the effect is the greatest on those who can least afford it. Compounding that issue is the fact that many of those poorer nations rely on Ukraine for their wheat. As pointed out in a piece in the Financial Times this morning, at the top of this list is Lebanon, which sources 80% of its wheat from Ukraine, and since March has seen staples such as flour completely disappear from the shelves. If that is not bad enough, consider the fact that their currency has lost 90% of its value since 2019, so needless to say, inflation is out of control. I would point out from this chart that Egypt gets around 25% of its wheat from Ukraine and then approximately 60% from Russia, so one can only imagine the impact it is having on that nation. If you recall, the Arab spring uprising in 2010 was sparked by food prices, so it would seem safe to say that this war could destabilize places outside of Ukraine.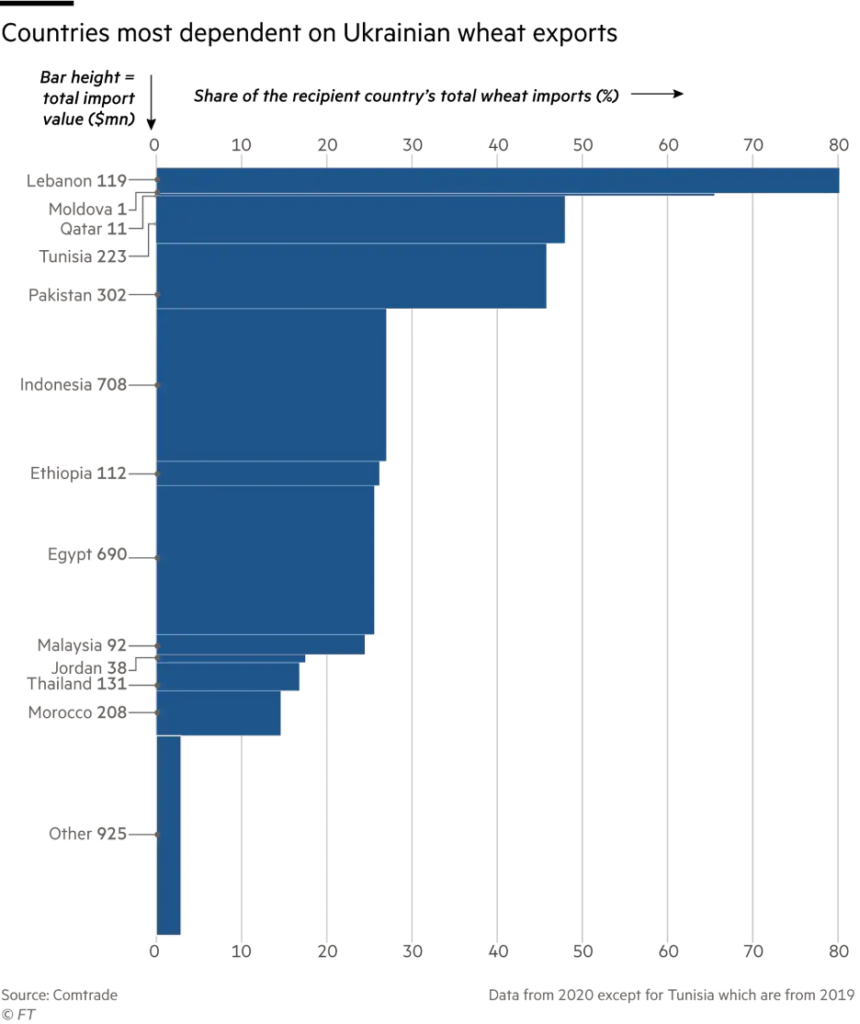 Looking at the overall weather picture as we begin the week, we find additional moisture forecast for hard wheat areas and then rains across the Midwest for Tuesday and Wednesday.  Southwestern Argentina should see rains later this week, and Brazil is forecast to receive beneficial moisture for the next couple of weeks.
Despite all the problems Brazil has experienced with bean production this year, during the first two months of 2022, they witnessed a significant surge in exports to China.  Keep in mind that the Brazilian harvest was delayed due to late planting last year.  Regardless, during January and February, China imported 3.51 MMT of beans from there, an increase of 241%. Imports from the U.S. totaled 10.04 MMT during that period, but this was down 16% from the previous year.  In other South American news, the Argentine government made it official and has boosted the export tax on soy meal and oil and an extra 2% to 33%.  Corn and wheat will continue to be taxed at 12%.
It is now just 10-day until the USDA releases the Prospective Plantings and Quarterly Grain Stocks estimates.  Look for trade estimates to be published within the next few days.
In the macro scene this morning, as you might have suspected, energies and metals are higher, financial instruments are under pressure, equities are lower, and the dollar is steady to higher.
One final note this morning.  I just read that Russia has summoned U.S. Ambassador John Sullivan to inform him that the ties between the two nations are on the brink of collapse.  While I was unaware that they were not already ruptured, this obviously makes it official.  I understand the notice came about because Putin was upset that President Biden called him a war criminal.  If the shoe fits…