By: Dan Hueber –
After struggling through midday on Monday, grain and soy prices were able to snap back higher into the close, most likely supported by the onset of index fund rebalancing.  Realistically we did carry up into new territory for the bounce and corn and wheat are struggling a bit this morning but it was at least a nice psychological boost to see prices come back from negative territory and finish higher.  There is not much more news around this morning than there was yesterday outside of a few export sales announced for corn so I have to imagine that the trade once again will be dominated by rebalancing and positioning in front of the Thursday reports.
Here we are only 10-days into the New Year and the New Era for OPEC and it would appear there is already trouble "bubbling" up with the plans.  Do note that Libya was exempt from the new production quotas as this nation has been in political and economic turmoil since the demise of the Gadhafi regime back in 2011 and it would appear that the mixed factions that are currently wrestling for control recognize the need to generate cash and are doing so by pushing production up as much as possible.  In the past week output climbed to a 3-year high of 708,000 barrels a day and it is believed it could increase to as much as 900,000 barrels a day.  Keep in mind that back in November when the "agreement" was reached they were producing less than 600,000.  While this may not completely scuttle the OPEC plans to once again dominate and control world oil production and prices but it would appear to at least put a crimp in pipeline or maybe that is better stated as pipedream.
Last week the positive employment news released on Friday was enough to stimulate a late week rally in the U.S. Dollar, staving off what appeared to be a key weekly reversal lower in the process.  While that may be, we do have the dollar under pressure again this week and we appear to be edging closer and closer to rolling long-term indicators over into a sell.  This is something that I continue to believe we need to keep an eye on as if that turns out to be correct, it could be a key element providing psychological support for commodities as we await the return and the risks of this next growing season.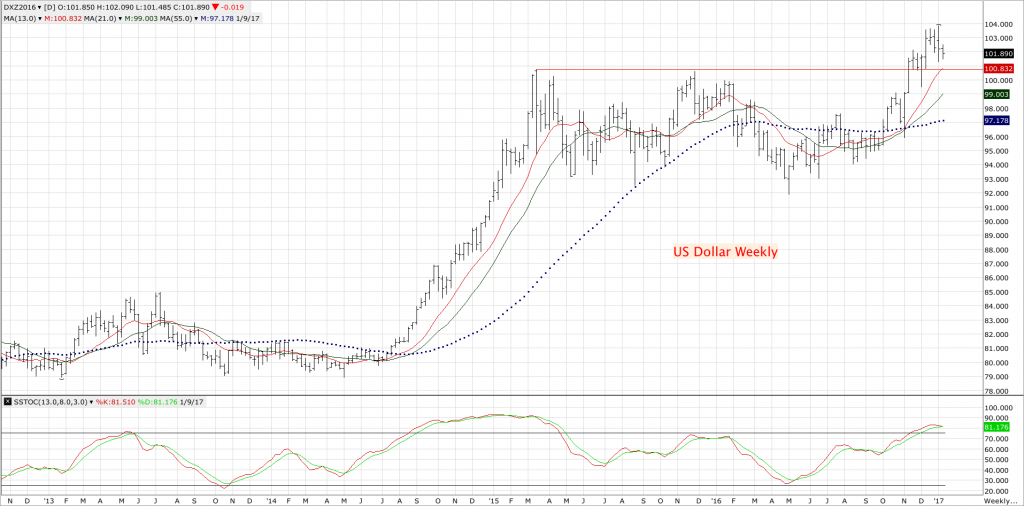 Just two more days until we hear the next "word of gov."